Not so much a group scene as in an orgy, but group scene as in a collection of Hunks that collectively form a group. (Or group scene as in orgy if that's what you insist upon.) This Saturday post is one of those sexy, lazy compilations that may refresh your memory, or introduce you anew, to a few Hunk of the Day features you may have missed. The Archives are a labyrinth of male nudity and naked male celebrities, but few seldom trove the treasure trails without getting lost in masturbatory delight. Let's focus, at least as pronounced by Jean Claude Van Damme.
We should begin with the magically-delicious butts of 'Magic Mike' in this brief post of posteriors.
While we're on the subject of nude male butts, here's the one that belongs to Jake Gyllenhaal. Any day that Jakey gets nakey is a good one.
The final ass-cheek peek for this opening is the sexy back of Justin Timberlake. But enough about the naked JT Superstar for now…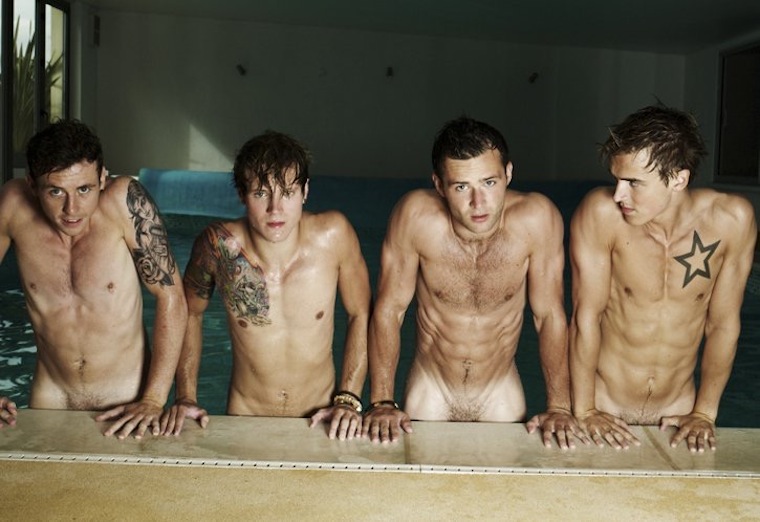 The gentlemen of McFly got nude in the above photo from an Attitude shoot, but it's always been about the third guy in from the left, Harry Judd. Mr. Judd has supplied ample assets for this website, and other far less classy joints (thank God). I'm partial to the partial male nudity of this post, the spreading of his legs in this one, and the gratuitous semi-dry-but-naked humping in this one.
More magic from 'Mike' – because it was the movie that just kept on giving. A nude Channing Tatum or a shirtless Joe Manganiello? Ok, fine – a nude Joe Manganiello too. [Sigh]… and Matt Bomer's banging backside.
Speaking of nude men, here's Rob Gronkowski naked.
One of the OG male supermodels, Tyson Beckford, proves he still has the stuff to fill out the sexy underwear.
One of the sweetest male supermodels, Ronnie Kroell, made his first appearance here in this post. More impressively, he made his latest appearance here, wherein he was crowned as Hunk of the Day for the third time (our first-ever three-time honoree).
Finally, now that you've been bombarded with links to see you through this otherwise-lightweight Saturday, a few collections within this group collection. In a few of these posts you'll find the random male nudity of anonymous strangers, in others you might find the recognizable tushes of guys like Sandor Earl, Alex Minsky, Colby Keller, Greg Rutherford, Ashton Kutcher and even a couple of Olympians.

Back to Blog