As so often happens with the Northeast, we seem to have gone directly from winter into summer. That worked well for us this weekend, as the pool was opened and heated, and the patio suddenly sprung to summer life with container and hanging plants (and a new canopy assembled with life-saving help from my brother and his girlfriend). Given that spring was so late, I have a lot to do and very little time in which to do it, so the beautiful weather allowed me to work my ass off and get the yard in somewhat presentable shape. Not that any of this behind-the-scenes work had an effect here, as he blog rolled on with its usual decadence and depravity.
It began with a male model brought to the forefront of pop culture by an Instagram shout-out from Madonna – and soon enough Andrea Denver was named Hunk of the Day.
The search for a spring scent was on, and it came down to a heavyweight battle between Diana Vreeland and Tom Ford. (It's also a bit of perfect timing, as our anniversary is this week ~ 5 years of officially-married life!) At the time of this writing, I thought the edge was going to Tom Ford's 'Fleur de Portofino' but Vreeland's 'Smashingly Brilliant' has its merits. I think, however, the dark horse of Hermes, and an old classic, may steal ahead of the whole pack.
Forget the Scottish kilt, Sam Callahan is better off without a stitch of clothing whatsoever.
Zac Efron got almost-nude, which was good enough for most people. And then he did it again.
A little bit of grace.
Stephen 'Twitch' Boss proves that twitching trumps twerking any day.
My new favorite song on an old favorite theme.
Far more than a triple threat, Jerry Mitchell is now also a Hunk of the Day.
Having had a sneak sniff of the new Hermes fragrance, courtesy of my brother's gal, I'm pulling the latest (and last) from Jean Claude Ellena out of anniversary gift running, as it's a gorgeous scent more suited for the deep of summer.
The first Saturday of May is World Naked Gardening Day, so I did it.
I wonder if the sexiest math teacher in the world teaches math in these briefs.
Next Sunday you can finally get a glimpse of the Super Jocks show if you're in the Chicago area.
And the man behind those super jocks, Andy Boyer, has also been named a Hunk of the Day.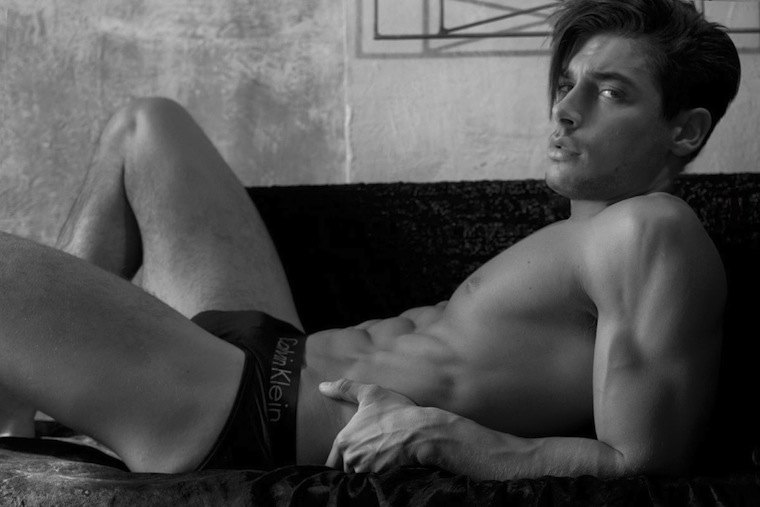 Back to Blog