Jerry Mitchell, the impresario of all the beauty and talent that is Broadway Bares, is our Hunk of the Day, and it's an honor long overdue. Since originating that blockbuster fundraiser (which has brought us the scantily-clad bodies of Ricky Schroeder, Brandon Rubendall, Joshua Michael Brickman, and Peter Nelson), he has ensured that it is the sexiest event of the year, and when you combine skin with a winning and worthy cause, I'm always on board. Mr. Mitchell doesn't just talk the sexy talk either, he has walked the sexy walk, as evidenced in these shots showcasing his banging body. This year's Broadway Bares event looks to continue in the tradition of naughty-but-oh-so-good fun and fundraising with its 'Top Bottoms of Burlesque' theme. There's no more fitting, or fit, gentleman to start the season off right.
As far as other talents go, Mitchell is a renowned director and choreographer (in my dreams I still try to execute those kicks from 'Kinky Boots') as well as a seasoned performer who's tread those glorious boards himself. The list of his credits is a long and impressive one, and shows no sign of stopping (it includes You're A Good Man, Charlie Brown, The Full Monty, Hairspray, La Cage aux Folles (2004 revival), Dirty Rotten Scoundrels, Legally Blonde: The Musical, Catch Me If You Can, Love Never Dies and the aforementioned 'Kinky Boots.')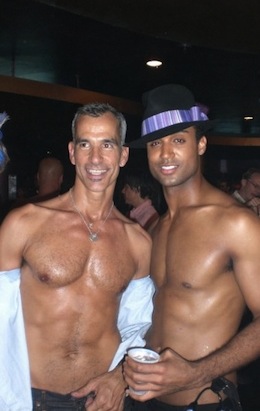 That sort of consistency and mettle in a crazy competitive career field is the mark of a legacy in the making. Mr. Mitchell has already secured his place in the firmament of Broadway stars, but to his credit he's only just begun.
Back to Blog