{Note: The Madonna Timeline is an ongoing feature, where I put the iPod on shuffle, and write a little anecdote on whatever was going on in my life when that Madonna song was released and/or came to prominence in my mind.}
"No need to listen for the fall. This is the world's end." ― Rudyard Kipling
We were nearing the end of 1994, and I was about to have one of the worst illnesses of my life thus far: a raging case of mono that would land me in the Brandeis University infirmary. The nurses there were wretched… but I'm getting ahead of myself. We will be there soon enough. First, a bit of background and a brief lead-up.
Madonna had just released 'Bedtime Stories' – her first major artistic output in the aftermath of the tumultuous 'Erotica' and 'Sex' fall-out. The only particularly notable (and nefarious) thing she had done after 'The Girlie Show' tour was the infamous David Letterman interview where she said 'fuck' a whole bunch of times. It was mostly awkward because of the interviewer's weaknesses, though Madonna was hardly at her best at the time. (There was also the sheer brilliance of the soundtrack single 'I'll Remember' but for some reason nobody seems to follow the title's sentiment.) 'Bedtime Stories' was a lovely little reminder of what had always mattered most in Madonna's career, even when she herself didn't feel it: the music.
I'd traveled into Boston for the midnight release at Tower Records. The vibe was exciting enough, but nothing like former and future frenzies ('Erotica' and 'Ray of Light' for instance). This was a mellow record, and its reception was warm but muted, not unlike the music itself. Madonna had scaled back the shock factor, and turned down the sizzle, resulting in a softer and quieter release. Still, lead single 'Secret' was a slow-burning bona-fide smash, and it paved the way for a pleasant return to form.
It was a cold November evening, and I would not make the last commuter rail back to campus, so I'd had to take the T to the last Green Line stop at Riverside, nearest to Brandeis, and hop a cab the rest of the way. It didn't matter much – the new album kept glorious aural company, and the first track 'Survival' was a soft-focus R&B shuffler that sounded as sweet as its message was strong, with lyrics that were self-empowering and referential from a woman who rarely looked back or owned her failings.
I'LL NEVER BE AN ANGEL,
I'LL NEVER BE A SAINT IT'S TRUE
I'M TOO BUSY SURVIVING,
WHETHER IT'S HEAVEN OR HELL
I'M GONNA BE LIVING TO TELL
SO HERE'S MY STORY,
NO RISK, NO GLORY
Sometimes November feels colder than the depths of deepest winter. By February or March the body is mostly hardened to the chill, but the first few seriously cold snaps are a jolt no matter how many winters you've weathered. This was one of those nights, and in spite of how tightly I pulled my coat around me, the chill was already inside.
Having just been unceremoniously dumped by the first man who ever kissed me, my heart felt a little battered. It made sense that my body would soon follow suit, and as I stood there in the sad yellow lamp of a single street lamp, alone and waiting for a taxi cab to take me back to a dark and empty dorm room, I allowed myself a quick moment of self-pity. I shuddered. At the cold, and the emptiness. The voice of Madonna was my sole companion.
A LITTLE UP & DOWN & ALL AROUND
IT'S ALL ABOUT SURVIVAL
A LITTLE UP & DOWN & ALL AROUND
IT'S ALL ABOUT SURVIVAL…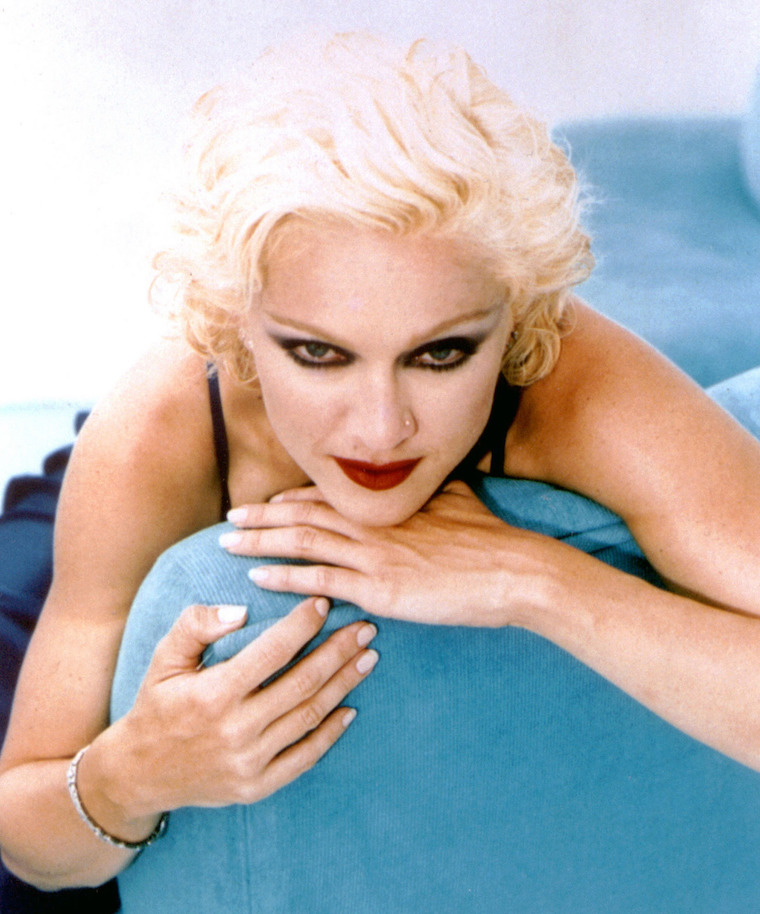 A few days later, a sore throat came upon me – hard and swift and debilitating. Despite all appearances to the contrary I'm actually not a baby when it comes to sickness – it takes a lot to fell me. I went to class and swallowed through the pain, but by Saturday it was difficult to simply get saliva down. I went to the infirmary for some guidance, and was promptly dismissed by a rude nurse. Returning to my dorm, I laid in bed for the rest of the day, alternately reading and sipping at water, even as it felt like shards of glass tumbling down my throat. By evening, unable to stand the pain, I called my parents. On the verge of tears, I listened to an endless string of rings; there was no answer.
I'LL NEVER BE AN ANGEL,
I'LL NEVER BE A SAINT IT'S TRUE
I'M TOO BUSY SURVIVING,
WHETHER IT'S HEAVEN OR HELL
I'M GONNA BE LIVING TO TELL
SO HERE'S MY STORY,
NO RISK, NO GLORY
A few hours later, I tried again. My brother answered and said they were at a party. After hanging up, I did cry a little. Not for the loneliness, but for the pain. It was literally becoming impossible to swallow. Somehow, I did not panic. I pulled a coat on and hurried down the Usen Castle stairs, then outside into the cold night and down more stairs to the infirmary again. I insistently told the nurse on duty that something was wrong and that I wasn't being a baby. I couldn't swallow because it hurt too much. She sighed, gave me some Tylenol with codeine, and told me to lie down on a cot in one of the rooms there. Out of fearful exhaustion, and under the cloud of codeine, I fell asleep.
The next morning I awoke in more pain, and a somewhat hazy state, in which I saw my parents standing up beside the cot looking concerned. I blinked to be sure it was real, but they remained. At that moment I got scared and realized I was sicker than I'd thought. Somehow they'd found out where I was and driven the three hours to be there.
It's good to have a doctor and nurse advocate for you when surrounded by cruel and inept nurses (and those staffing the infirmary during my stay were horrid). Thanks to my parents, who advised the doctor to up the pain meds because I wasn't someone who complained without good reason, I was put on some horse pills that knocked me out for the next three days while the mono worked its way into submission.
These were The Lost Days. Into and out of consciousness I went, trying valiantly to finish 'Kim' by Rudyard Kipling for a literature class I was in, and getting confused between the fever-ravaged antics of the pages and my own cloudy predicament. Vaguely, I recognized fellow dorm denizens making their volunteer rounds, proffering paper cups of water and little bowls of unappetizing soup. I could barely swallow, and my stomach was entirely uninterested in filling itself up. For most of the day, I slept. My waking moments were mainly in darkness, beneath a solitary lamp over the bed, where I tried to keep reading and not fall behind in my classes. It was an indication of how sick I was that I did not stress over that. Usually I'd have freaked out royally from missing an entire week of classes, particularly as we neared finals for the first semester.
Instead, I gave up.
After love (or the dismal thing I mistook for love) departed, I gave up on it. It's laughable when I think of how soon and how easily I gave in, but at the time all I knew was that it hurt. The loneliness I had always felt was not going away, and I reconciled myself to that. After a chilly fall of sadness, my body followed suit, giving up in its own way and landing me in the infirmary.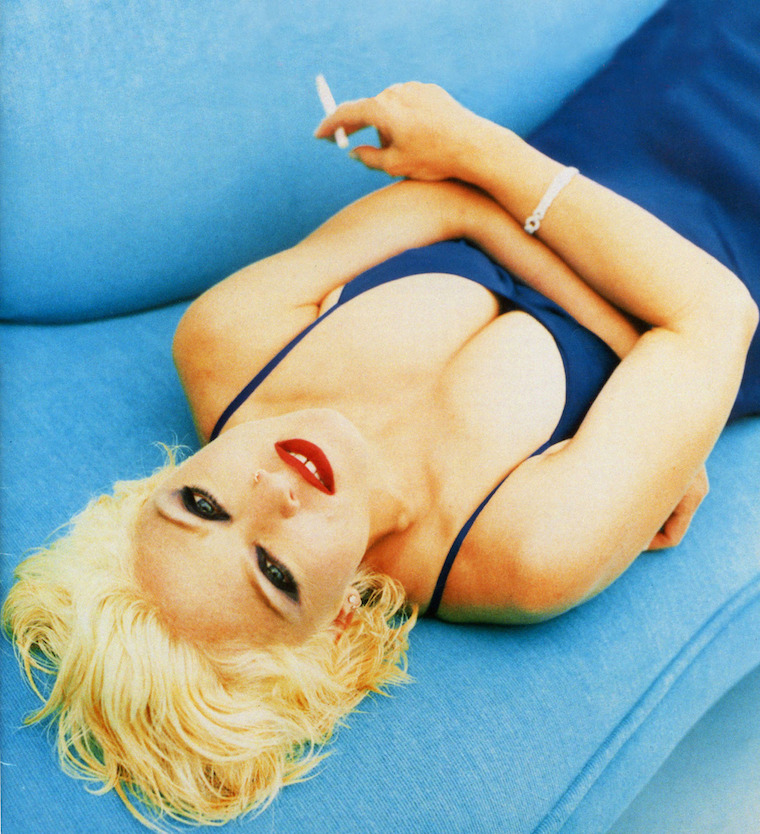 SO, HERE'S MY QUESTION:
DOES YOUR CRITICISM HAVE YOU CAUGHT UP
IN WHAT YOU CANOT SEE?
WELL IF YOU GIVE ME RESPECT,
THEN YOU'LL KNOW WHAT TO EXPECT.
I didn't quite know who I was yet (some days I still don't). I only knew that I was a very young guy, just nineteen years old, and I was barely beginning to feel rocked by the world. In the recent aftermath of a heart that didn't know what it was to be broken, and in the blissful ignorance that likely helped me not to feel such pain, merely surviving was a Herculean effort in itself. I couldn't, at the time, see the larger picture, the troughs and swells of the oceanic journey that, with time and distance, evened out into a placid pool of calm. The dark, ominous bottoming out was all I could feel.
Yet it was at the darkest moment that Madonna sang this song to me.
As the feverish state broke, and I came back to awareness, I was strong enough to climb the stairs back to my dorm room. It was a sunny, slightly brisk day. My friend Kate was arriving on the commuter rail to pick me up. We would go into Boston, where her parents and mine were in town for the weekend. All glory to God for providing my Dad's conference and his accompanying room at the Ritz Carlton (then at its original location overlooking the Boston Public Garden) on that weekend. I made the most of it, recuperating in a gorgeous room overlooking Newbury Street. Indulging in a room service breakfast of French toast, I began making up for lost food in fine fashion, and aside from a few strolls through Back Bay stayed largely by the hotel.
By Sunday, I was feeling much better. The sun was out again, though the wind was cold. Fortified by some family time, and all that French toast, I returned to Brandeis. In another week it would be Thanksgiving. Life went on. Already, my mono madness felt like the stuff of dreams – a hazy patch of medicated stupor through which I stumbled. Some nights I still wake up in a panic recalling that period, worried that I didn't complete all the work I needed to pass those courses.
A LITTLE UP & DOWN & ALL AROUND
IT'S ALL ABOUT SURVIVAL
A LITTLE UP & DOWN & ALL AROUND
IT'S ALL ABOUT SURVIVAL…
I wonder at how I did manage to survive that year all alone, as I was just awakening to the fact that I was gay, that it wasn't a phase, that the one that I was searching for would be a man. I wonder at how I managed to make it through the early-to-mid-nineties when being gay was intertwined with the AIDS crisis, and so much misunderstanding and prejudice. I also wonder at my naiveté, and whether that helped or hindered me. Probably a little, or a lot, of both. Being ignorant of what one is supposed to feel, and of what we are truly capable of surviving, enables a sort of blind strength. The kind of courage that sees you through those times that might otherwise have ended up very differently.
I'LL NEVER BE AN ANGEL,
I'LL NEVER BE A SAINT IT'S TRUE
I'M TOO BUSY SURVIVING,
WHETHER IT'S HEAVEN OR HELL
I'M GONNA BE LIVING TO TELL
SO HERE'S MY STORY,
NO RISK, NO GLORY…
In the liner notes to the 'Bedtime Stories' album, Madonna thanked her then-assistant Caresse Henry for "keeping me from doing something I might regret later." There was always something ominous about that chilling note of gratitude, a crack in the armor of the woman who was so seemingly invincible. The rocky road after 'Sex' and 'Erotica' may have been darker than any of us realized, even for a person who thrived on a love-hate relationship with the world at-large. I read those words and wondered what Madonna meant. Maybe there was something deeper in this Survival. Maybe the opening salvo of the album was a triumphant victory that spit in the face of chart positions and Billboard glory, and started Madonna on the path where mainstream success and acclaim mattered less than artistic expression and creative fulfillment. She would straddle both for the next two decades, so it needn't have concerned her.
Ms. Henry, in an upsetting side-note, would end up committing suicide herself. Not everyone is meant for survival, even if you've personally managed one of the world's preeminent survivors.
"This is a brief life, but in its brevity it offers us some splendid moments, some meaningful adventures." ― Rudyard Kipling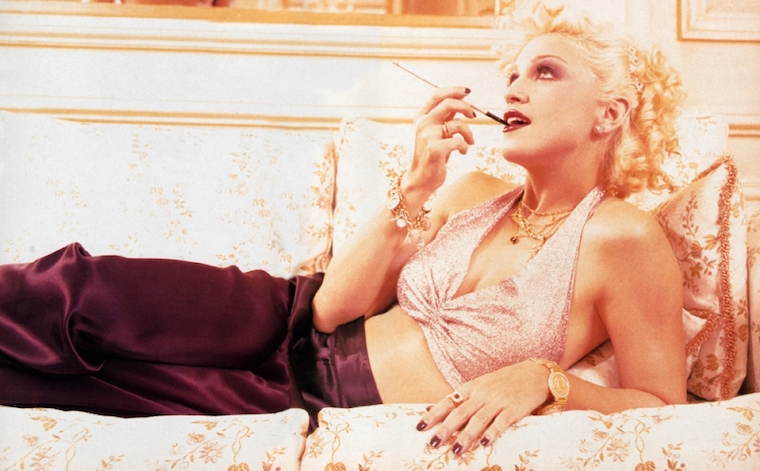 A LITTLE UP & DOWN & ALL AROUND
IT'S ALL ABOUT SURVIVAL
A LITTLE UP & DOWN & ALL AROUND
IT'S ALL ABOUT SURVIVAL.
SONG #121 – 'Survival' – Fall 1994
Back to Blog