Madonna: Rebel Heart Tour 
September 26, 2015 — TD Banknorth Boston
She stands there, resplendent in the Bob Mackie gown she wore to the 1991 Oscar ceremony, looking every inch the superstar, dripping in diamonds, her bright blond hair glowing like a halo around her. Those blue eyes twinkle as she shimmies and shakes, and only when the camera pulls away slightly do we see that she is caged. A metal screen holds her back, framing her legendary body. Bumping and grinding, she shakes her booty just as she did at the end of that legendary 1991 Oscar appearance.
But all is not well, as the stomping of soldiers and the brutality of actions results in a bruised and battered Madonna, her gown sullied and her diamonds encrusted with blood. Is this what the world has done to her, or what she has done to herself, her image, her entire history?
She is beaten down, bloodied and left for dead at the hands of masked soldiers.
She waits to be rescued but it's not a knight in shining armor who comes to her aid, it's Madonna herself in flowing 'Ray of Light' hair, suited up in black fight gear, racing and leading a group of soldiers to the start of a revolution. That's always been her way – saving herself and not counting on a man, or a woman, or anyone other than her own multitude of selves.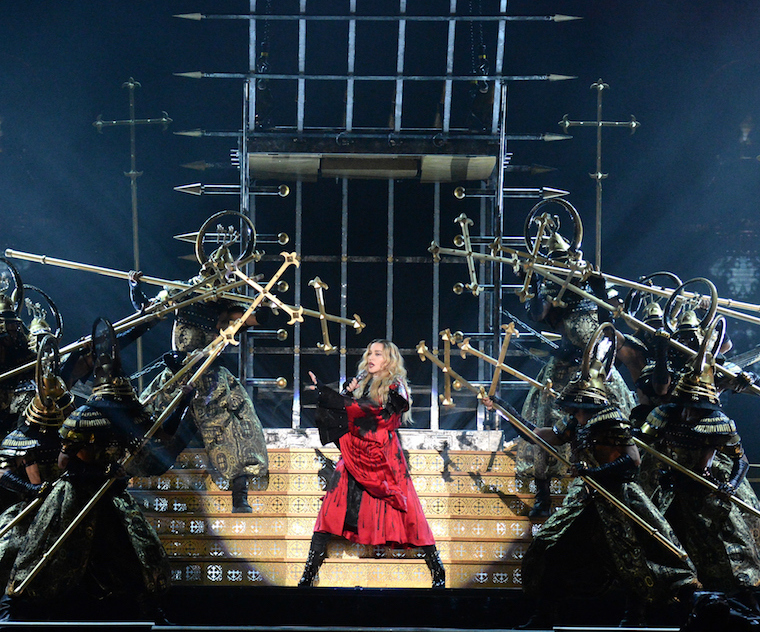 The battle cry of the 'Rebel Heart Tour' has been sounded, and the clarion of 'Iconic' sees her descending and breaking out of a metal cage that deposits her in the center of the maelstrom. She begins as Woman Warrior, dispensing cross wielding samurai with assured ease. Her own bulky get-up of red streaked with black is also soon dispensed, revealing an elegant black brocade dress for the polarizing 'Bitch I'm Madonna' and early semi-hit 'Burning Up' (for which she also plays a mean electric guitar).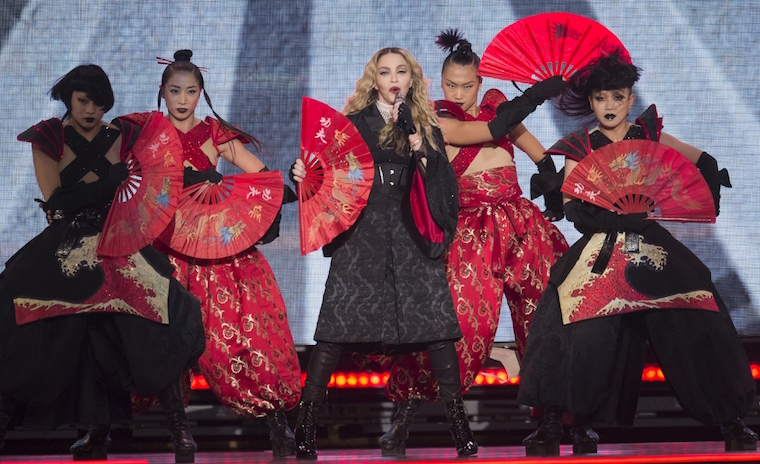 Costumes and choreography are the mainstay of any proper Madonna show, and this evening finds her making clever use of a multi-song strip-down that ends with a sheer nun-inspired look for 'Holy Water' – arguably the most controversial portion of the show. In all fairness, it's pretty benign, even if it does find Madonna pole-dancing with scantily-clad nun figures. Getting beyond that, though, it also provides the evening's seminal set-piece: a last supper brought to thrilling life. The image is an indelible one, and it fittingly segues into 'Vogue' because, well, didn't Jesus Christ himself strike the most iconic pose of all? There are no such crucifixion scenes here, and after pushing the envelope (a phrase seemingly crafted for the sole purpose of Madonna) she comes to a new salvation in 'Devil Pray'.
A ghostly interlude of 'Messiah' finds one of her back-up dancers working some serious performance art, and when Madonna returns things take a brighter, if bluer, turn with the 50's garage-theme exuberance of 'Body Shop'. As she did on her 'Rebel Heart' album, Madonna manages to reconcile her rebel and romantic sides for perhaps the first time in her career. Up until now it's usually been one or the other, with varying results for each. (For every rebellious 'Like A Prayer' or 'Erotica' moment there was a softer 'Evita' or 'Bedtime Stories.') On this tour, she melds those often-opposing views into a cohesive look back (and, as ever, forward) on the duality that has made her such a transfixing icon.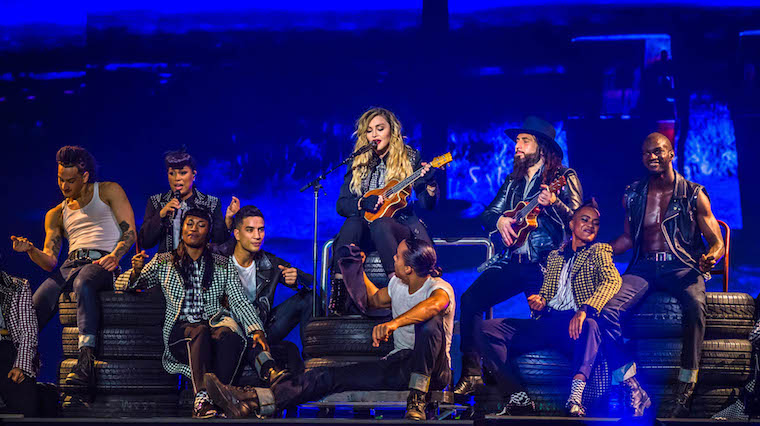 The heart of the show may be her sweetly-earnest rendition of 'True Blue' on which she plays the ukulele. Many of us fans never thought we'd see the day she'd sing the title track of the album to which she dedicated and so generously doted on first husband Sean Penn, but here it was, transformed into an unsaid ode to those fans who have stood by her in the very truest of blue manners. Equally-pleasing was the racing performance of 'Deeper and Deeper' which finds her breaking things down in a West-Side-Story-meets-Michael-Jackson moment of choreographic bliss.
Madonna's ambivalence of love has always been one of her most interesting features, and the arrival of the melancholy mash-up of 'Heartbreak City' and 'Love Don't Live Here Anymore' is one of the more dramatic, and assuredly mature, moments of the whole show. Yet getting over heartbreak is what Madonna has done in repeatedly fine fashion; here she does so in an infectiously-retro romp through 'Like A Virgin' finding that shiny and new feeling for the umpteenth time. It's a simple yet effective crown-pleaser, a throwback to the girl who giddily danced and sang all by her lonesome while the rest of the world watched in flummoxed fascination.
An immense cape seems to run the length of the entire extended stage, and Madonna throws it off before diving into an unfortunately choppy version of 'Living For Love'. For those who recall her cape-inflicted fall from a stage, this is a triumphant return, indicative of what Madonna has espoused over and over: the ability to get right back up from any fall. It wouldn't be a Madonna tour without a damn performance of 'La Isla Bonita', but this time it works as a lead-in for the flamenco-tinged outfits and musical slant of a majestic mash-up. This one runs through some of her earliest and most beloved hits – 'Dress You Up', 'Lucky Star', 'Into the Groove' – given a slowed down but still-smoldering flamenco spin.
It's the perfect personification of this tour: a magical warm-hearted amalgamation of a multitude of countries – China, Japan, Mexico, Spain, France, and of course America. It's a tour for the world, for a multi-generational cross section of humanity which Madonna has somehow always managed to unite – in adoration, in exasperation, in inspiration. When she dives into her 1987 #1 hit 'Who's That Girl' (which most Madonna fans figured we'd never hear live) accompanied only by a guitar, it's an astounding moment of introspection served up to the world. Standing near the edge of her heart-shaped stage, she moves into a joyously-nostalgic performance of 'Rebel Heart' while artwork by her fans plays on an enormous video behind her. Simple stuff, but powerful as hell when you listen to the lyrics and think about how far she has come – and how far all of us who have been on this journey have come.
For the final segment of the evening, an art-deco flapper send-off that finds Madonna dripping in sparkling crystals, all elegance and showgirl sexiness as she begins a slow-burn intro to the now-classic 'Music' – it soon revs up into a high-octane 'Smooth Criminal' scene. An unnecessary re-hash of one of her weaker songs, 'Candy Shop' gets some extra flapper attention here, but it's a shimmering straight-up almost ballad-like rendition of 'Material Girl' that truly shines.
On this day, her son David turned ten, and he was the surprise 'Unapologetic Bitch' of the evening. As such, he showed some serious dance moves before Madonna paused in her usual banter, foregoing the usual litany of 'fucks' at that point, and, in charmingly awkward mother-son fashion, explained to him that sometimes it's ok to swear if it's in a song. Later she dedicates a vocally-precious version of 'La Vie en Rose' to him. It is a rare and thrilling unguarded moment where the mother kicked in, and it was both startling and heartwarming to see this woman whom we've watched kick ass and take no prisoners for sentimental bullshit taking off her armor. That's what this Woman Warrior is doing with her Rebel Heart tour. She's still an ass-kicking renegade, but underneath it all she's human. It's that Madonna – the only Madonna – who rules and slays and loves – whom I've adored for 30 years. It seems the rest of the world is finally catching on.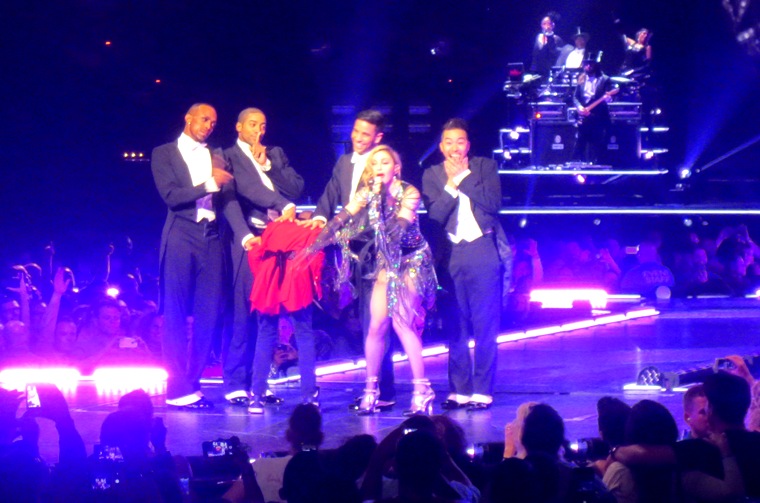 Back to Blog