{Note: The Madonna Timeline is an ongoing feature, where I put the iPod on shuffle, and write a little anecdote on whatever was going on in my life when that Madonna song was released and/or came to prominence in my mind.}
YOU'RE GONNA LOVE THIS
YOU CAN'T TOUCH THIS
CAUSE I'M A BAD BITCH!
Here is the colorful set of stairs she playfully climbed.
Here is the red water fountain from which she sipped.
Here is the bar where she dumped a drink down a cute male model's throat.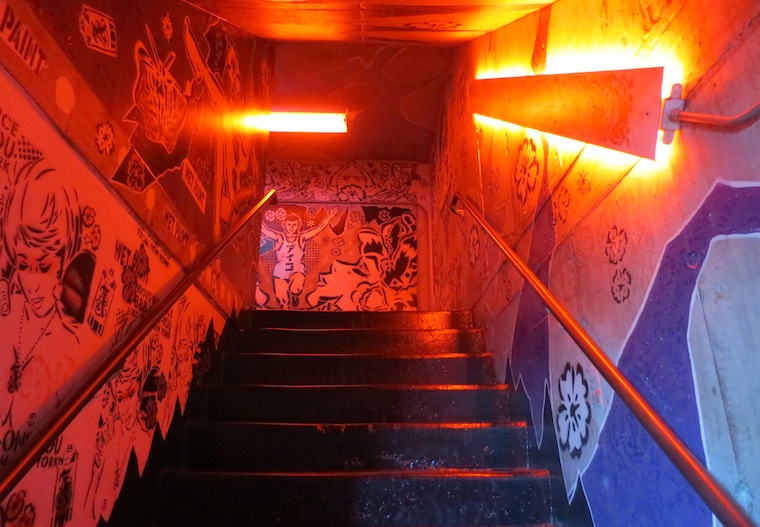 This is the Standard High Line, where Madonna filmed her latest video – 'Bitch I'm Madonna' – the last single from the amazing 'Rebel Heart' album. For some of us die-hard Madonna fans, every place she inhabited – no matter how fleetingly – is sacrosanct ground. We worship such locations as though they were little shrines to Our Lady of Perpetual Reincarnation. (The only reason we ever went to the Gaiety was to be in an actual place that Madonna had also been in. I swear.)
When I found myself ensconced at the Standard, I made a point of seeking out some of the spots where she filmed the video, and I felt the same thrill as I did when passing into that seedy theater where some of 'Sex' was shot. Decades later, I am riding up in the elevator to the top of the hotel. Psychedelic and surreal videos play on the walls, while foreboding orchestral music taunts from the blackness above.
Here she may have risen, I think with a giddy burst of excitement.
The floors of the Standard, accessible only by those with a proper key card, silently and invisibly zoom past. Pop scenes continue to unfurl on the video screen – Julie Andrews in 'The Sound of Music' juxtaposed with an abundance of bare-breasted ladies – as I reach the upper floors. The doors open to a brilliant white hallway. Everything is brighter this high in the sky.
WE HIT THE ELEVATOR RIGHT UP TO THE ROOFTOP
THE BASS IS PUMPING, MAKES ME WANNA SCREW THE TOP OFF
YEAH WE'LL BE DRINKING AND NOBODY'S GONNA STOP US
AND WE'LL BE KISSING ANYBODY THAT'S AROUND US.
Like the greatest Madonna songs, 'Bitch I'm Madonna' is, more than anything else, inspirational. It makes me feel like I can do anything. Act like a forty-year-old fool. Be brave. Take all my clothes off in front of an entire city. It's the same feeling Madonna inspired when I was a frightened little boy, dancing in a neighbor's basement and forcing myself to be seen and heard, the same feeling I had when I traveled to Russia at the height of summer, and the same feeling I had when I drove through an early spring night blasting her 'MDNA' album. It's something that no other artist has yet to inspire in me, this sense of courage to be completely myself in the face of a world that wants us only to conform. Madonna does that for me, and no matter what anyone else might say or think of the woman, it's something that has literally saved my life. Best of all, it's something that can never be taken away.
I JUST WANNA HAVE FUN TONIGHT!
PULL ME UNDER THE FLASHING LIGHT!
LET ME BLOW UP THIS HOUSE TONIGHT!
I walk around the hallway where some of the video was shot. Bending over to take a sip of water from the red fountain, I pause while my friend Chris takes a picture. Outside the gym area, a circular window looks out onto water. In the center of it, far in the distance, stands the Statue of Liberty – the same one that made a cameo in Madonna's 'Papa Don't Preach' video. At this point in her career, it is almost impossible to avoid self-references, and there's a certain sadness in that. A sorrow in the way that it must feel constricting. Memories can be chains that bind, and the past can be a lugubrious albatross that lurks behind every turn, showing up just when you think you'd gone far enough beyond what you wanted to escape. I look out the window and wonder if Madonna looked out the same one, longing for something.
WE GO HARD OR WE GO HOME
WE GON' DO THIS ALL NIGHT LONG
WE GET FREAKY IF YOU WANT
NAH, NAH, NAH, NAH, NAH…
WE GO HARD OR WE GO HOME
WE GON' DO THIS ALL NIGHT LONG
WE GET FREAKY IF YOU WANT
BITCH I'M MADONNA.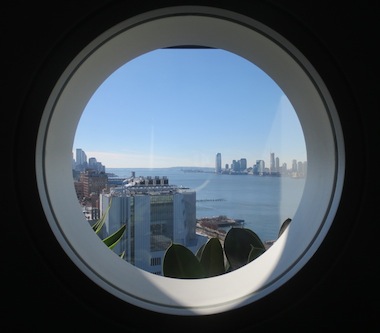 Brazen, blistering and bodacious, 'Bitch I'm Madonna' manages to be classic and new Madonna at once. The sound is of the moment; the attitude is one she's had from the beginning. A rallying anthem for fun and good times (much like 'Turn Up the Radio') it's a desperate plea for throwing caution to the wind, and for proving that we can still go hard all night long and meet the break of dawn. In the city of New York, it's the perfect music of the night.
WE'RE JUMPING IN THE POOL AND SWIMMING WITH OUR CLOTHES ON
I POURED A BEER INTO MY SHOE AND GOT MY FREAK ON
THE NEIGHBOR'S PISSED AND SAYS HE'S GONNA CALL THE FIVE-O
IF THEY SHOW UP THEN WE ARE GONNA GIVE A GOOD SHOW
I JUST WANNA GO OUT TONIGHT!
PULL ME UNDER THE FLASHING LIGHT!
LET ME BLOW UP THIS HOUSE TONIGHT!
Many of us have had such nights in the city, when the phone is telling you it's 4 AM and you don't believe it, so you end up crawling to some diner because you still don't want it to end. It's that romantic possibility of a few more minutes of the moment, when anything still might happen, or when you know it won't but you like the company and feeling so much you can't face closing your eyes to it. A night that's so good that the arrival of morning is not met with relief or rejoicing, but almost sadness.
WE GO HARD OR WE GO HOME
WE GONNA DO THIS ALL NIGHT LONG
WE GET FREAKY IF YOU WANT
NAH, NAH, NAH, NAH, NAH…
BITCH I'M MADONNA.
Whenever I feel down or apprehensive about something, when the world is waiting to strike through the heart with its cold indifference, I put on a song like this. It builds me up from within, giving me an internal armor that lets me be the man everyone thinks I am – the guy who doesn't care, who can charge through life confident and collected, put-together and perfectly secure in who he is.
It doesn't matter that it's not exactly true. Confidence can be built from the ground up. On the roof-deck of the Standard, looking out over what might as well be the whole world, I feel invincible – and for that one moment, I am.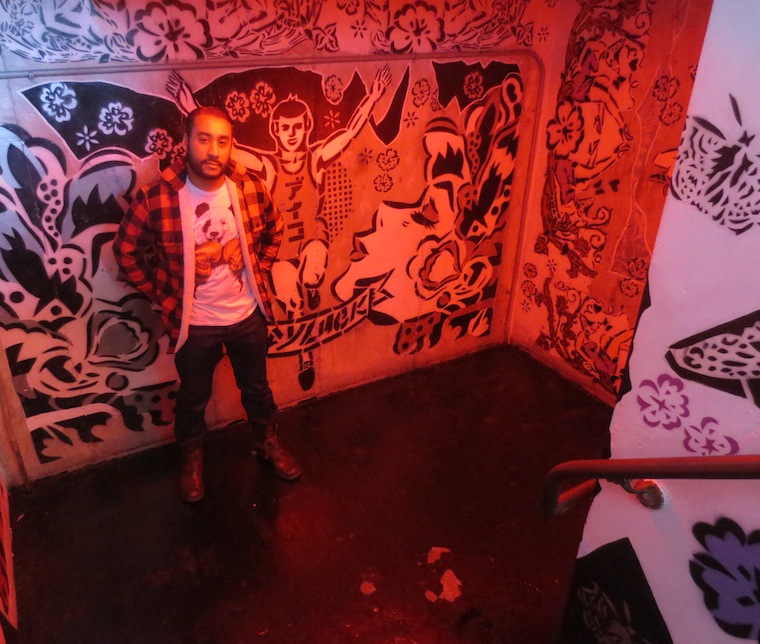 WHO DO YOU THINK YOU ARE?
YOU CAN'T MESS WITH THIS LUCKY STAR.
WHO DO YOU THINK YOU ARE?
SONG #117 – 'Bitch I'm Madonna' – Now 2015
Back to Blog