{Note: The Madonna Timeline is an ongoing feature, where I put the iPod on shuffle, and write a little anecdote on whatever was going on in my life when that Madonna song was released and/or came to prominence in my mind.}
[On the eve of my 40th birthday, a most-fitting Madonna Timeline: the title track to her latest album (and current tour) ~ 'Rebel Heart.' The demo leaked early, and remains, in my humble opinion, the superior version, but I'll include the more acoustic and stripped-down album version at the end, as that's almost as good.]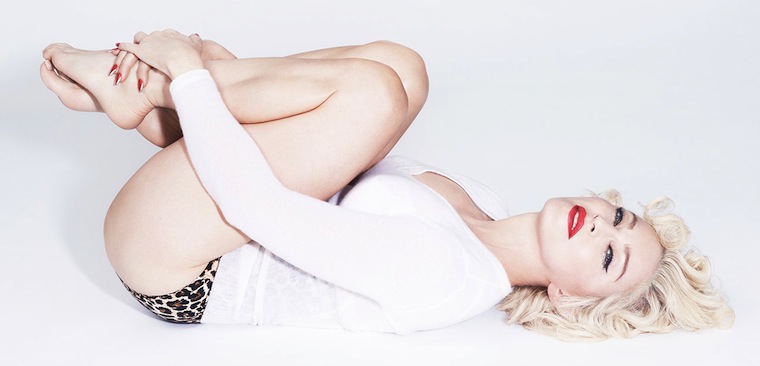 When Madonna turned 40, or shortly before or after, she delved into yoga and put out her magnificent (and yet-to-be-topped) album 'Ray of Light.' According to a New York Times interview at the time, yoga had brought about a profound transformation in the once-material now-ethereal girl. At one yoga session she once found herself in a particularly strenuous pose and suddenly just started crying, letting out emotional baggage she'd been carrying for 40 years. I've always been struck by that image, and I've since wondered what will come of me when I hit 40. I guess we're about to find out. Will the torrents of four decades of pain be released or relieved? Will I heave forth some cleansing expulsion of pent-up sadness or anger or fear? Will I rejoice in a new freedom? Somehow, I don't think it will be as dramatic as all that. It's just another day, and a Monday at that. Still, like it or not, the number means something, even if it's been impressed upon us by a society hungry for drama and terrified of aging.
I LIVED MY LIFE LIKE A MASOCHIST 
HEARING MY FATHER SAY, "TOLD YOU SO, TOLD YOU SO.
WHY CAN'T YOU BE LIKE THE OTHER GIRLS?"
I SAID, "OH NO, THAT'S NOT ME,
AND I DON'T THINK THAT IT'LL EVER BE."
The steady stream of water falls hot from the shower head. I stand there in the wet, stilled suddenly by the woman who has never failed to thrill me, and thirty years into her storied career the words and music touch me like the very first time. As her new song sounds brilliantly against the tile of the bathroom, I stop in my scrubbing, look through watery eyes, and simply listen. So much of my shower and car music is Madonna, but most of the time it's background noise. Far more intent on testing out a new Aveda body wash or jockeying the Ice Blue Show Queen out of a bottleneck situation, I hear her, but don't always listen. On this night, I do. Standing there, naked and quiet, I listen to 'Rebel Heart' while water surrounds me. Forget a reinvention, this is a rebirth. Thirty-nine years into my life, it feels like a baptism.
Her voice reveals further shades of vulnerability, with an underlying resilience that has allowed her to survive, and thrive, this far into an entertainment career, unrivaled by almost everyone. In 'Rebel Heart' she was a little girl, a grown woman, and the very sensitive human who registered hurt and love in ways both wizened and misunderstood.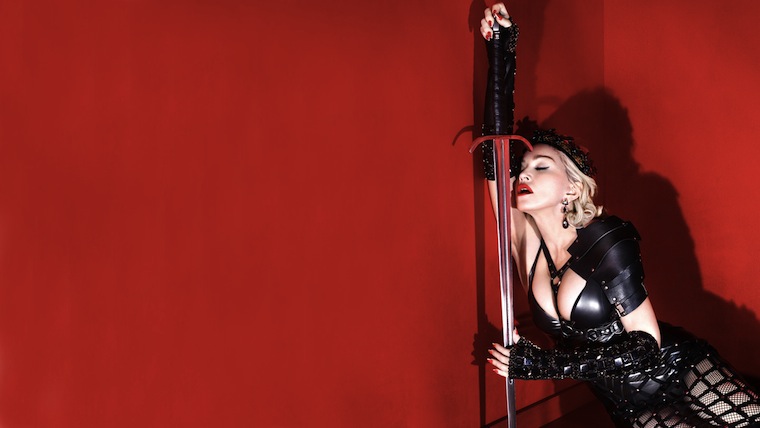 THOUGHT I BELONGED TO A DIFFERENT TRIBE
WALKING ALONE, NEVER SATISFIED, SATISFIED 
TRIED TO FIT IN BUT IT WASN'T ME, 
I SAID, "OH NO, I WANT MORE,
THAT'S NOT WHAT I'M LOOKING FOR." 
It is just another number, and tomorrow is just another day, yet there is an albatross of significance to the person turning forty years old. Society has largely assembled such an onus, creating a false notion of anxiety upon hitting the much-maligned milestone. Some, like Madonna, have pushed back against such limitations, railing in opposition to the notion of the prim, proper, and age-appropriate – subjective terms at best, ageist and elitist at worst.
In that respect, it is not the number that scares me. It's the question of whether I'm where I want to be, four decades into this journey. That's a question that has plagued me since I was first cognizant, and I hope it bothers me until the day I die.
SO I TOOK THE ROAD LESS TRAVELED BY AND I BARELY MADE IT OUT ALIVE
THROUGH THE DARKNESS SOMEHOW I SURVIVED
TOUGH LOVE – I KNEW IT FROM THE START, DEEP DOWN IN THE DEPTH OF MY REBEL HEART.
During my freshman year at Brandeis, I took an Introduction to Astronomy course. I thought it would be all stars and moons and romantic dreamy prose, so when it turned out to be mostly physics and difficult calculations, I was less than thrilled. The scope of it, however, was impressive, and on clear November nights, we'd ascend to the top of the science building and view the skies through telescopes and binoculars, and begin to feel just how large the universe was. Up until then I'd eyed my professor's unruly and unkempt beard with disdain, judging his soiled jeans and dilapidated belt with profound displeasure. Now, I realized something. It wasn't that he didn't care. He simply knew it didn't matter. Not when other worlds expanded ad infinitum, not when we were smaller than specks of dust in both time and distance.
Whenever these big-picture conundrums rear their weighty, philosophical heads, I panic a bit. There's nothing reassuring about being nothing, and it's frightening to think about how minute our place in this world is. To combat that, part of my existence has been dedicated to making myself seem larger-than-life. Maybe Madonna does that subconsciously too. It's a fear of oblivion, a fear of not being known, a fear of not mattering. 'Rebel Heart' might be her way of reassuring us, and herself, that it's ok. We did what we had to do to survive, to feel safe and secure and prominent when the reality of the universe was doing everything it could to make us feel small and insignificant. We acted out, we dressed outrageously, we thrashed our bodies and brains to excesses of emotion just to leave an effect, an impression. We loved ourselves because sometimes it felt like no one else in the world did, and even if we were faking it, there was truth and loneliness and hope in that.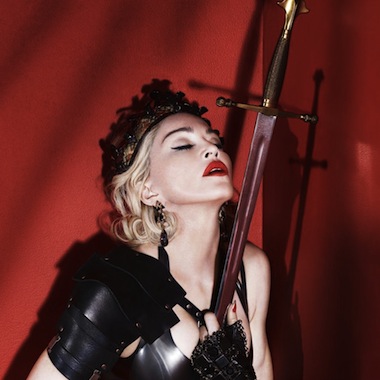 At times of feeling unseen and small, when the universe expands in terrifyingly exponential form – unending and beyond the scope of my limited comprehension – I try to shrink the view, to narrow my focus on the most minute particle I can hold in my hand. There may be something to this theory of relativity after all. A ragged cube of salt, a jagged piece of sand, an oblong grain of rice, or a seed in a sea of thousands of seeds – there is comfort in carrying the whole of their existence in the wrinkled landscape of an upturned palm. I limit my gaze to a single coneflower, and follow the circles to its very center, or blow off all but a single parachute of a dandelion seed.
A drop of water joins another, collecting en masse, running into tiny rivulets, gaining in volume, rushing into small streams, raging into rivers, surging into seas, overflowing into oceans and finding their sunlit way into the sky again, in sunbeams transporting them back to the clouds, from which they will fall again. The push and pull, the rise and fall, the ebb and flow – it begins and ends and begins again.
OUTGROWN MY PAST AND I'VE SHED MY SKIN, LETTING IT GO AND I'LL START AGAIN, START AGAIN
NEVER LOOK BACK, IT'S A WASTE OF TIME
I SAID, 'OH YEAH, THIS IS ME, AND I'M RIGHT HERE WHERE I WANNA BE."
I SAID, 'HELL YEAH! THIS IS ME, RIGHT WHERE I'M SUPPOSED TO BE."
Above me, the shower spurts more hot water over my head. It runs down my body, this body that has grown around me for almost forty years, that has carried and cushioned me from a hard world. Here, a scar on my shoulder from when I scraped the rough bottom of my parents' pool – there, above my knee, a recent red welt from where a bamboo stake pierced the skin in an over-zealous pruning expedition. I watch a drop of water travel down from my chest, pausing for some literal navel gazing around the spot where they cut me off from my mother, and follow it as it drips off the tip of my sex, landing on my toe and trickling away down the drain. I stare down at the glistening, damp patch of hair surrounding where I'd create life if ever I were to have a child. I know now, and I've known all my life, that I will never use it for that purpose. I won't have children. Turning forty won't change my thoughts on that, but it does cause pause, and wonder. It also brings up the prospect of mortality looming on a distant horizon. I'm probably about halfway there. What, if anything, will I leave behind?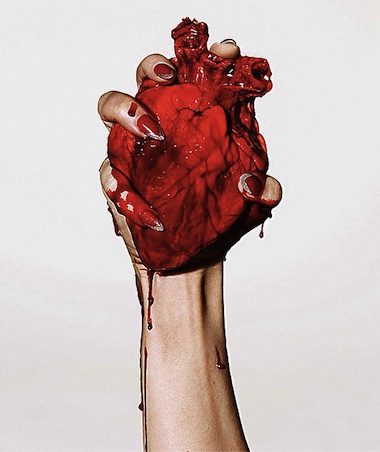 SO I TOOK THE ROAD LESS TRAVELLED BY
AND I BARELY MADE IT OUT ALIVE
THROUGH THE DARKNESS SOMEHOW I SURVIVED
TOUGH LOVE – I KNEW IT FROM THE START
DEEP DOWN IN MY REBEL HEART 
I've tried different ways of leaving a legacy, desperate attempts at not being forgotten – attention-getting antics, doing something or wearing something or writing something that wants only to be remembered. I won't have anyone who will tell my stories later on, just what exists here, in this virtual online realm, a ghost until my host stops receiving payments, and then a page that cannot be located. One day I may only be an Error – Not Found. Then will I truly be gone? I don't know. I don't know how dark that place may be.
Until that darkness arrives, however, I will be here. Even if it's futile, I'll go down fighting. I will do my best to display a galvanized compassion, to uphold a nobility that may not even count for much in this world. Even if it doesn't matter to anyone else, it matters to me. Maybe these words will live on, maybe they won't, but for now, for this day and night, I am here. You are here. We are here, and we are together.
The shower stops. The song ends. I wipe the water off of my face. Tomorrow I will be 40.
Madonna has said that 'Rebel Heart' is the embodiment of two sides of her personality – the rebellious controversial part, and the romantic softer side. It's a fitting juxtaposition: a warrior is nothing without heart, and a heart cannot beat without some protection. It seems both strange and inevitable that thirty years into her game, and one day short of forty years into my life, she has become the woman warrior forging the way to the future – unstoppable, heroic, and brave.
SO I TOOK THE ROAD LESS TRAVELED BY AND I BARELY MADE IT OUT ALIVE
THROUGH THE DARKNESS SOMEHOW I SURVIVED
TOUGH LOVE – I KNEW IT FROM THE START, DEEP DOWN IN THE DEPTH OF MY REBEL HEART.
IN MY REBEL HEART… IN MY REBEL HEART.
SONG #113 – 'Rebel Heart' – Right Now
Back to Blog