Let the temperatures soar and the recap begin! We're gearing up for some summer traditions – such as our anniversary this week – and some new twists as well, like my new baby (news and pics of that coming shortly). In the meantime, a look back at an average, and therefore perfect, week in mid-summer.
A reunion with my pal Kira made for a fine weekend in Boston, highlighted by her very first performance of 'The Phantom of the Opera' (whose reinvention was reason alone for me to attend too.)
As had happened with George Michael, Ricky Martin, and Anderson Cooper, I was the last one to believe that Ian Thorpe was gay (and, quite frankly, I'd never even heard those rumors.) Well, it turned out he was playing for my team all this time, and recently came out, so he was honored with the ultimate glory – a crowning as Hunk of the Day.
The unheralded yet stalwart hosta was a reminder that consistent perfection is rarely if ever honored.
My turn as a spandex-bound gay disco hero, which is all I've ever wanted to be.
Grilling something that apparently serves as a home under the sea.
The Madonna Timeline will be back, and until then we wait in joyful suspense.
The Hunks were hotter than ever, thanks to the likes of Todd Finlay (who is one of the three colorfully-clad SPeedo guys in the featured pics here), current touring Phantom Cooper Grodin, writer J.W. Harvey, and male models Sung Jin Park, Bryan Thomas, and Andre Hamann.
One more naked Michael Phelps shot.
Finally, how's this for homoerotic: Zac Efron and Bear Grylls, going down together. Literally – and on video.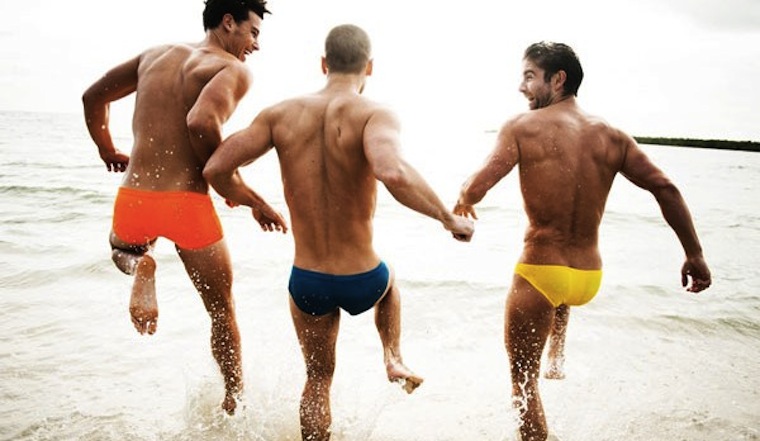 Back to Blog