It is decidedly uncool among certain snobby circles to salivate over anything by Andrew Lloyd Webber. Over the years, I fell prey to this tendency (perhaps it was the soundtrack playing incessantly over the sound system of The Venetian in Las Vegas) but upon revisiting the reinvented touring version of 'The Phantom of the Opera', I've come around again to the music of the night. Perhaps it is the pop-opera aspirations (mostly met) of Sir Andrew's orchestrations, or the reinvigorated energy of this new production, but as I sat in the front row of the Boston Opera House and watched the dark gorgeousness unfold again, I realized why this is the longest-running show in Broadway history.
This revamping wisely does not mess with the music, though it changes up the classic staging in ways that largely work for a touring show. What it loses on the epic scale (the endless set of steps of the original staging of 'Masquerade' or the expansive candlelit lake that rose out of the ground for the title track) it makes up for in intimate grandeur – an ingenious set of stairs that leads down to the Phantom's lair and the jewel box design of interior rooms and backstage vignettes. While there are pyrotechnics and spectacular costumes, along with enough smoke to obscure the orchestra's sheet music, it is the energy and vigor of the performers that keeps this Phantom so fresh.
The three leads are powerfully adept at helping this new production, which manages to deliver the over-the-top drama with moments of genuine wonder and tenderness. Julia Udine is the soaring soprano who brings Christine Daae to fragile yet steely life. Her voice is pristine, and she brings tremulous torment to the apex of the triangle grounded by a father-figure Phantom and childhood-love Raoul. The latter is played winningly by Ben Jacoby, with marquee handsomeness and equally-fine vocal prowess. Every production of the musical depends on the titular character, and Cooper Grodin as the Phantom lends the proper gravitas and fiery passion, tamed by a vulnerability that makes Christine's dilemma believable. Mr. Grodin channels echoes of Lou Chaney in posture and menace, giving his portrayal a darker edge, and adding layers of complexity to a fascinatingly flawed creature.
With a solid supporting cast, this reborn Phantom is worth another look. As the chandelier rose above us, I was reminded of the first time I saw the show – the enchantment, the magic, and the promise of a journey to another world. That's been forgotten a bit in this cynical age, and it's easy to dismiss such histrionics as a singing masked man. Yet the heart of the angel of music still beats, and, if you allow yourself, it's still possible to be swept away in the romance and the mystery of the Phantom.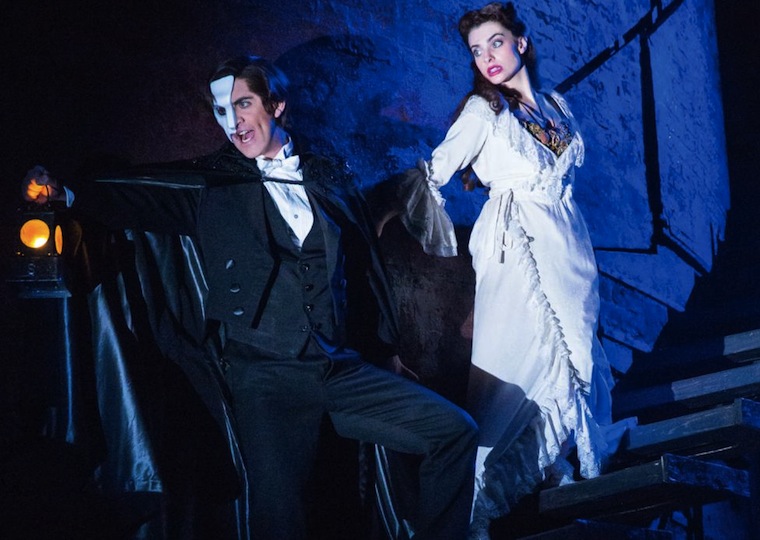 Back to Blog