It is a moment pregnant with possibility. She stands on the precipice of something great, and almost every time this has happened in the past (and there have been many such times), she's jumped off and soared. That anticipation is in the air again, but still I find myself wanting something more. She is, after all, Madonna.
Despite playing on Instagram and teasing bits of what may musically come, she's been largely quiet of late. A pristinely-photo-shopped romp with Katy Perry on the cover of a magazine gave fans a slight bone, but we're salivating for more. Traditionally she averages about two years between albums, bridged with soundtracks and other projects, so we're almost due for a new one – the first since 2012's powerful if slightly-unappreciated 'MDNA'. That colorful record was a driving, if at times dark, exercise in exorcism, dwelling on her divorce ('Love Spent', 'Gang Bang') and balanced by fluffier fare ('Girl Gone Wild', 'Gimme All Your Luvin', 'Turn Up the Radio') but it wasn't the miraculous pop moment she's conjured in the past ('Ray of Light', 'Like A Prayer'). The world awaits a proper return to form, but this world is drastically different from the world in which she rose to prominence three decades ago. Can she still cut it? Yes, but only if she goes back to her roots.
For the past several years, Madonna has, quite shockingly to some of us, kept largely to the same hairstyle. While this may seem trivial and off-focus, I bring it up because it's a key feature to her career, and the point of this post. "Everyone always says, 'Oh, she reinvented herself,' but the thing is, I just get a new haircut every year, which everyone should do," she once said. This was powerful, even if you think it's frivolous. When was the last time you got a new haircut? Not any haircut – not the one you usually get, not the one your stylist lovingly knows so well – but a brand new color, a brand new length, a brand new look. I'm guessing most of us haven't done that in years – if ever. Madonna used to do that with charming regularity, and drastically different results each time. It was a part of her success, and part of the unexpected thrill we got when each new image morphed into the Madonna canon.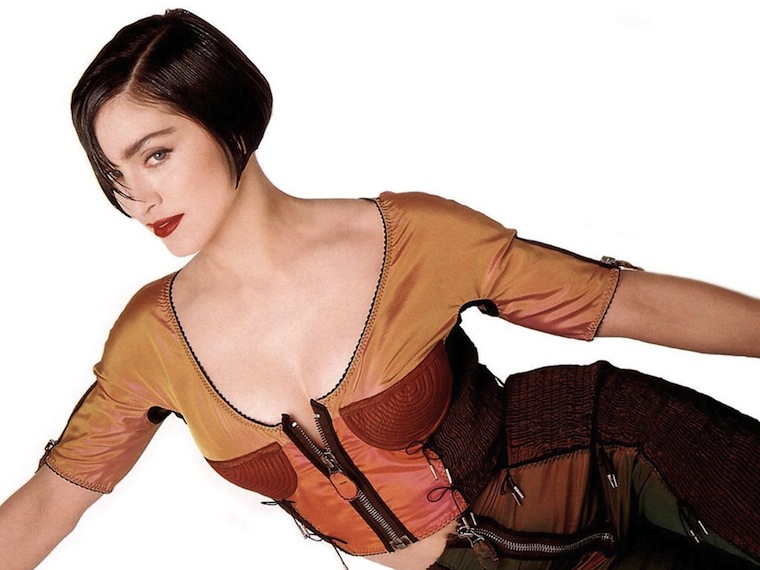 Yet since 2005's 'Confessions on a Dancefloor', she's kept mostly to the reddish-blonde soft-frame of curls she still sports – it's the look she wore for her H&M ads, the Reinvention/Confessions/Sticky and Sweet tours, and her impressive appearance at the Superbowl. It works for her, but to me it's starting to feel, dare I say it, stagnant. That's the one thing Madonna is not. Shape-shifting, jumping, and executing hairpin turns at a breakneck pace, she has never stood still or waited for very long. But her reliance on the tried and true, as well as her work with of-the-moment hit-makers, points to a recent tendency to play it safe.
What I want from Madonna is for her to go back to the beginning – to go back to being brave. I want her to age with dignity and defiance. I want the perennial 'Fuck you' attitude to re-surface and carry her into maturity in a way that once again redefines and challenges the ways in which society has slowly and predictably been trying to trap her. She falls prey to that with every round of face-filler, with every photo-shopped worry-line. Rather than skirting those issues or chasing the elusive quest for eternal youth (and there's a good chance that some of us worry about that more than Madonna does), she would be the best one to champion a graceful yet empowering way of aging.
I'm not saying she needs to tone anything down – if anything, I'm suggesting the opposite. And in simply continuing to do what she does, she's already, in a sense, defied a bunch of rules. Though the rebel in me secretly hopes for an earth-rattling 'Sex' or 'American Life' moment that pisses off more people than it pleases, she's probably wise not to go for simple shock value. There have been delicious glimpses of it – her nipple-baring antics and butt-cheek peep-shows, which excited and thrilled even this staunchly gay character – and she still gets pages of press for something as small and silly as popping in a set of gold grillz. But I want her, more than anything, to be real. That was the real power of Madonna in my formative years. She glammed it up as her fame and money increased, but you always got the sense – and the photos to prove it – that she was willing to get down and sweaty on the dance floor with the gay boys. She didn't isolate herself from humanity, she reveled in it, taking it in and transforming it into something else, something more.
In the writing of this, I've once again confirmed her power. She is more than pop star or show-off, she is a mistress of mirrors, reflecting back whatever ailments, shortcomings, failings, powers, magics, darkness, and light we each project. Madonna has, strangely, not always been about Madonna, but about what we think about Madonna, what Madonna makes us feel. It's the key, and often-overlooked, component in why she remains such a fascinating creature, and why she will continue to remain so.
If her long and storied past is proof of anything, it's that we should never count her out. In fact, such moments of doubt and wonder usually portend something miraculous in the offing. After thirty years, we know her better than she thinks we do. (And when she proves us wrong – again – it will be even better.)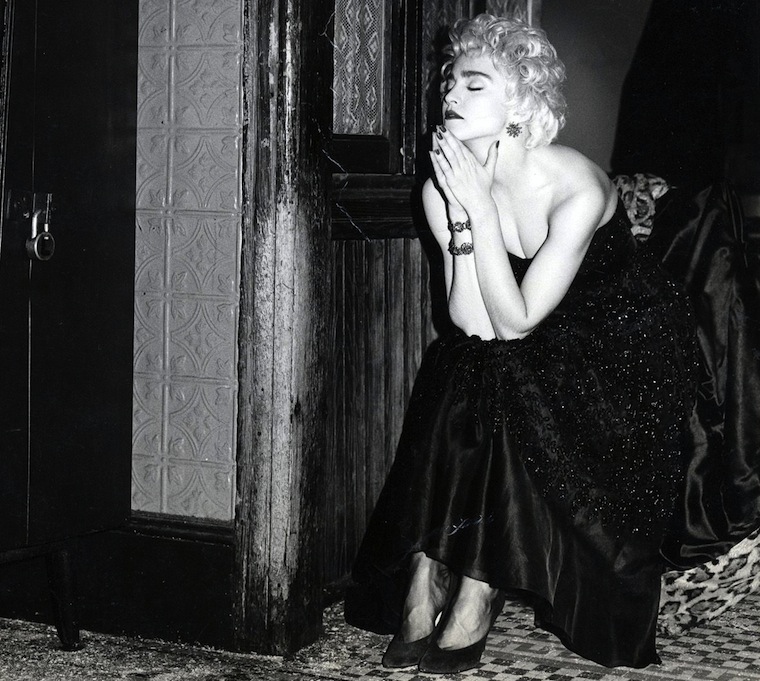 Back to Blog