I DON'T KNOW WHY I'M FRIGHTENED… I KNOW MY WAY AROUND HERE…
How do you meet an expectation that has been building for two decades?
It's not possible, we both agreed.
Yet in agreeing to it, we unbound the onerous burden and in so doing managed to accomplish just that. It could never be what it had been built-up to be… and yet somehow it was. Maybe we each knew it was an impossible task, so we gave up on it.
Closure has always been a rather elusive concept for me. Many times I've spent seeking it out, many years I've wasted elaborately concocting scenarios with dramatic import and geographic significance for any number of events I'd like to have seen go differently, and every time a true sense of closure never came. I've returned to countless scenes of amorous crimes, mostly the unrequited kind, to rectify or find an ending that somehow heals or puts a period at the end of a sentence, a chapter, sometimes a whole book, of past debauchery or sorrow. Yet in all instances, both minor and major, I never quite felt fulfilled. Until now.
A WORLD TO REDISCOVER, BUT I'M NOT IN ANY HURRY… AND I NEED A MOMENT…
Twenty years ago, I had front-row tickets to 'Sunset Boulevard' for its original Broadway run. It closed literally two weeks before I was set to see it. I was loosely planning on inviting a young man with whom I'd gone on a date a few months prior, in an effort to maintain some sort of friendship, or forge one that didn't quite get off the ground. When I received word that the show was closing, I saved myself the embarrassment of even asking him, but years later I told him about it, and we both thought a return to the revival was a fitting way of closing that chapter of our youth. I didn't expect much in the way of closure, even though we billed it and hyped it up as such.
He made dinner reservations at Barbetta. I arrived first, and it felt like I was entering a portal to another time and another world. Forget going back twenty years – this brought us back a full century, which is when it first opened. Drawing rooms and elegance, manners and high-ceilinged charm, and a bartender who may just well have been there at the opening – all charm and watery-eyes and a slow but accurate aim with a cocktail shaker. I sat at the cozy bar and ordered a negroni.
How many stories played out in this space? How many hearts were made happy or broken over a meal and a drink? History is a heavy thing, and it weighs down most oppressively when you allow it to inhabit the present. In a place as filled with past nights as this was, one could almost smell the faded memories and thrills of dinners we've left behind.
He arrived and we headed upstairs to our table. It overlooked a corner of the courtyard, but the weather was starting to turn, and no one was outside. After ordering, we settled in to a leisurely meal, debated the age of one of the busboys, and traded stalker stories, which is always illuminating. We toasted to a night that found us in the rarefied stratosphere of a full-circle moment, where closure was within tenuous reach, and Norma Desmond was about to make her acclaimed comeback.
I'M TREMBLING NOW, YOU CAN'T KNOW HOW I'VE MISSED YOU…
MISSED THE FAIRY TALE ADVENTURES IN THIS EVER-SPINNING PLAYGROUND…
WE WERE YOUNG TOGETHER…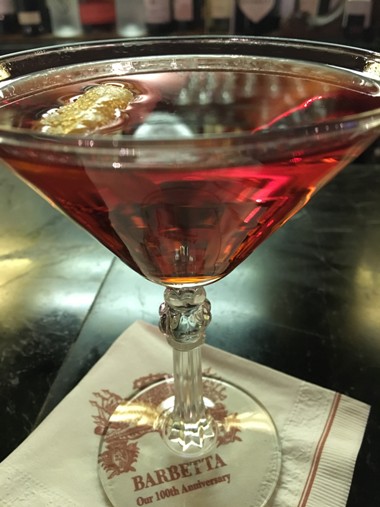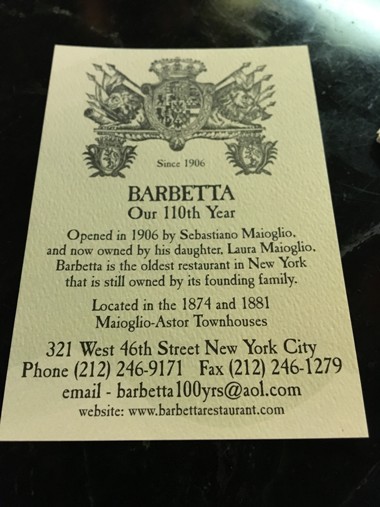 After dinner we walked to the theater. Rain was falling steadily and neither of us had brought an umbrella. We looked up at the theater marquee, where Glenn Close's glamorous visage peered menacingly yet vulnerably out at the world. Times Square buzzed all around us, but the rain muted and muzzled the intensity. We were about to enter the black and white silent movie world of Ms. Desmond. It was a moment of reverence.
If I was going to cry during the show, and he was certain I would, it would happen during the 'Perfect Year' scene near the end of Act One. In all the other productions I've seen (including the times I'd seen the original with Glenn Close and Betty Buckley) I always teared-up at that moment. Yet for this one I didn't. Joe Gillis spun her around as she looked at him with adoration, and while it was sweet, it no longer moved me to tears. All these years later, I only felt a dull pang of sorrow for her misguided attempt at finding love, a faint murmur of a heart that once rendered me enrapt. My verge-of-tears moment came in the second act.
She has just returned to the studio where she thought they were starting a new picture, and in many ways it is the moment she comes home at last. After years of separation and distance, they had found their way back to each other, and I found my eyes welling up at the opening of the Act Two centerpiece. The spotlight found Ms. Close, and she turned her face to reveal that Norma Desmond was overcome as well.
AND THE EARLY-MORNING MADNESS, AND THE MAGIC IN THE MAKING…
YES, EVERYTHING'S AS IF WE NEVER SAID GOOD-BYE…
While the show would never be one of the great classic musicals, Glenn Close's performance was astounding. I sat mesmerized by the wonder of her returning to the role for which she won the Tony Award twenty years ago, and imbuing it with even more layers of richness and relevance. That we had our own backstory to the musical made it resonate in other ways. At intermission, I wasn't sure it had lived up to what I had built it up to be. By the end, I realized it had. Those realizations don't often come in time, and I was glad to have caught it then.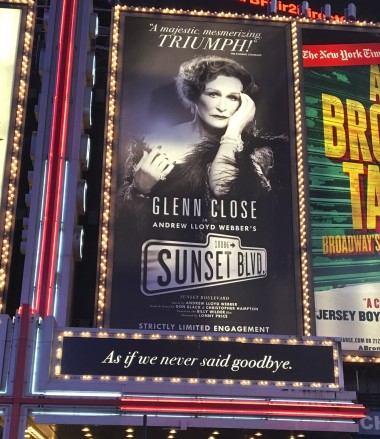 Outside of the theater, the rain had stopped. We ducked into a nearby restaurant for a nightcap, a place he had just gone with his son, and we settled into a couch. Talk turned to what it was like getting older. I'd just seen 'Almost Famous' for the first time, and I recalled an interview that Cameron Crowe did in which he described the notion that between the ages of 16 and 24, most people make their most meaningful connections to music. The idea was that in that period of time, the songs we associated with whatever was happening in our lives would be the ones that meant the most to us. Lately, I'd been having similar thoughts – mostly because I've been searching for a connection and meaning for a modern song and I've been unable to find one. Even Madonna, whom I still love, doesn't craft music that connects me to a time or memory anymore (though she is the one who comes closest).
Maybe those days are done. I don't think I will ever have another period in my life in which everything seemed to mean so much. I don't think I will ever find the drama and excitement and the import of it all that I felt in my early 20's. And as sad as that was, it was also somewhat of a relief. We would no longer lose our heads to the crazy and sometimes debilitating passion that comes from feeling things for the first time. There is a comfort in that. Instead of that crazy passion, we can find a more resonant and enduring peace. More than that, we might find a love that will see us through the rest of our lives.
At the end of the evening we walked in the direction of my hotel and his subway stop. We shared a hug and said good-bye at the very corner where the Palace Theatre stands. Norma Desmond looked out at us in all her finery and youth. I don't know how we did it, but we managed to honor our past in a very thoughtful and kind way. Not everyone gets to do that, and not in such full-circle fashion. It was almost exactly twenty years to the day that I had those front-row tickets to the original 'Sunset Boulevard' run. We were true to the innocents we once were, to a time when we didn't know who we were yet, to a tender moment that was sweet and sorrowful at once. We'd gone our different ways and somehow honored what little we once shared all these miles and all this time later.
I DON'T WANT TO BE ALONE, THAT'S ALL IN THE PAST.
THIS WORLD'S WAITED LONG ENOUGH…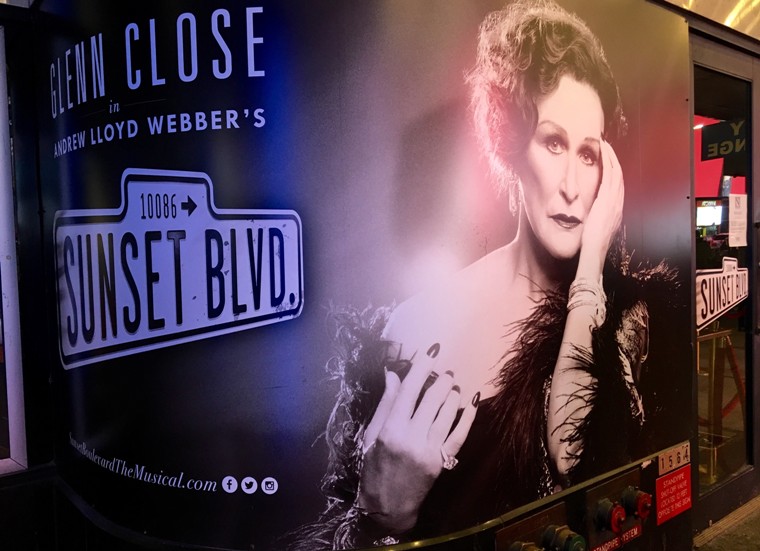 I took the elevator up to my room. Laying my coat on the chair, I unbuttoned my shirt. Pausing to look at the broach I'd purchased just for the occasion, I realized that everything that was meant to happen had happened, and it always would. If I'd only realized this before…
A profound feeling of contentment and happiness came over me, something new and wonderful and richer than anything I'd felt in a long time. This, then, was closure. This was a full-circle moment. This was everything so many of us seek in so many different ways. The instant I'd given up on finding it, the instant we were willing to let it simply be, was the very moment that put it all into motion. I let out a sigh of relief, a genuine release of the last two decades. It dissipated like a receding tide, and in the quiet aftermath I was left with the very best sort of emptiness: the emptiness of an unresolved past now vacated. The ghosts were gone. The delusions had been driven away. The boy who once sat beneath a stand of maple trees in the rich afternoon sunlight of a fall day smiled, then disappeared.
I texted him a quick note of thanks for the evening.
He wrote back: "I look forward to a future adventure not necessarily anchored in the past."
WE TAUGHT THE WORLD NEW WAYS TO DREAM. 
Back to Blog