This exquisite peony was an anniversary gift from our Mom, who left it at the condo along with a card and gift. She chose it based on the florist's explanation that it slowly changed into a white color (which comprised my wedding bouquet that Suzie had found seven years ago). I was a little skeptical. I know flowers, and while some do change as their blooms age, most don't have such a drastic draining of color – it's usually more subtle, a slight fading or deepening depending on which way it's going to go. This one surprised me, and its enchanting transformation was the touchstone of our wedding anniversary weekend. It also makes for an excellent marker of anniversary posts, so here you go again.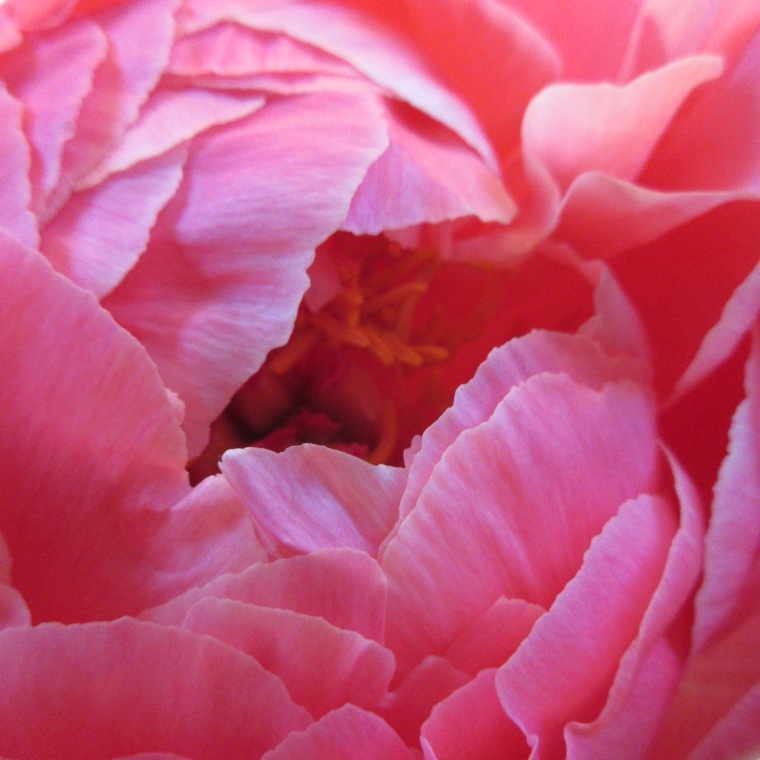 It began in quiet, beneath the rain. The rose pink hues were just beginning to unfurl their splendor when we arrived.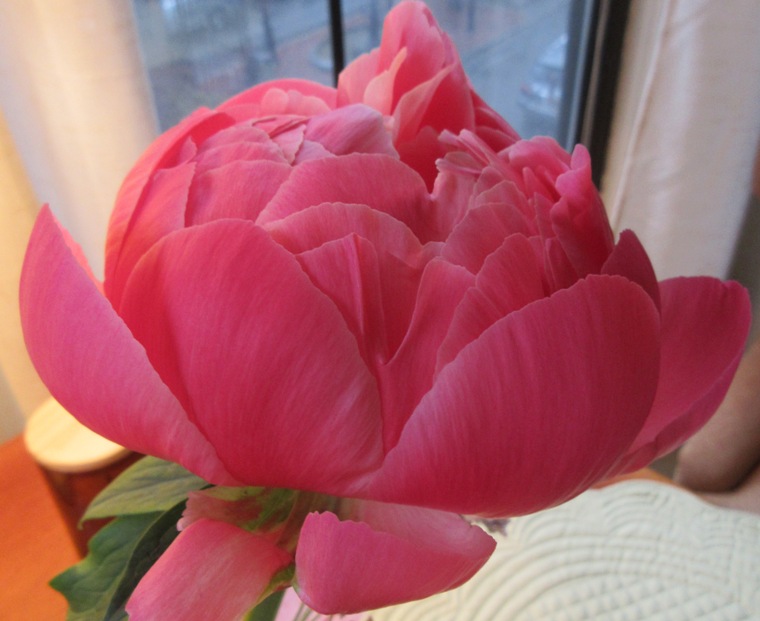 As we waited for the dinner hour, and the rain continued to come down, the flower opened up in the indoor light.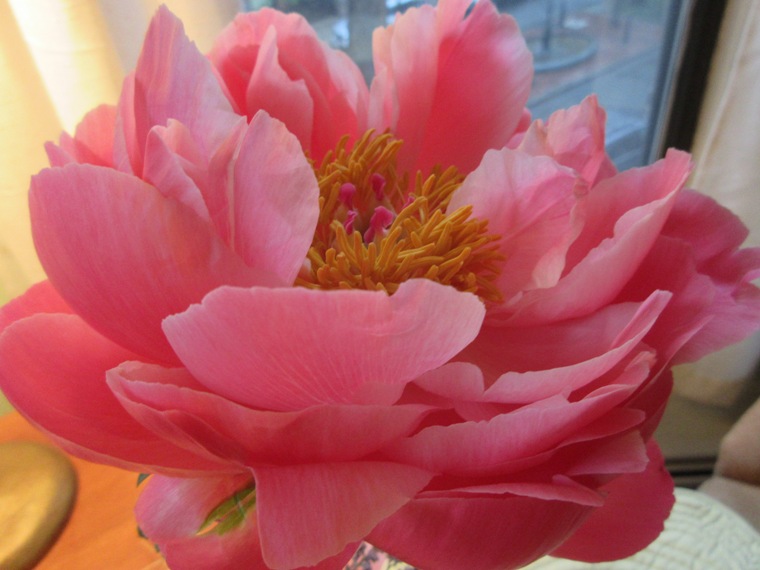 Its petals gradually transformed, going from a deep rose to a coral pink that was simply mesmerizing. As for our weekend, it progressed in equally-fine form.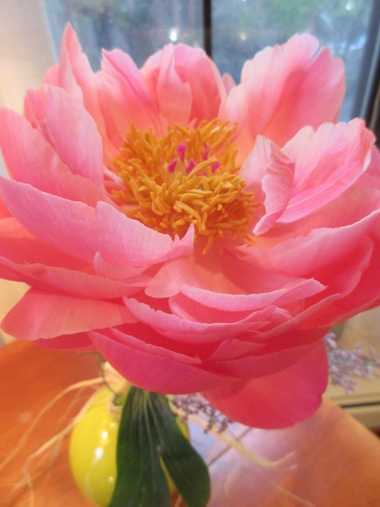 The rain was slowing, subsiding and returning with just a few showery bursts, and we made it to The Cleaning of the Rings staying mostly dry. Inside, the peony smiled at the lifting of the gray.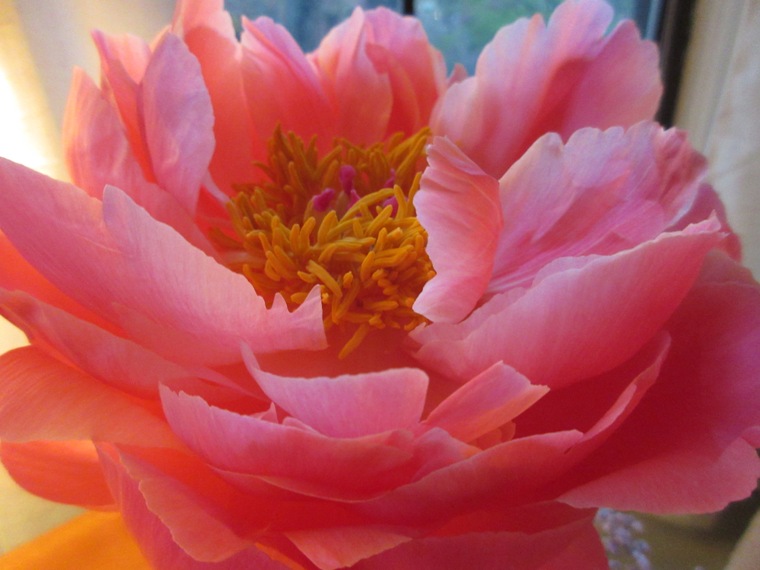 The yellow pool sacs began to swell and develop, the fiery centerpiece that perfectly set off the surrounding beauty.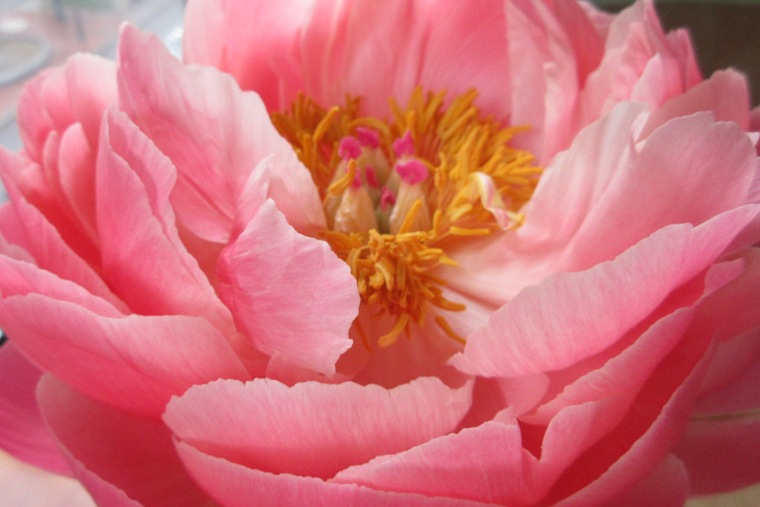 A magnificent work, it looked almost good enough to eat – almost as good as this amazing cake, the likes of which we hadn't had since our wedding day.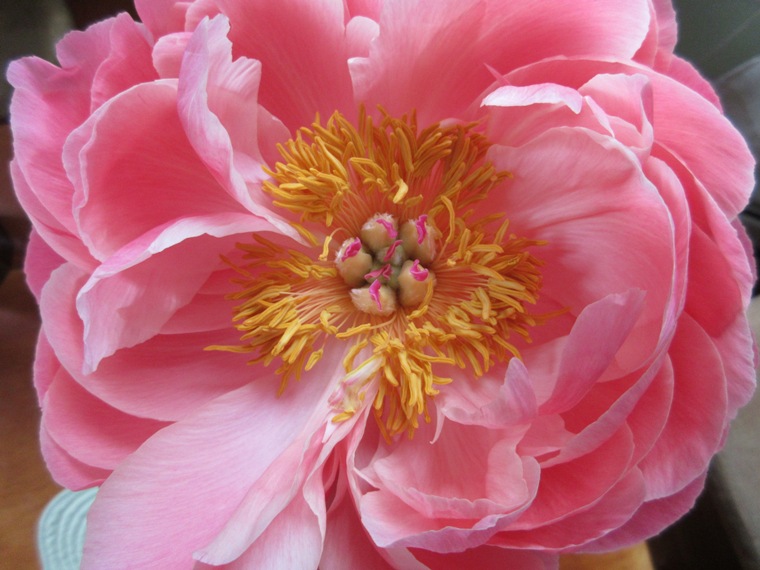 The peony's color began to fade, and like marriages and wine and other things that age well, its beauty became more pronounced and delicate.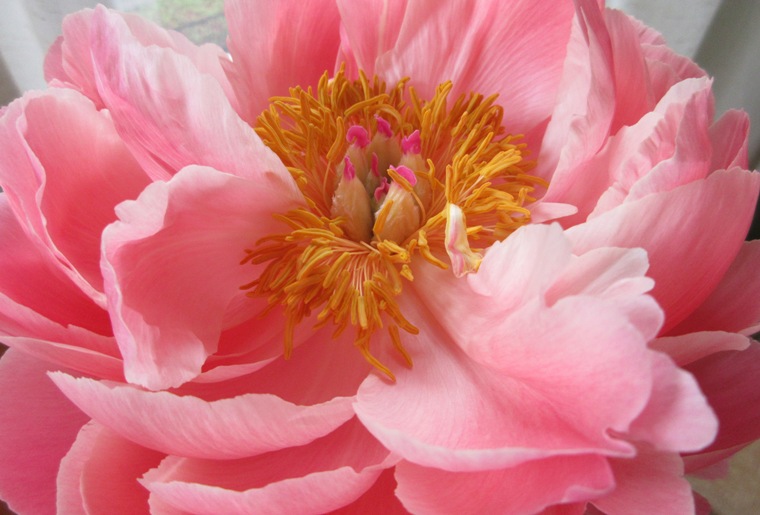 Like the brush-strokes of a fine painter, the colors took on a surreal gorgeousness, softly developing into more than the sum of their parts.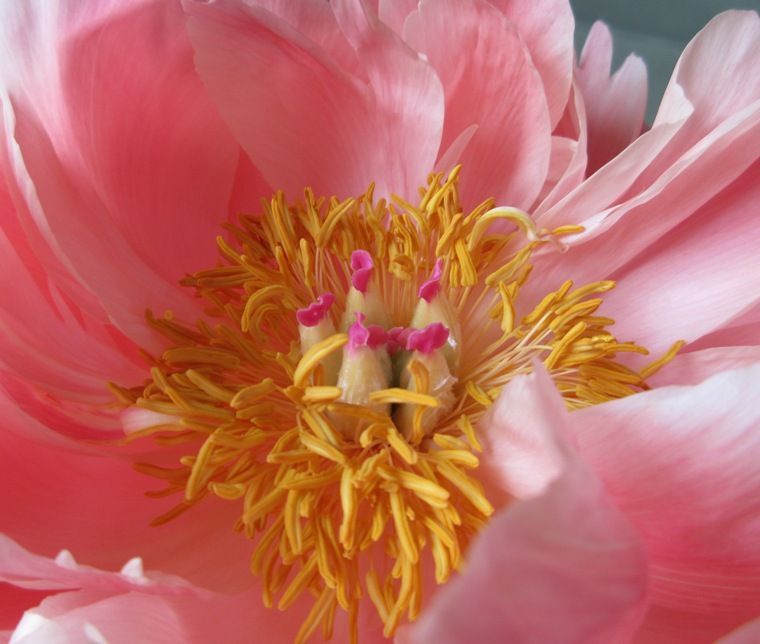 The yellow interior glowed, while the pinky rosiness moved into a softer shade of light coral, and beyond.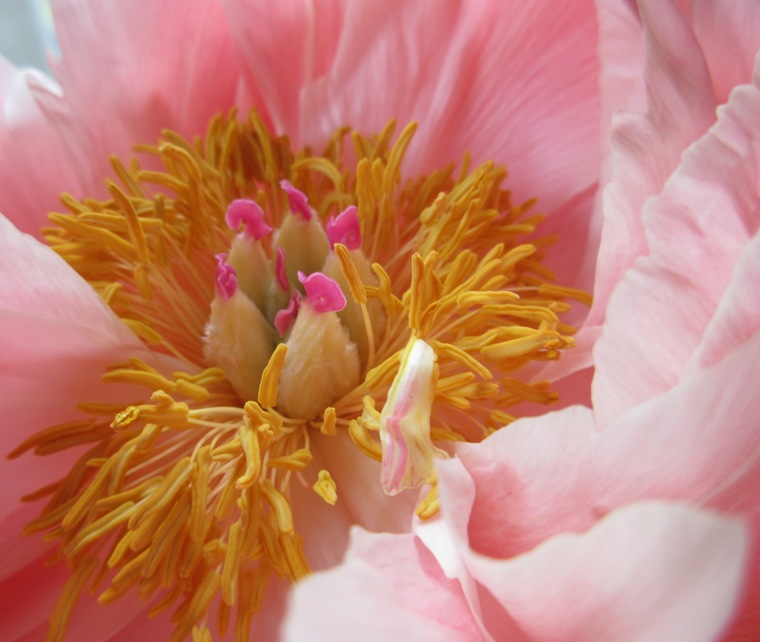 It was becoming before our very eyes – more beautiful, more enchanting, more lovely.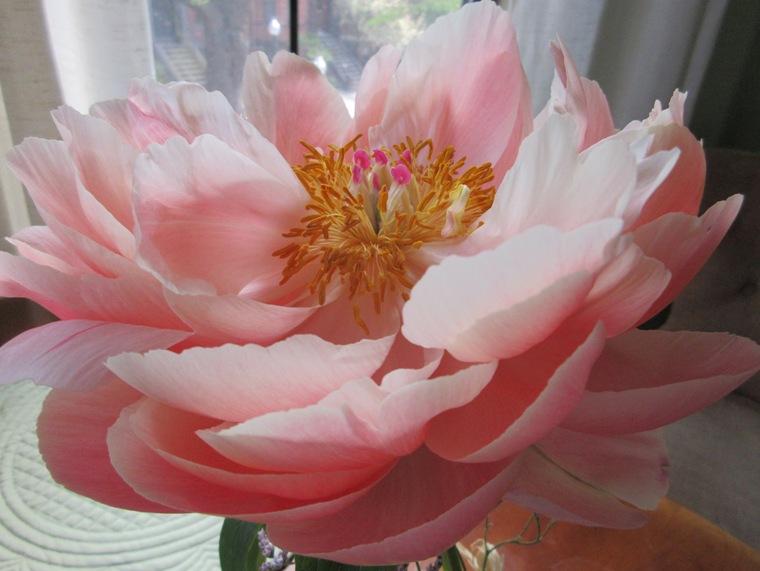 This is how beauty sometimes unfolds – the bold and brash beginning, then the gradual fading into something softer, but more lasting.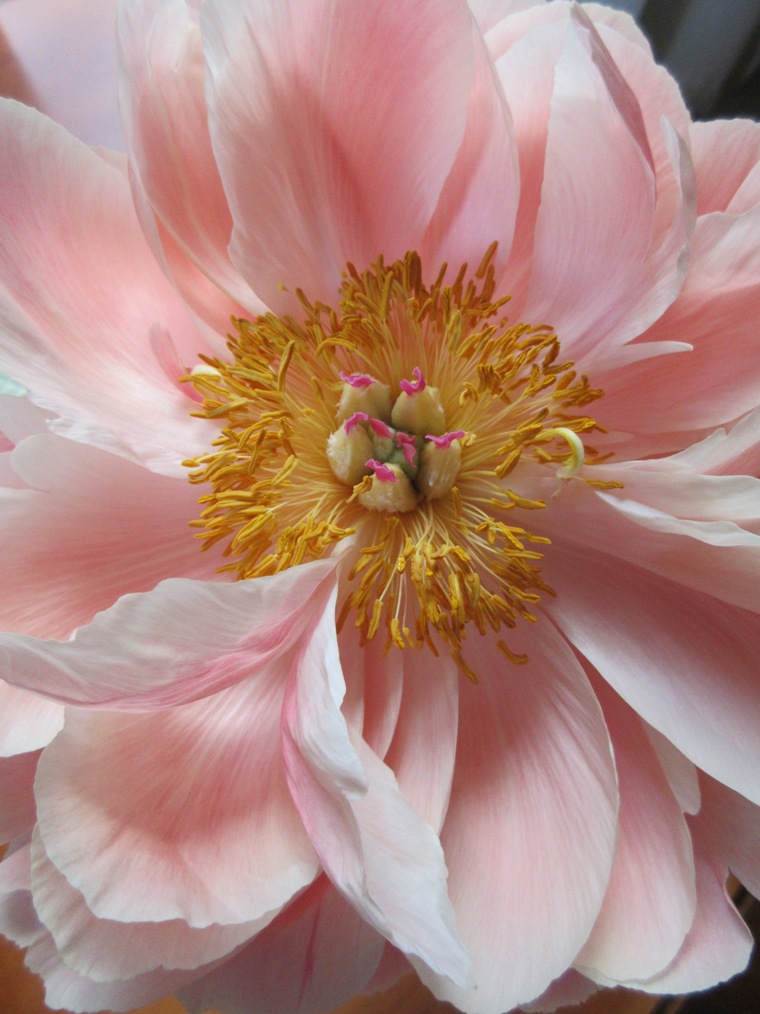 We didn't want it to end. That's the way it usually is with beauty. And love.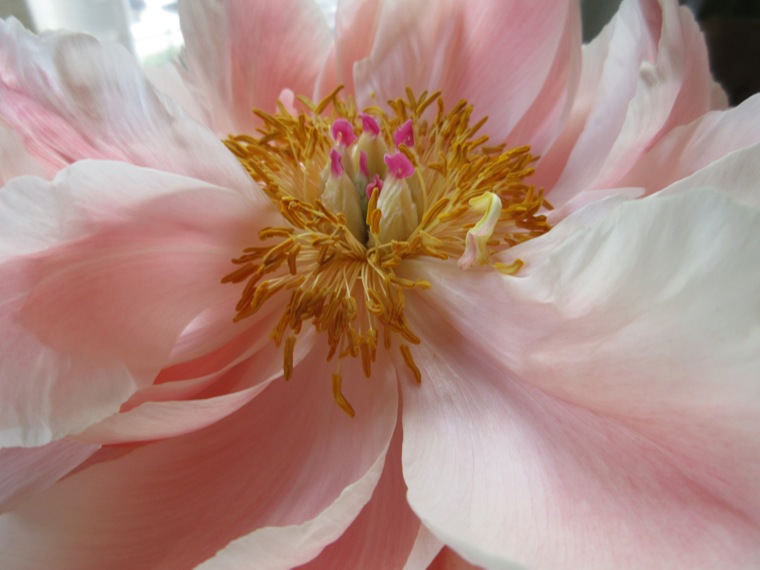 Back to Blog