With an upcoming virgin visit to the Royalton Hotel in New York planned for tomorrow, it seems a good time to revisit some favorite stays in some stellar properties (and a few not-so-favorite stays, as they seem to be the most interesting.) It will be difficult to touch the top-notch service and luxurious environs of any Mandarin Oriental property. The one overlooking the Potomac in Washington is especially nice, but I'm also keen on the Boston location as well, and its five-star spa. For an upcoming wedding in Washington, I'll be back at the Hotel DuPont, which was life-changing because of its heated bathroom floors. I've posted about some less-than-ideal places on my TripAdvisor page, and here are a couple of choice tidbits from my most recent hotel stay at the Hilton Minneapolis:
At first glance, it seems lovely, until a bit of dark green on the top of the couch catches your eye. I thought it was a ribbon or a bit of raffia from a gift, but upon closer inspection it turns out to be a dried and dessicated bit of broccoli. Oh well, maybe someone got drunk, ordered room service, and threw some food around. There have been worse things found in hotel rooms, some of which were probably left by me. I picked up the stiff veggie with a tissue and threw it out. Later on, another dried bit of broccoli was found next to the bedside table, way across the room from the couch. What kind of crazed broccoli rampage went on here?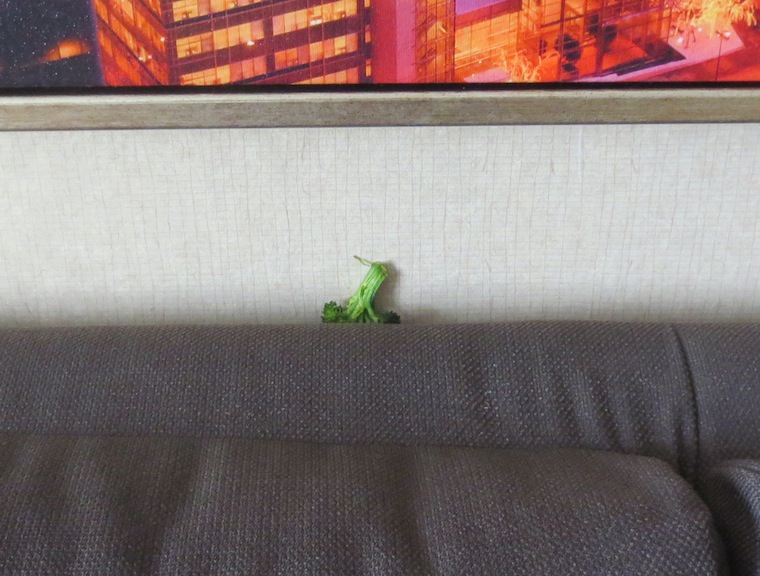 The rest of that review can be found on TripAdvisor, so I won't bore you with a re-tread here. Besides, it's more fun to focus on the future, and what's coming up. For this weekend's stay, we'll be in Times Square, right on West 44th Street. Conventional wisdom is that hotels in New York are small and cramped, but since there's so much to do outside of your hotel room it doesn't really matter. I don't subscribe to conventional wisdom, and the hotel is one of the most important parts of any trip for me. (In my younger years that was not the case, which is why I could stand the Hotel Chelsea or the Chelsea Inn, for example. These days I'm less adventurous, and far less willing to settle.) Luckily there are places that still offer decent space, even if they come with minor drawbacks – 6 Columbus and the Bentley Hotel – and a few that had no real drawbacks at all (The Out, NYC.) The simple fact is, the price of a hotel stay in New York has gone astronomically high, and if they're going to charge that much, they better be ready to deliver an impeccable experience.
The hotel sets the tone and becomes the home for the few days you're in a different place. The front desk becomes family in a city of strangers, the valets become like brothers, and the housekeeping ladies are like doting aunts. The accommodations are your bedroom, bathroom, kitchen, office, and closet all-in-one. It becomes the central location around which a trip revolves, and forms the major backdrop for many of the memories that one will make. (I still remember the important role the Taj played on a certain weekend in May of 2010.)
Back to Blog