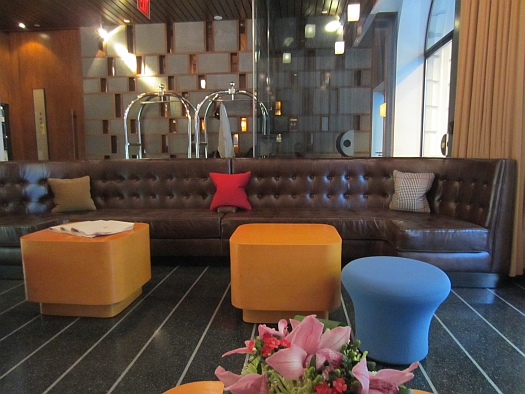 On one of the coldest days of the year, a little boxwood in a tall black planter shivers in the wind outside of the lobby of 6 Columbus. Tufted leather banquettes sparsely populated with bursts of bright pillows afford a bit of seating while I wait for my room to be ready. Two complaints of rooms with no heat have already been lodged at the front desk, and as the wind whips by the window this doesn't seem to bode well.
The lobby, fronted by two very friendly door-men, is a balance of light and dark – coolly modern in style, like the rest of the hotel, but warmed by the staff. A sushi restaurant (Blue Ribbon Sushi Bar & Grill) is set off to the side, affording a tantalizing glimpse of a light wooden bar.
While Columbus Circle is not usually an area in which I'd stay while visiting New York, an online special ($140 a night, before taxes) lured me to 6 Columbus, and I'd heard good things about the parent company that runs it (Thompson Hotels).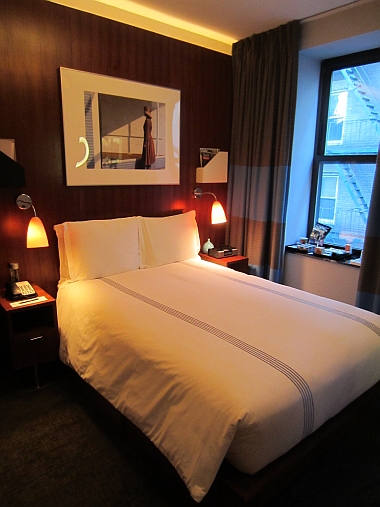 A slightly dim elevator and hallway, the textured navy blue walls and dark floors eating up much of the light, lead to room #77. Like most New York accommodations, the pod rooms here are on the slightly smaller side of things (175 square feet), so it might be worth it to upgrade to a larger one if possible.
The bathroom is more ample, backed by glossy navy tiles and brightly polished Waterworks fixtures. Bolstered by Kiehl's hair products and white fluffy towels, it is a modern, elegant space, even if an over-hyped Frette bathrobe errs on the side of starchy rather than soft.
Above the bed is a large Guy Bourdin print, echoing the proclaimed"60's modernist" inspiration point for the hotel. The bed itself is comfortable, but not laid out with any top sheets – only a duvet. I'm neither picky nor grossed out about such things, and, as long as the heat was working, didn't have need for extra bedding.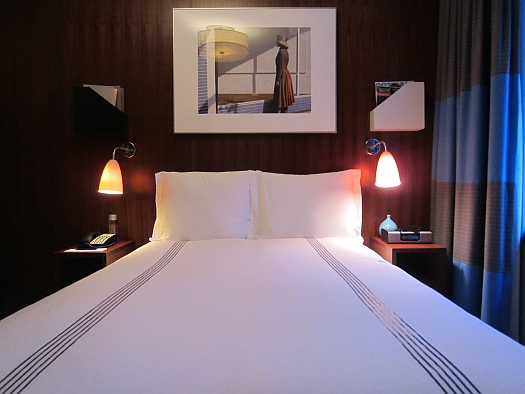 A word about the heat: despite my concerns upon hearing the complaints of other patrons, the heat in my room worked just fine – but it didn't make it into the bathroom, which was a great deal cooler (not the ideal situation for January). I had to overcompensate in the bedroom to warm the tiled space, but it was nothing a hot shower didn't fix.
On a Sunday night, the room remains pleasingly quiet, affording an uninterrupted evening of sleep. The next morning, as I make my way to the elevator, the unmistakable odor of pot hangs lightly in the air, while knocks and calls of "housekeeping" go unanswered. Another average day in New York has begun.
Back to Blog