Even when it comes to Madonna, I'm somewhat hesitant to describe anything related to pop culture as a truly "spiritual experience". Yet that is exactly the journey she takes us on for her current MDNA Tour. Watching from the sidelines of the TD Garden in Boston (and slightly behind the stage, thank you Ticketmaster), I felt the gradual upward trajectory of the show in a more fully realized manner than almost all of her previous tours. Say what you will about her singing or acting or on-and-off-again English accent, her power and command as a live performer have always been well-earned givens. The woman knows how to put on a show.
It opens hauntingly, with hooded monks in high-heels swinging an over-size incense holder while the Kalakan trio (whose soothing harmonies ground the show at integral points throughout the evening) intone an introductory chant. A convincing video backdrop of a Cathedral rises to the ceiling, a surprisingly effective use of technology that works wonders in filling the stage space with arresting visuals. To the bracing sound of shattered glass, a crowned and veiled Madonna takes aim at the audience with a rifle before blasting into 'Girl Gone Wild' with some slick and sick choreography. In some ways, it's classic Madonna, cavorting in tight formation with shirtless dancers, as the briefest of references to 'Material Girl' and 'Give It To Me' give way again to the pounding beat of 'Girl Gone Wild'. An ingenious set of platforms that rise and fall gives a powerful vertical element to the proceedings, (even if those of us behind the lights can still barely see).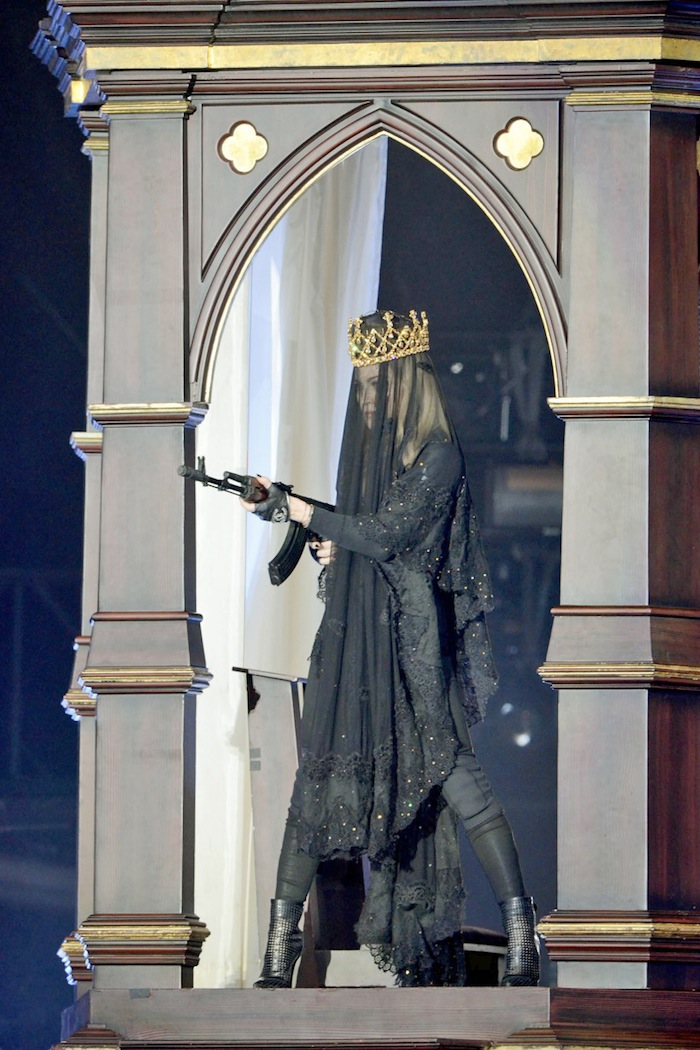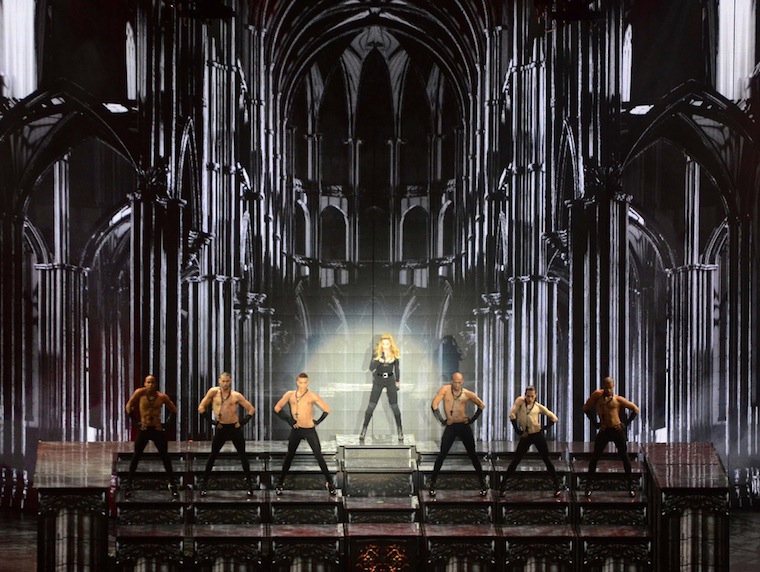 The provocative gun-play of the set that has caused so much controversy thus far rears its head with 'Revolver' and 'Gang Bang', the former finding Madonna and her handkerchiefed band of girl friends brandishing fire-arms while her electronically-altered voice eerily rings out, "My love's a revolver, my sex is a killer, Do you wanna die happy?" For 'Gang Bang' she hops atop a seedy hotel room scene, dispatching invading entrants with another gun and graphic splatters of blood on the video screens.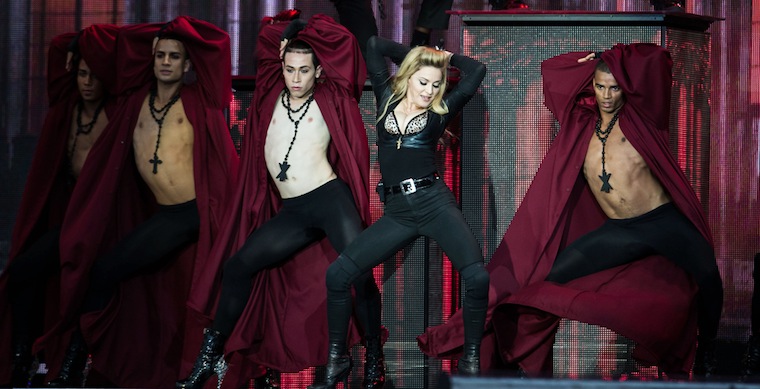 It's an ultra-violent beginning that finds retribution in an all-too-brief snippet of 'Papa Don't Preach', because when you go against patriarchal authority, the punishment is swift and inevitable – in this case, doled out by a set of frightening masked marauders who proceed to tie Madonna up and literally string her along a slack line, upon which she sings a disturbing version of 'Hung Up'. She does a bit of perfunctory line-walking, barefooted and brazenly, because she gets her kicks when she's walking the wire.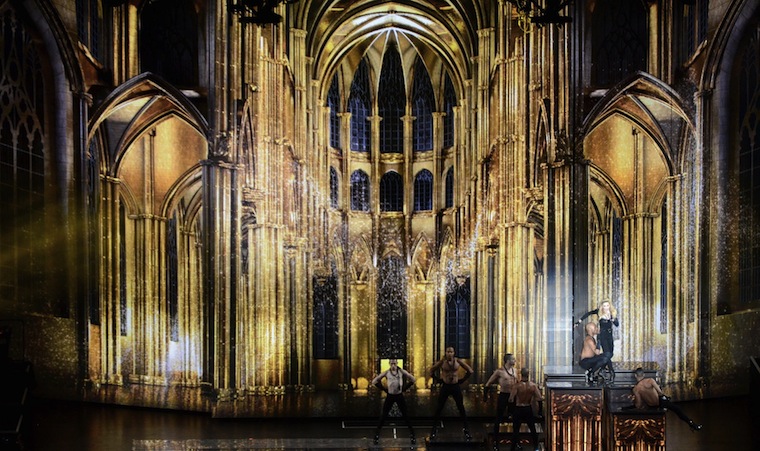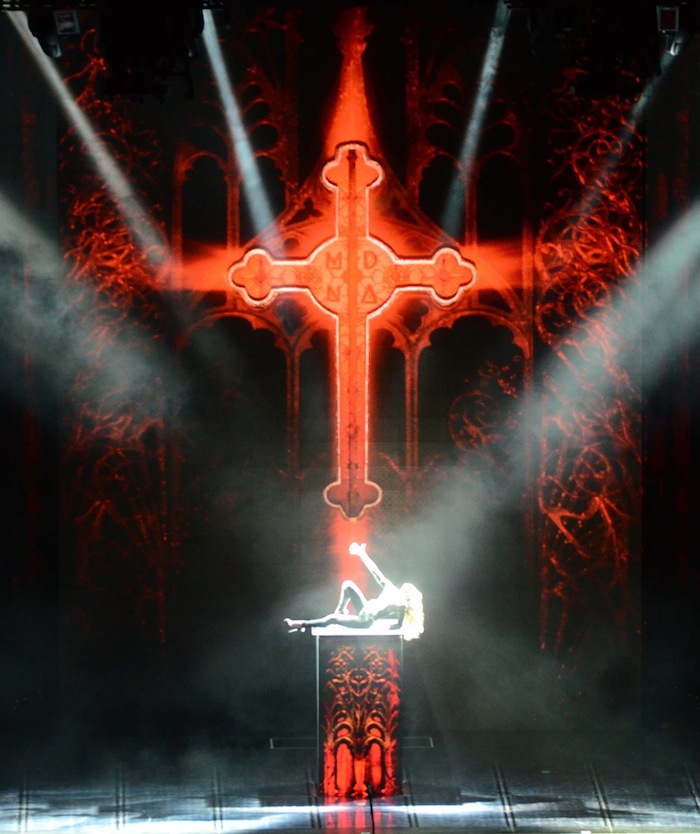 Closing out this gorgeously dark vignette is the defiant 'I Don't Give A', in which Madonna boldly faces her audience head-on, a guitar strapped around her neck, and a middle-finger extended for all within sight. Nicki Minaj makes her first video-guest-appearance, decked out in religious garb, rapping and wrapping things up with the declarative, "There's only one queen, and that's Madonna."
As the ominous chanting returns for its dramatic climax, Madonna rises slowly on a platform, as a cross glows crimson behind her. In a long career of successful visual-arrests, she captures yet another iconic image. The lights go dark for the briefest of moments (everyone knows Madonna shows just don't stop) and the impact of this scene is stunningly powerful.
A rather dour interlude follows, with a mash-up of 'Best Friend' (an under-appreciated track from the deluxe edition of 'MDNA') and 'Heartbeat' (from 2008's 'Hard Candy') to the accompaniment of graveyard scenes in moody black-and-white ~ a metaphorical death-knell for what came before, and a chance for Madonna to make the most drastic costume change of the evening, into a white and crimson majorette uniform. She marches up to center stage, leading a merry pep squad in front of cartoons of caricatured women subversively turned into images of power and humor. It's a fun moment for fans old and new, echoing her triumphant Super Bowl performance and breathing new life into a classic song. She segues (ahem, seamlessly) into a quick snippet of Lady Gaga's 'Born This Way' – not in an ungracious or unkind way at all, and even her final few lines of 'She's Not Me' seem more tongue-in-cheek than antagonistic, a throwback to the cheeky minx who once wanted to 'rule the world.'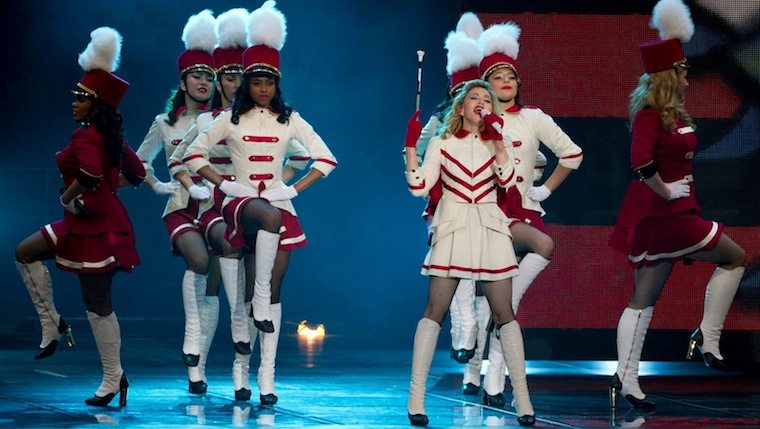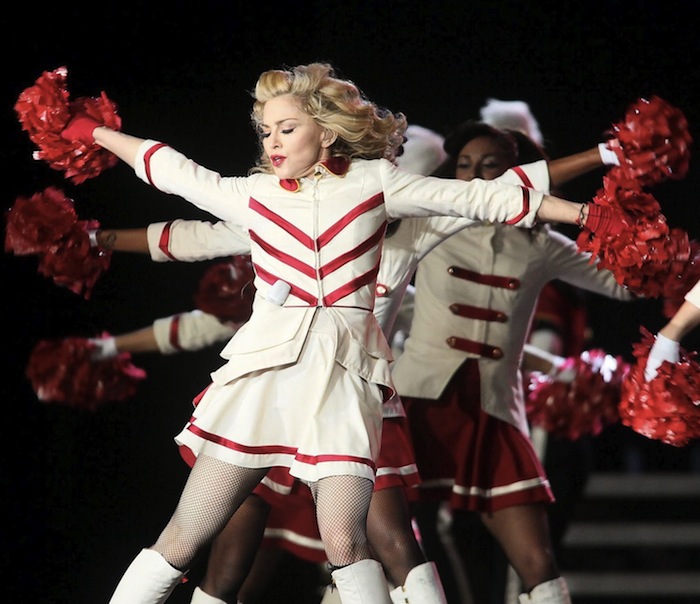 A marching band descends from the rafters – no, really – for her latest Top Ten hit 'Give Me All Your Luvin" and it's a truly transformative version of the song, given extra pep and vigor – invigorating and effervescent – especially when delivered with all the energy and bombastic dance moves she pulls out of her too-fit-to-be-fair ass. The pom-pom popping routine she throws down at the apex of the runway brings the crowd to its first crescendo, a welcome relief and release from the serious beginning. The infectious energy continues with current single 'Turn Up the Radio'.
While I initially thought this would be one of the more elaborately staged songs, she goes the opposite way, in a straight-forward  rendition sung from center stage, with nothing but a black outfit and guitar, and somehow it works, the music and the song taking flight, and the audience riding the crest of another colossal pop wave. Suddenly, I'm transported to catching a snippet of 'The Virgin Tour' on television some 25-plus years ago. I can still remember that Saturday afternoon, sitting in the wood-paneled family room and watching this dynamo of a woman singing and dancing with joyous abandon. I did a little dancing around the room that day too, and at each of my darkest moments of the past quarter of a century, there's always been Madonna, imploring me to simply 'Turn Up the Radio' and promising the brief escape of a pop song, the momentary salvation of music.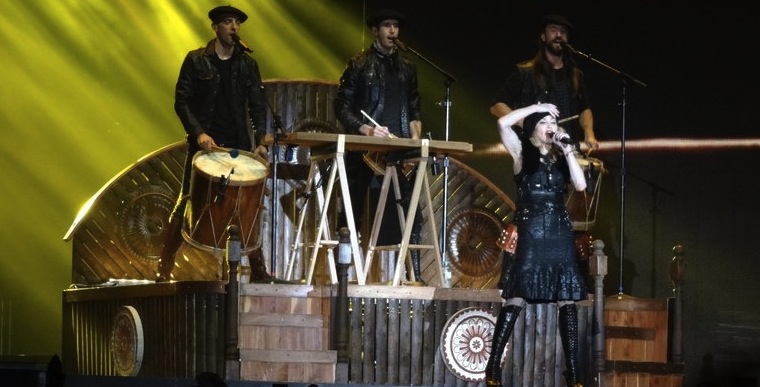 The Basque vocalists of the Kalakan Trio resurface for a wonderfully re-imagined 'Open Your Heart', the 80s gem getting a sparkling, almost acoustic make-over. It grows into a rollicking highlight, building up to a rousing percussion-driven chance for the dancers (and her son Rocco) to step up their high-kicks a few more impressive notches. There is healing here, especially after that deliciously brutal start – healing and joy – and this turning point is one of almost spiritual transcendence. She traditionally pauses here, the first time she gets personal and talks, and it's always a crap-shoot on what she's going to say – gay rights, Pussy Riot, imprisonment – but tonight she keeps it on the light, and Boston-specific side.
"You guys are crazy!" she begins. "I've been coming to Boston every time I've been on tour," she continues, extolling the virtues of freedom of expression, saying it's okay to be gay and okay to be whomever you want to be, and that she hopes it will stay that way – a none-too-veiled reference to the upcoming Presidential election. She may not watch television, but the woman knows her current events. "Are you going to let crazy shit happen in this country" she asks, demanding a "Fuck No" response that we are all crazy enough to give her. "Are you going to let crazy shit happen in this country??!" Fuck No! "Except me!" she says with a devilish grin. A beautiful rendering of her Golden Globe-winning ballad 'Masterpiece' follows – and then a sexier, darker, cheekier, hotter-than-the-original version of 'Justify My Love' plays as a video interlude.
It's a stylish intro for the Madonna of the now-almost-retro 90s, and no song opened that decade with a bigger bang than 'Vogue'. It struts its stuff here in all its fashion-forward elegantly black and white glory, with Madonna updating her Gaultier bustier with a stiff leather cage-like structure, at once androgynous and fiercely feminine. A more-delicious-than-expected adult take on 'Candy Shop', featuring a few all-too-brief quotes from 'Erotica', continues the divine decadence, proof that Madonna's live performance can lift her most mundane and melody-lacking songs, such as 'Human Nature'. I understand that this is one of her ultimate non-victim fuck-off songs, but she does it much better when there's a driving beat and actual melody (as in 'Express Yourself'). 
One of the most hotly-debated performance pieces is her new take on 'Like A Virgin'. Having done everything from lampooning it Cyndi Lauper style, masturbating on a red velvet bed, Dietriching it out in top hat and tails, and riding a virtual horse, there's not much more to be done for the song, but Madonna strips it down literally and figuratively, turning it into a plaintive piano waltz, and crumbling to the floor before enacting a dramatic tightening of a corset around her waist. This may be what's polarizing audiences for the MDNA Tour. Madonna is not interested in looking back and chirping the same songs in the same way, and her artistic integrity, and own personal truth, are such that she never could.
Those who hate this anything-but-shiny-and-new version are those who haven't taken the time to delve into the deeper, complex glories of the MDNA album. While there's nothing wrong with wanting to hear your favorite Madonna classic performed in the style to which you've grown accustomed, there is little challenge in that for an artist like Madonna. 'Like A Virgin' is, at its heart, a wistful longing to be made whole again, to retrieve that innocence and freshness that time and life inevitably ebbs away, and, in this seering version, the realization that sometimes you simply cannot go back.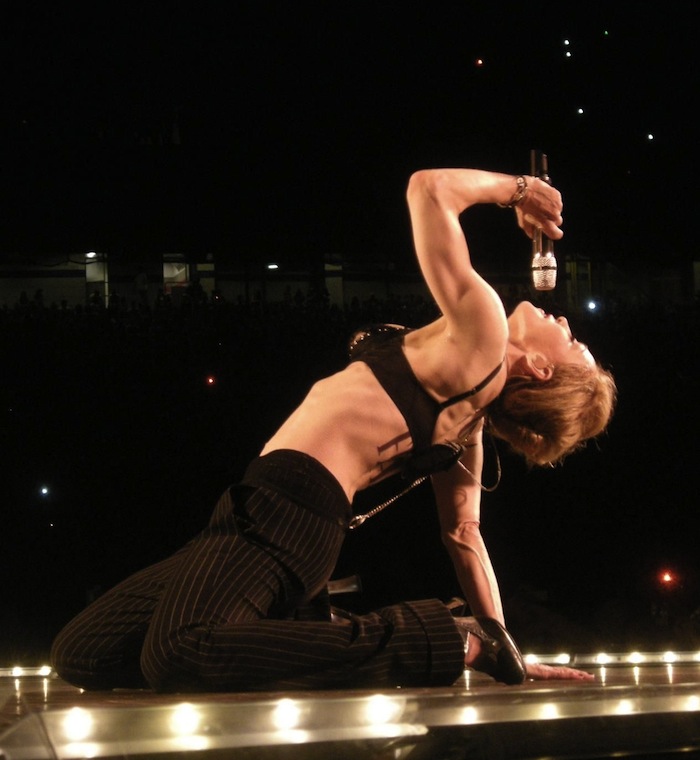 After this spell of darkness, and an equally moving/disturbing video montage for 'Nobody Knows Me', the power of the beat – and the dance music that brought so many of us to her in the first place – is a welcome rejoinder in 'I'm Addicted' , one of the top cuts off MDNA. Her Joan-of-Arc metallic costume of armor glistens in its Swarovski-crystal-studded magnificence, and her braided warrior-hairstyle is a brilliant match for the throbbing song.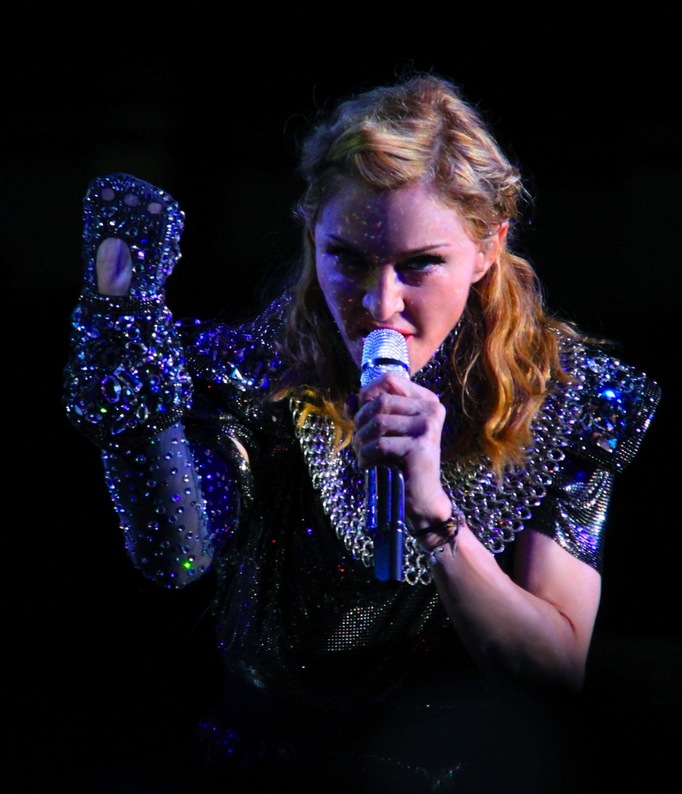 Love has always been Madonna's drug of choice, and as the lights swirl about the audience and the inevitable dance break explodes, love is not only a drug, but a battlefield as well – one that remains a dizzying fix for a woman who still seems to have a lot of fight left in her.
Hardcore Madonna fans like myself will love this tour because it's so MDNA heavy (and that album is easily her best since 2005's 'Confessions on a Dance Floor'). Nothing exemplifies that more than the gleeful romp of 'I'm A Sinner', given an Indian slant as it morphs impossibly, yet perfectly, into a B-side ('Cyberraga') from the 'Music' sessions. That song was previously in the bottom-five of those I ever wanted to see done live, but here it works brilliantly with the backing of the Kalakan trio. Coupled with some breathtaking video backdrops, this is where the journey nears its completion, and we have indeed reached a new plane.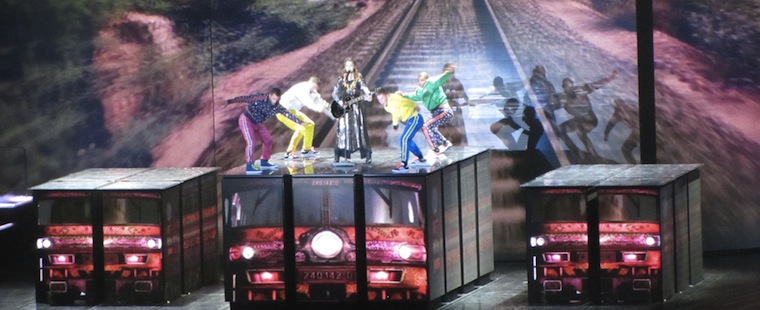 I can't help but smile as Madonna shakes a tambourine along to the Kalakan Trio, and we ride that happiness into an absolutely magical moment of transport that soars with one of the greatest pop songs ever written.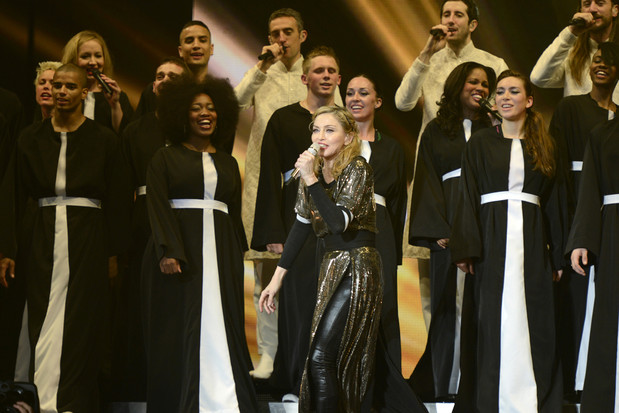 "Life is a mystery, Everyone must stand alone," she intones, yet we are all standing together. Giving a traditional and true reading of 'Like A Prayer', Madonna stages one of the grandest sing-a-longs of the night, touching us as if it was the very first time, made more powerfully poignant as it comes imbued with all of the ensuing years of hard-won wisdom. It brings together new and old fans alike, the entire arena standing and singing and basking in the joy of the moment.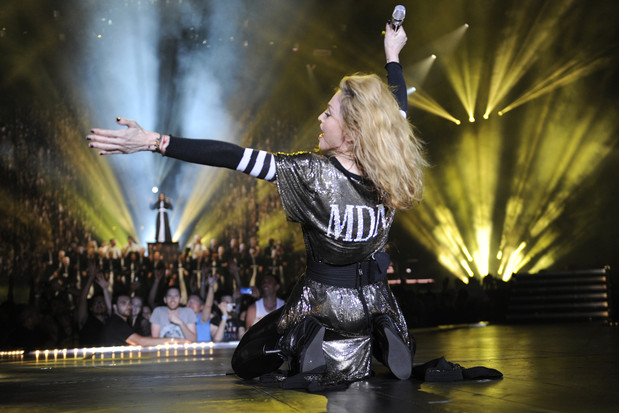 The night ends with 'Celebration', a cut from her 2009 Greatest Hits collection of the same name (for those keeping track, that would be her third Greatest Hits compilation). With its musical echoes of opener 'Girl Gone Wild', it brings us full-circle, and it certainly does feel as if a journey has been completed – an ever-engaging, always challenging, entertaining-as-hell journey – and no other pop star has ever commanded a stage in such scintillating fashion.
There are those with greater musical talent, those with sharper dance skills, and those with more current relevance, but there is only one Madonna – and there always will be.
Back to Blog