Thanks to the flagship Nordstrom, Seattle can hold its own when it comes to finding a Tom Ford Private Blend, as well as any of the other mainstream fashion behemoths that populate its steep downtown hills. Yet at the same time, its main claim to fame may be the unique Pike Place Market where only stand-alone original stores are allowed to sell their wares. (The Starbucks there would seem to be the exception, but it holds to the rules as it was the very first Starbucks that ever opened – so no others existed when it opened its doors.)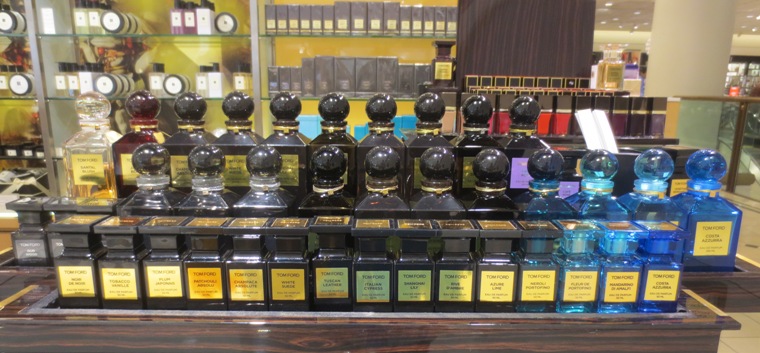 I'm torn between the fancy duds to be found at glossy establishments like Nordstrom, and the simple flowers that steal the show at the market. (The dahlias below kept me fascinated the entire time I wound my way among the flying fish.) That's the sort of tension that's infused my life and made things tricky at times – but it's a good thing. It keeps me balanced. It's sugar and spice. Yin and yang. Push and pull. And it keeps me excited.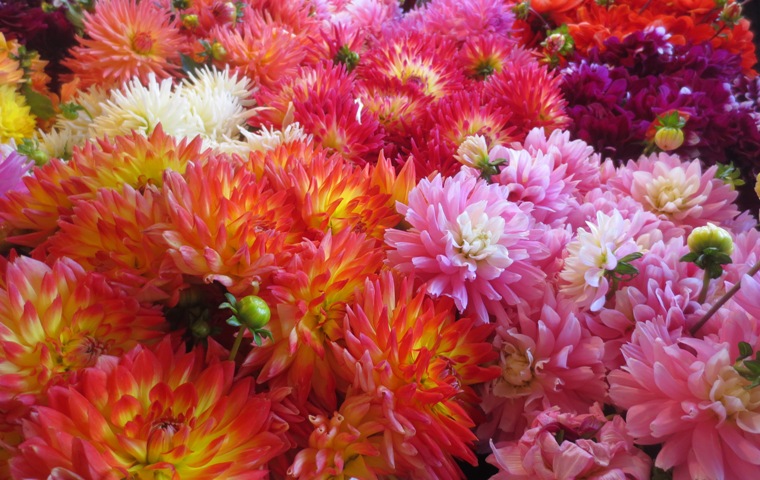 At Nordstrom, I perused their extensive (and complete) collection of Tom Ford fragrances and bow ties. Across the street, and very much benefiting from its proximity to the flagship store, Nordstrom Rack had rack after rack of the real deal: Alexanders McQueen and Wang, Balenciaga, Burberry, Roberto Cavalli, Dries Van Noten, Emilio Pucci, Oscar de la Renta, Prada, Stella McCartney, Valentino and many more. It wasn't just a one-off feature either;  there were plastic holders with each designer's name on it – proof that they were mainstays here. (This is what Kristi Gustafson was talking about when she recently expressed slight disappointment in the Colonie Nordstrom Rack. I have to agree: it doesn't hold a candle to the Seattle version. Neither does the Boston Rack, for that matter.)
But for all the designer labels and Tom Ford fanciness, my heart was back in the market, where I found a silk robe of fuchsia and turquoise, and a dressing gown of cream with an intricately-embroidered border. Strands of amber and jade called to me, Iris Apfel-like, from another place, and scarves studded with beads and crystals peeked and beckoned from a corner stall. For the moment, the market won out over Nordstrom, rack and all.
I think it was the dahlias…
Back to Blog