Let's get one of my favorite parts of Seattle out of the way early on: the food. A lover of seafood will find his or her mecca in this ocean-inspired city. For this post, I'm only going to delve briefly into three spots that impressed me, and keep in mind that this is just the most minor of culinary spotlights in a city with such a buzzing food scene.
For the first night dinner, there was no other place to go but Place Pigalle, overlooking Puget Sound as the sun went down. My love for all things octopus continued with one of the most imaginative dishes I've seen utilizing the cephalopod: octopus with lavender-fennel sausage. Hello taste explosion! I'm a sucker for all things lavender as well, so this was an unthinkable, and unbelievably good, combination. After my mouth had its happy ending, I had the halibut – and the whole meal was the perfect introduction to the Northwest, where beauty managed to be both raw and refined, bright and bold, and unfathomably intriguing.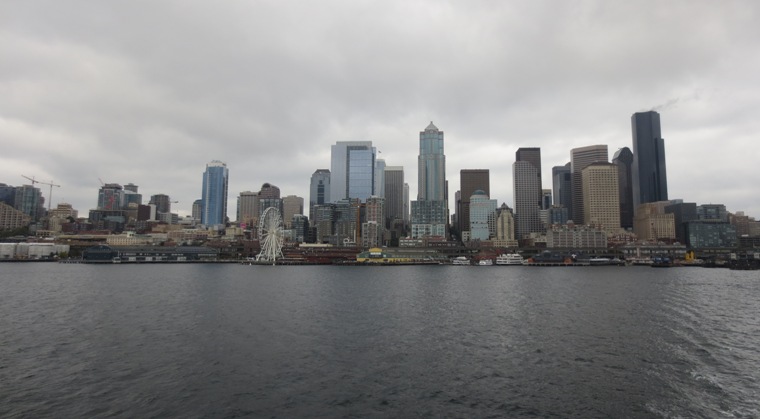 Across the sound, the ferry brought me to Bainbridge Island (site of a future post on Bloedell Reserve). Before the forest, however, some sustenance in the form of the best deviled eggs I have ever eaten. (And I've tried a lot of deviled eggs over the years.) Crafted by the folks at Café Nola, these had lobster – a portion of a claw on each – and the filling was expertly flavored to make the whole thing even richer. Out of all the deviled egg variations that are out there, this was by far one of the best. I still have daydreams about it, with drool running down my face and onto my office desk. Sorry, I can't help it. Oh, the Dungeness crab melt that followed wasn't half bad either.
As amazing as the previous meals were, my favorite of all the time I spent in Seattle had to have been the meal I had at Matt's in the Market. Housed at the Pike Place Market where so much other yumminess happens, Matt's was a feast for the eyes and the mouth.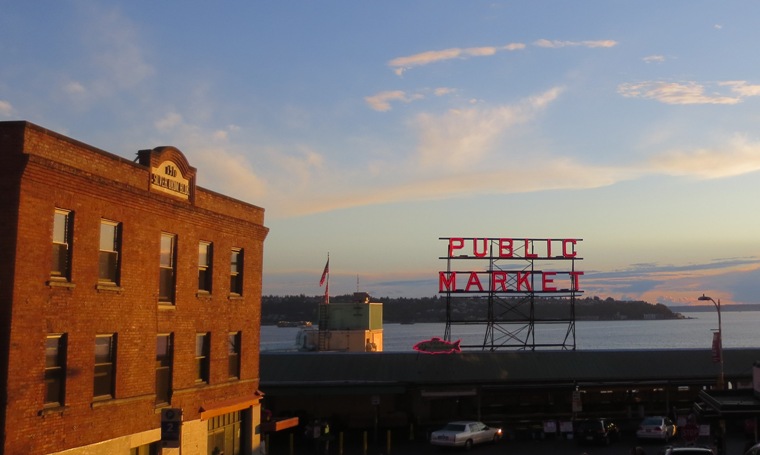 As another sun set over the Sound, and the gorgeousness of impending twilight lowered itself as a backdrop, one of the most enchanting salads I've ever seen appeared on the table. A bed of smooth avocado, topped by a slab of exquisitely-ripe watermelon, formed the base of this whimsical treat, accented by edible violets and cucumber horns. Forget salad – this was a veritable art installation.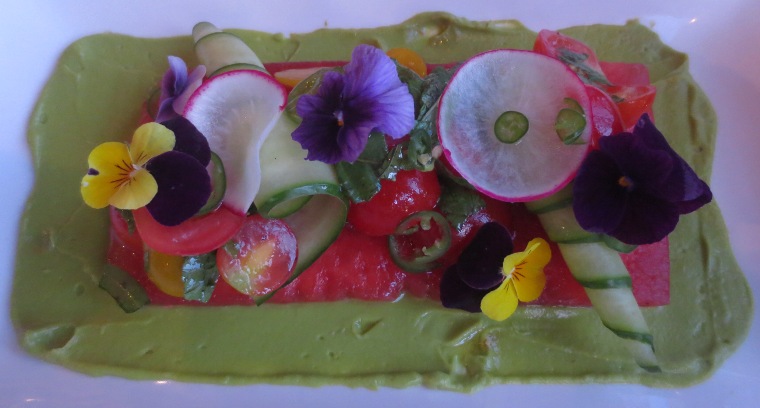 Paper-thin radishes and Serrano peppers gave an impassioned pizzazz to the fresh dish, and I didn't think the main course could top it.
It happily turns out that I didn't think correctly.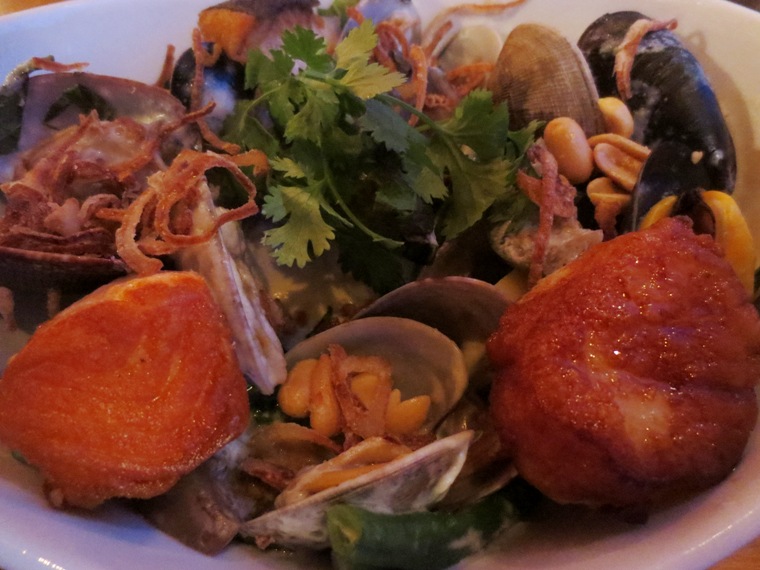 A Thai-inspired seafood stew, with green coconut curry, basil, mint and cilantro, was a pungent holding pen for mussels, fin fish, Yukon gold potatoes, clams, scallops, Thai eggplant, fried shallots and peanuts. My description cannot possibly do it justice. It was spicy, it had heat, yet it was perfectly tempered by the fresh herbs and potatoes. Somehow, the flavors of the seafood stuck their heads above all the amazing things going on in this bowl, and it was easily one of the best dishes I've had on this trip – and possibly any trip, in a very long time.
Seattle was winning me over, even though it had had me at hello.
Up next: A reserve of beauty…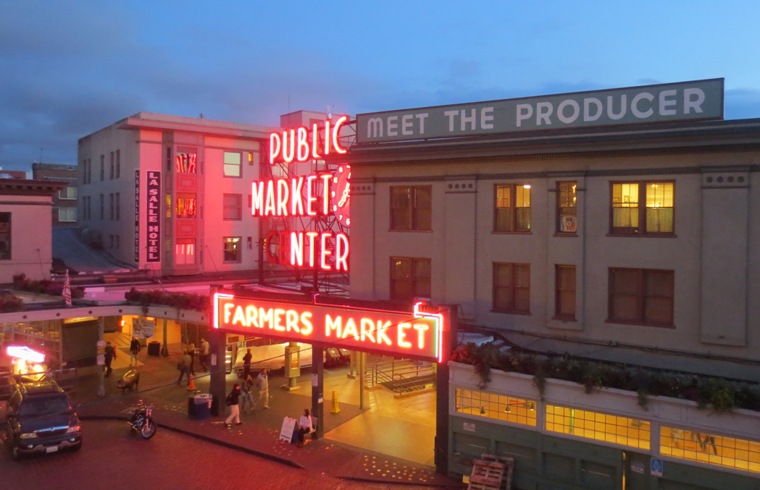 Back to Blog