A couple of years ago Andy and I threw 'The Last Word Lavender Party' in the midst of a lovely July. While the official cocktail of that evening was the Last Word, the unofficial cocktail for a few select friends (because my lavender was of such short supply) was this lavender cocktail. It's basically a gin martini with a lavender twist (blasphemy to FUSSYlittleBLOG, I know), but this is actually quite elegant and refined, and anything that's got bitters can't be all bad in my book.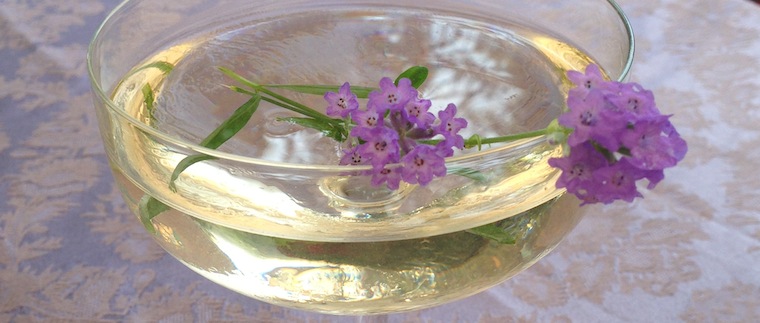 The great thing about lavender used in food and libations is that while it is indeed floral, it's not necessarily sweet. (We all know how much I abhor a sweet cocktail.) In this instance, the gin and the bitters ameliorate any cloying action of the lavender syrup. (I also tend to go easy on any sort of syrup in my drinks, so keep that in mind when referencing the recipe. This isn't fucking high school.)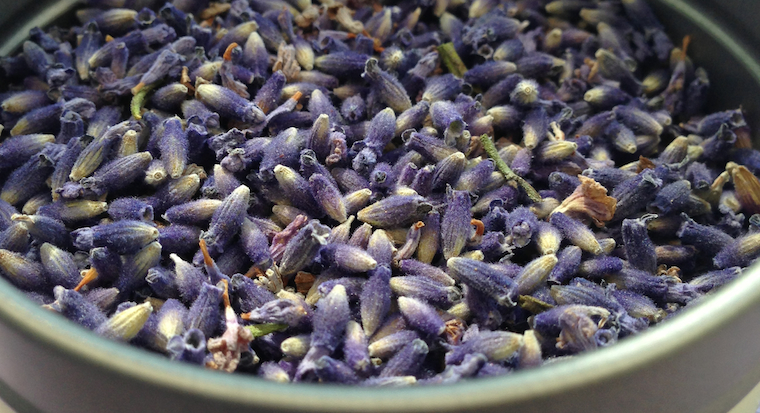 A West Coast friend was visiting Sequim, WA and was good enough to send me a batch of the culinary lavender seen here. Culled from the Purple Haze Lavender Farm, it's a little can of lusciously-scented purple-hued wonder ~ floral gold for the eyes and nose. As luck would have it, one of my lavender plants in the backyard was in bud – the optimal time to harvest – so I used that and amended it with the buds from the can to make up the necessary amount for the recipe. (It also afforded the garnish.)
Lavender Cocktail
Ingredients:
– 2 oz. Bombay Sapphire gin
– 1/2 oz. dry vermouth
– 1/2 oz. lavender simple syrup (See below)
– 2 dashes orange bitters (I used The Bitter Truth)
– Sprig of lavender
Pour liquids into cocktail shaker filled with ice and shake well. Strain into a well-chilled cocktail glass. Garnish with a sprig of lavender. (Since I don't like things too sweet, I went heavy on the bitters and light on the lavender syrup. And for those who really like lavender, please note that a little in a drink goes a long way – you'll get the effect, trust me.)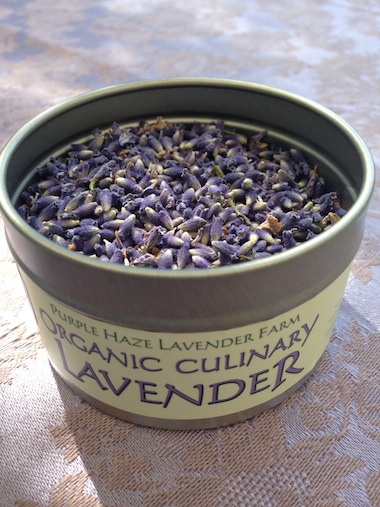 The most important ingredient is, of course, the lavender, and the syrup is, literally, a simple one: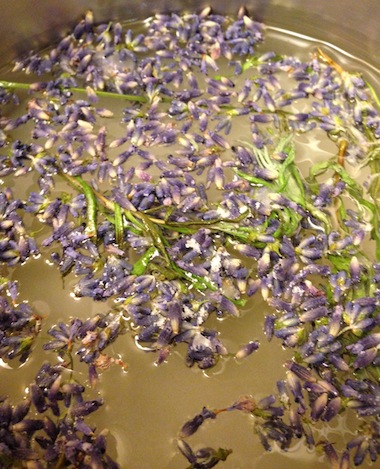 Lavender Simple Syrup
Ingredients:
– 1/4 cup lavender buds (stripped from stem)
– 1 cup sugar
– 1 cup water
Add ingredients to small stove-top pot. Stir until sugar dissolves while bringing to a quick boil. After a minute or two, turn off the heat, cover pot, and let sit for two hours. Strain into a container and refrigerate until cold. Unopened flower buds should be used as they have the most flavor and fragrance, but opened flowers and dried lavender will also work.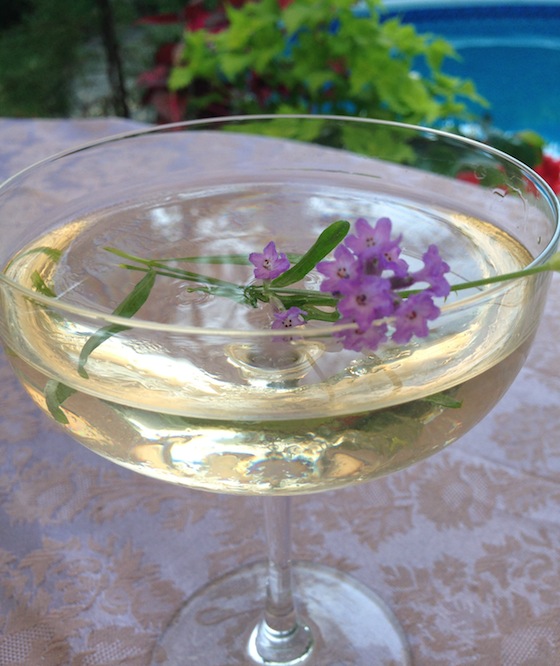 This is not one of those cocktails you drink all the time, like a martini or a Bloody Mary – this is for special occasions. A summer evening when the lavender is in bloom, or a sunny day when guests are brunching on the patio and bees are buzzing in the garden. I can also see it used on a cold fall or winter day, when the fragrance of lavender is needed to warm the cockles of the heart. It's an ephemeral drink, when one needs a moment to indulge, to pause and reflect, and then to move on.
Back to Blog