"This will be a revolution of inquiring further, of not worrying about winning other people's approval, of not wishing we were someone else but perfectly content to be who you are, someone unique and rare and fearless. I want to start a revolution of love." ~ Madonna
A swirling vortex of minotaur horns forms itself into a marching line leading to the stage of the Grammy Awards, while Madonna's disembodied voice rings deeply over the majestic intro to the Offer Nissim Living for Drama mix of 'Living For Love.' A blood-red curtain disappears into the sky revealing our Queen, standing there in a toreador cape, which she quickly throws off in one powerful gesture (and with such force that one of her epaulets comes partially off.) She's had wardrobe malfunctions before, but unlike some whose careers have derailed because of them, Madonna just shirks them off and carries on, this time strutting around in that giddiness-inducing 'Papa Don't Preach' prance. 
What's notable about the performance is her enduring and endearing willingness to bust her ass out there in front of the whole world. She admittedly had butterflies in her stomach, and performing at the Grammys has never been her strongest bit, but she delivered the most electrifying performance of the evening. Annie Lennox may have musically brought the house down, but it was Madonna who got the crowd to its feet and audibly cheering. (Industry crowds aren't necessarily the most fun.)
She was lifted, twirled and spun by her menacing minotaurs, but it was clear there was but one bull-wrangler here, and she was in supreme charge. She removed her problematic jacket halfway through the show, lied down on a riser for a second, and made a quick nod to her rolling-on-the-floor 'Like A Virgin' performance on the inaugural MTV Music Awards, before a choir joined her to get everyone on their feet and clapping along. She disappeared but for a second behind her sea of bulls, and then rose literally to the rafters, lifted by love (and a couple of wires.) All in all, it was a grand return to form from the woman whose own revolution started over three decades ago. 
Now, let's talk about her entrance to the show, because the red carpet get-up is just as integral a part of the evening as the performance itself. Madonna is nothing if not a living work of art, and her corseted toreador-triumph by Givenchy was a thrilling moment in itself. Better still was her cheeky fuck-off to reporters and press, as she lifted her tiny dress and exposed her fishnets and thong-bound ass while her publicist grinned in the background. That takes balls ~ and that's Madonna.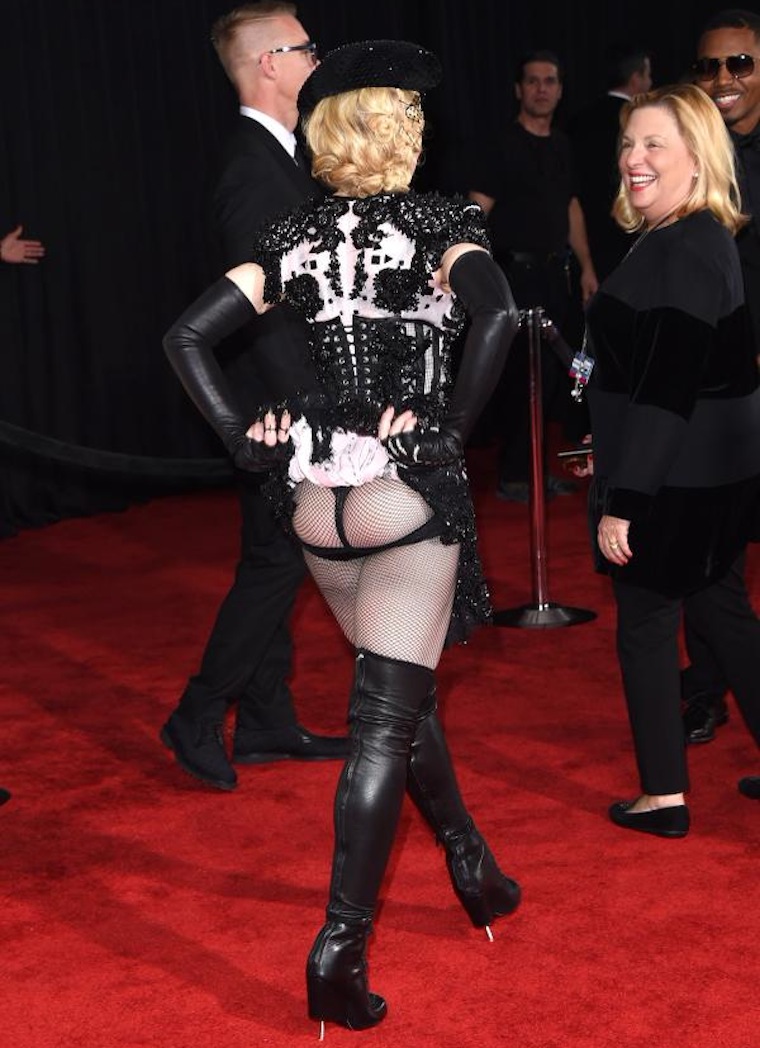 Back to Blog