The Golden Globes are on tonight, and like last year I'll be Live-Tweeting it (as long as I feel like it). It's going to be a little hectic again as I'll be switching between that and 'Downton Abbey' because we don't have a DVR. (In other words, if I start lamenting Dame Maggie Smith's decision to wear a hat on the red carpet, you'll understand why.)
First, a note to George Clooney's wife: if I could touch George Clooney wherever I wanted, I would NOT be wearing gloves, white or otherwise.
Eddie Redmayne in velvet tux and bowtie – the man can do no wrong (especially when naked). As for his wife, well, I like that she's keeping it real.
Naomi Watts – I don't care if it is made out of diamonds, it's still a snake, and it's ridiculous. Love the color of the Gucci dress though.
Amy Adams in Versace – going for statuesque, failing a bit.
Ethan Hawke – chic in that charcoal tux, and damn you for turning back time better than Cher.
Kevin Spacey – nice beard!
Christine Baranski – I've never been the biggest Zac Posen fan, so I'm not excited by this, or the color. (Personal peccadillo.)
Lorde – bit of a mish-mosh, bit of a mess.
Matt Bomer – navy tux, dapper do, mesmerizing eyes. (I think Ryan Seacrest got a little lost in them.) He still looks better in a  thong.
Andrew Rannells & Lena Dunham – power (bottom) couple of the night.
Please tell me Amy Poehler is pregnant. I will forgive that dress only if that is the case.
Emily Blunt – Michael Kors gives a Grecian twist, as does her hair,
Jessica Chastain – Versace knows how to craft a garbage bag that makes the tits pop.
Allison Williams – resplendent in red Armani Prive.
Siena Miller – I'm torn over this dress by Miu Miu. Sections of the fabric are exquisitely gorgeous, sections of it are not.
Michael Keaton – black tuxedo. In the words of Miranda Priestley, "Groundbreaking."
Uzo Aduba – shimmering beaded glory.
Julianne Moore – a silver Givenchy dream, floating on elegant ostrich feathers used in judicious manner.
Reese Witherspoon – is that blush or bashful? Whichever, it works.
The Gyllenhaal siblings – one in pink, one in a tux. No trick there. (But Jake looks better naked too.)
Emma Stone – is that a bow on your ass? Take it off.
Bill Murray – Wandering in looking like a wrinkled hobo. There is literally a feather in his cap.
Helen Mirren – Loving the bright scarlet, not the embellishments.
Channing Tatum – another tux. I won't even suppress a yawn. Another guy who's better off naked.
Benedict Cumberbatch – a tux that didn't bore me, mostly because of who was in it.
Kevin Hart – Thank you for sprucing up the tux scene with
Jennifer Lopez – a slit and two boobs, swaddled in a sparkling cape and drape. (By slit, I mean the dress. Rise above the gutter, please.)
Giving Ms. Lopez a run for her peek-a-boo money is Kate Hudson. This is what double-sided tape is for.
Anna Kendrick – like a princess, which isn't always a good thing.
Kerry Washington – loving the color and the fabric, but the pattern is not convincing.
Viola Davis – some are going to find fault with her mini-mirrors, but I love it.
Melissa McCarthy – there are better ways to work with what you have.
Alan Cumming – in shades of nude. On its own, I'd shrug, but in a sea of tuxedoes, I'm thrilled by it.
David Oyelowo – I like the departure of a sparkling tuxedo – but I fear it reads a little too 'Solid Gold, filling up your life with music…'
Fix your tie, Wes Anderson. Quickly. Too late.
Harrison Ford, still rocking that earring. Still looking ridiculous.
If Jeremy Renner can pretend to be interested in Jennifer Lopez's globes, then so can I.
I see that Keira Knightley has her bib on.
Prince. WTF?
Gwyneth Paltrow – the prettiest in pink, and wearing my favorite dress of the evening, mostly because of the color.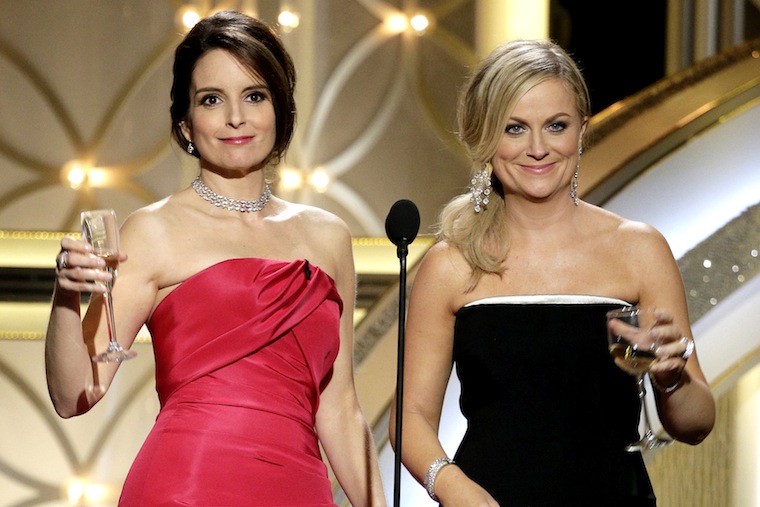 Back to Blog