I'm not offering an opinion one way or another on the choice of Jimmy Kimmel as the host of the Oscars this year. It could go either way. Instead, I'll try to keep my take on things strictly to fashion, speeches, and hopefully a couple of quirky gaffes which are usually the best parts of a live award ceremony. I'll post some of what I'm hoping to live-Tweet here, but if you want all of them you'll have to visit my Twitter feed. (I also have an Instagram account, which is a different kind of story altogether… one you'll want to follow.) On with the really big show…
If the half-cape is coming back, I'm all for it.
Ooooh! Pharrell in Chanel! Finally, man jewelry lending some flash and distinction to the traditional tux. LOVE this.
Taraji Henson is classically elegant, and I want that diamond necklace.
Is it all about the dress slit this year? (Hey, how else can I work a slit into this website?)
Andrew Garfield is wearing a big-ass bow-tie and traditional tux. Handsome, yes. Boring, yes. And of course Ryan Seacrest has to ask about Andrew Garfield's kiss with Ryan Reynolds. Why is he even pretending, Kathy Griffin?
Octavia Spencer – digging that shade of gray, and the feathers. Marchesa is elegance.
David Oyelowo – stunning tux. Always a joy to see someone move away from basic black.
Jessica Biel is resplendent in gold, trying to distract from Justin Timberlake's questionable haircut. Thankfully, she succeeded. (He's better nude anyway.)
Dakota Johnson – is there a 'Camelot' movie coming out soon?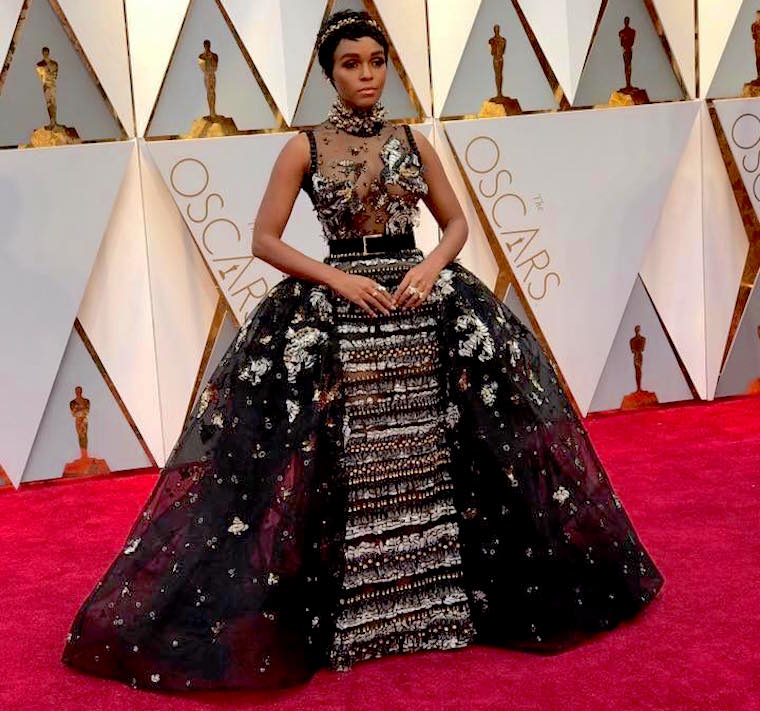 Janelle Monae – everybody is going to hate it, but I freaking love it. This is the sort of dress one needs to see in person to truly appreciate. We must do so from a distance.
Samuel Jackson – mmm…. blue velvet tux. Normally I'm all about that step away from black, but I'm not sure about this one.
Dev Patel is making the white tux work.
Scarlett Johansson – not a fan of anything really. Not the hair, not the dress, not the belt. Not any of it.
Halle Berry said she wants short hair back now. Yeah. I would agree.
Emma Stone – fringe is not an easy thing to pull off, but she's doing it.
Hailee Steinfeld – I think I love it.
Michelle Williams in Vuitton. Sweet. Plunging. Dull.
Nicole Kidman – bejeweled goddess in nude Armani Privé.
Ryan Gosling – frilly shirt! Yay! Still, way better shirtless.
American hero and national treasure Chris Evans is stunning in a blue tux. Truss très chic. (Almost as good as when he's naked.)
Justin Timberlake and his ass just opened the show. I'll update when/if someone of note happens…
Amy Adams – shining, shimmering, exquisite sculptural (and globular) beauty.
As for that twist ending… why can't we do that with the election?!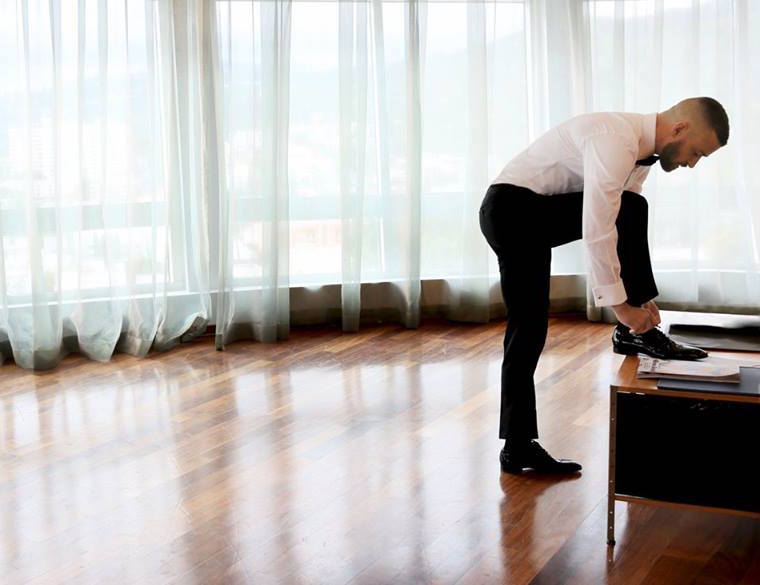 Back to Blog