A wedding brought us to the nation's Capital, but before the vows were exchanged Andy and I toured a few Washington mainstays, beginning with the National Zoo. It was later in the afternoon when we began our walk through the winding paths that lead around the animal exhibits, but since we'd been here before we did not need to stop for everything. Instead, we paused at some of our favorites – like the cheetah seen reclining on the ground below. Though the lemurs weren't out, the otters were, providing much amusement for us as much as themselves. The elephants were on display too, but the pandas were inside. It still amazes me that this country's National Museums are free and open to the public. There are no turnstiles, no entry fee, nothing at all to impede any citizen from walking in off the street and finding themselves next to a red panda. It's pretty cool.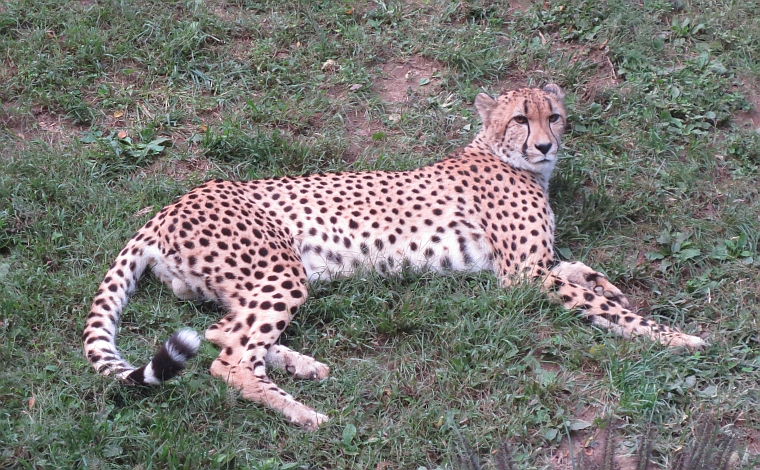 I appreciate the flora of the zoo just as much as the fauna, as evidenced in this vibrant Japanese beauty berry. There were a number of bamboo stands, providing shade and a pleasant backdrop, particularly to the Asian Trail, where the pandas can occasionally be seen eating distant bamboo relatives (they consume too much for it to be feasible to grow the food-source at the zoo.) A peaceful landing pad for our weekend, it provided a quiet entry to the wonder that is Washington.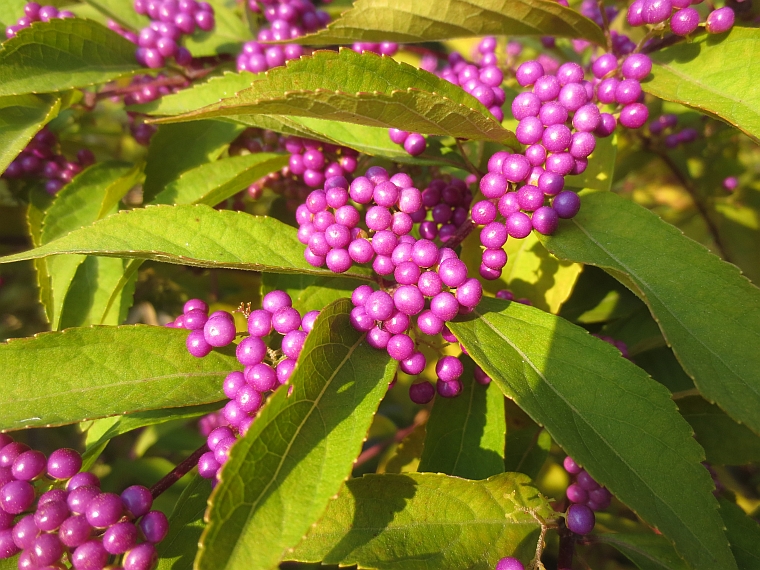 No trip to DC would be complete without seeing its unofficial ambassador, Mr. Stephen Colbert. We happened by chance upon this skit while waiting for our tour of the Capitol to begin.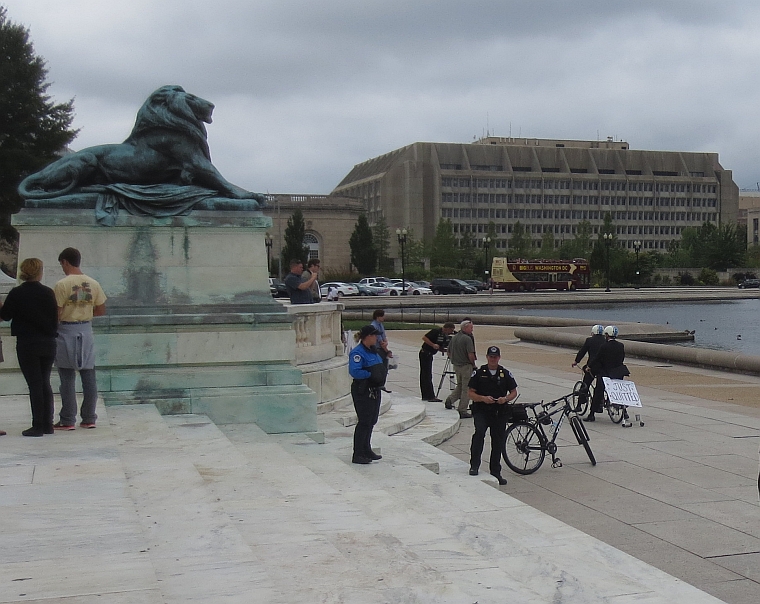 Andy was more than thrilled, as he is a big Colbert fan. I was amused, if somewhat unimpressed. One of the guards monitoring the scene didn't let us walk on the steps from which I wanted a photo of the Washington monument. Is this America or Hollywood?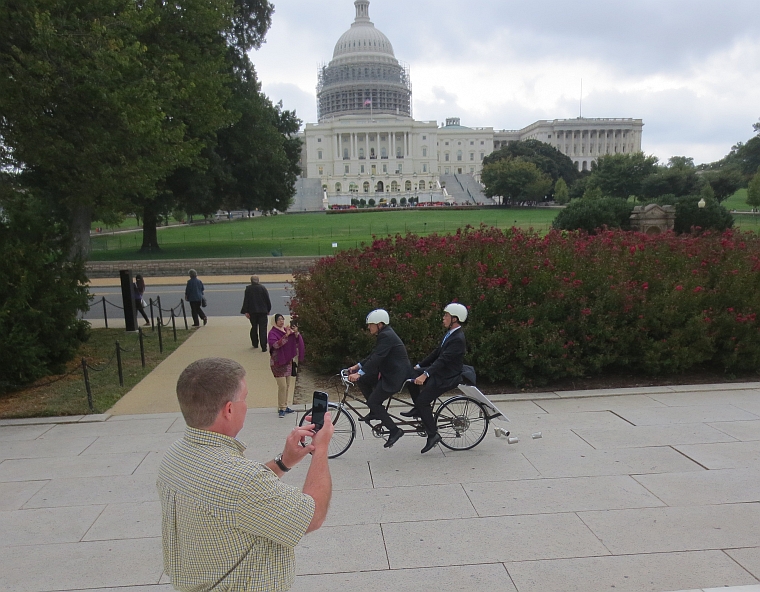 I'm not sure how it will be play out on-screen or what it even means, but Mr. Colbert was riding along on a bike with a string of cans bouncing behind him and the sign 'Just Quitted' on his back. Even Andy wasn't sure about what it meant – he thought perhaps it was a reference to a politician in Kansas who just quit. The absurdity of the whole scene is why I don't follow politics. But when in Rome…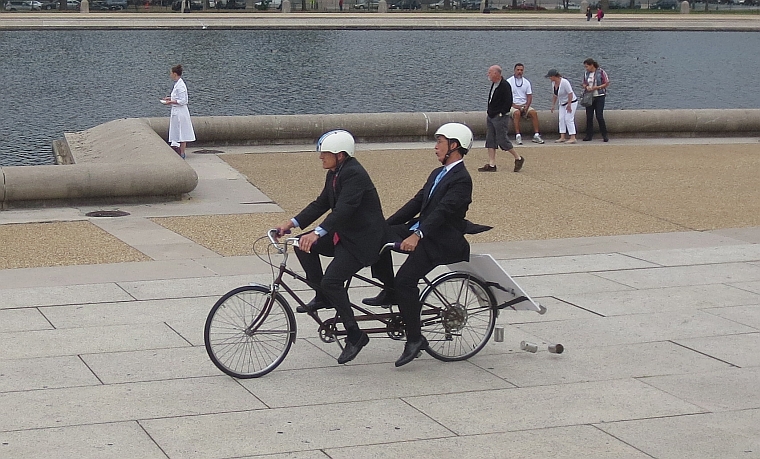 After surreptitiously gaining a few photos of Colbert on the bike, we headed around the back of the Capitol for a tour. It's been years since I was in the building, and not even the scaffolding could mar its beauty (well, maybe it could – and did.)
Even so, one can't help but feel the strong pull of patriotism upon which this country was founded. We take such liberty for granted, at least I do, so it's always good to be reminded from whence we came. (As well as the divisive battles that brought about our current system, which really does seem to be as fair as possible – if you don't think so, try coming up with a feasible alternative.)
As our tour of the Capitol ended, the guide recommended we walk over to the Library of Congress. Having never visited before, that's where we headed…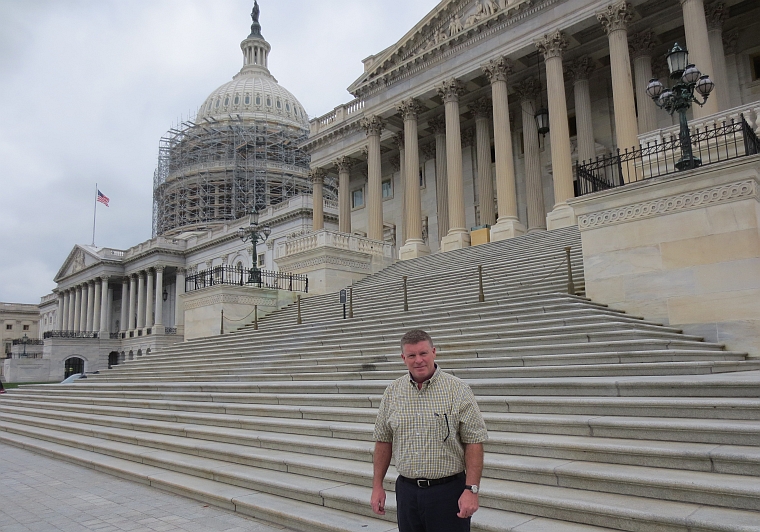 Back to Blog