{Note: The Madonna Timeline is an ongoing feature, where I put the iPod on shuffle, and write a little anecdote on whatever was going on in my life when that Madonna song was released and/or came to prominence in my mind.}
WITH ALL THESE CURVES WE MIGHT NEED TO HAVE THE BRAKES LOOKED AT
SO POP THE HOOD, LET'S SEE WHAT'S GOOD, I NEED A TUNE-UP BAD
MY PRESSURE'S LOW, I'M ON A ROLL, BUT MY TRANSMISSION'S BLOWN
I HEARD A THUMP AND THEN A KNOCK…
I HEAR YOU WORK AT A BODY SHOP, I HEAR YOU WORK AT A BODY SHOP…
At the dawn of a millennium, the car speeds through the midnight hour of a summer's night. Opening the passenger-side window, I reach my hand into the rush of air, reminded after all that there are molecules floating around us, and when propelled they have force and power and speed. We are on a back road in upstate New York, and Andy is driving us to his house. We only met a few weeks ago, and neither of us is sure where we are headed.
He looks over at me and gives a mischievous smile that I will soon come to love. He steps on the gas pedal and the car rockets forward. (I may have asked if he could get the car to 100 miles per hour, or he may have volunteered the information – either way, he was nearing that goal.) The thrill of a speeding car, the heat of a summer night, and the excitement of a burgeoning romance came together in that one moment. As I dared to hold my hand in the heady onslaught of wind, I watched us clock 100 MPH and felt the exhilaration of it all in one deliciously exhilarating moment.
YOU CAN KEEP IT OVERNIGHT, YOU CAN DO WHATEVER YOU LIKE
WORKING OVERTIME, WORKING ON THE LINE…
This is one of the Madonna songs that reminds me of my husband, and whenever he goes on one of the WRPI Car Radio marathons I insist that they play it. It's 'Body Shop', from Madonna's latest album 'Rebel Heart'. Much as I did with Andy, I loved it the first time I heard it. With all the cynicism and cruelty of our modern-day world, it is the ultimate escape song – a perfect accompaniment to a road trip, or any other car moment for that matter. The automobile double-entendres coming non-stop threaten to derail the proceedings, but the music grounds it in folky simplicity. It's a unique one in the Madonna canon, both for its topic and its sonics. Along the lines of 'Cherish', 'True Blue' and 'X-Static Process', this is an effervescent bit of pop gorgeousness, a lithe little love song pared down to camp-fire-sing-along sweetness, but Madonna's casual delivery lends it a surprising twist even this late in her career.
It was used to great effect on her 'Rebel Heart Tour', beginning the Rockabilly Romance section of the show and leading into a sweet ukulele-rendition of 'True Blue'. Only Madonna, and perhaps Herb Ritts, could make a garage into such a sexy scene.
YOU CAN POLISH THE HEADLIGHTS, YOU CAN SMOOTH OUT THE FENDER
YOU CAN START THE IGNITION, WE CAN GO ON A BENDER.
STUCK TO THE SEAT, OUR BODY HEAT, WHAT WILL YOU DO WITH ALL THIS ASS
LET'S SHIFT THE GEARS, GET OUTTA HERE, WE'RE STEPPING ON THE GAS
WE GOTTA BOUNCE, WE'RE GOING FAST, LET'S LET THE SEAT GO BACK
YOU TAKE THE WHEEL, I'LL SIT ON TOP
I HEAR YOU WORK AT A BODY SHOP,
I HEAR YOU WORK AT A BODY SHOP…
As for that night my future husband and I sped down the backroads of upstate New York, I remember it quite well, and the memory always brings a smile to my face. Once, we were young together. Seventeen years later my heart still sings for him.
I WOULD DRIVE TO THE ENDS OF THE EARTH FOR YOU
JUMPSTART MY HEART YOU KNOW WHAT YOU GOTTA DO
I WOULD DRIVE TO THE ENDS OF THE EARTH FOR YOU
CROSS MY HEART AND HOPE TO DIE IT'S TRUE…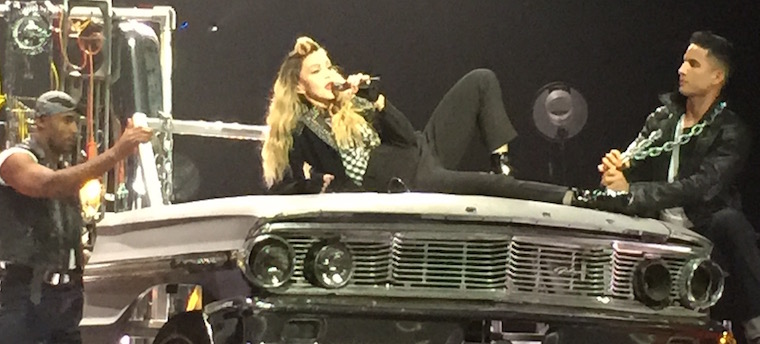 SONG #141 – 'Body Shop' – Summer 2000/2015
Back to Blog