For some reason, when Madonna was announced as performing for part of Macklemore and Ryan Lewis' song 'Same Love', I wasn't as excited as everyone thought I would be. It was a bit of a surprise to myself, even, but I figured it would be a few throw-away lines at the end, and not worthy of edge-of-the-seat build-up (like that miraculous Super Bowl show). However, like everything she does, Madonna was full of the unexpected. In this case, it was the chorus of 'Open Your Heart', one of her strongest cuts. Slowed down to seamlessly segue in and out of 'Same Love', it came just as Queen Latifah presided over the shockingly-moving wedding ceremony of 33 gay and straight couples.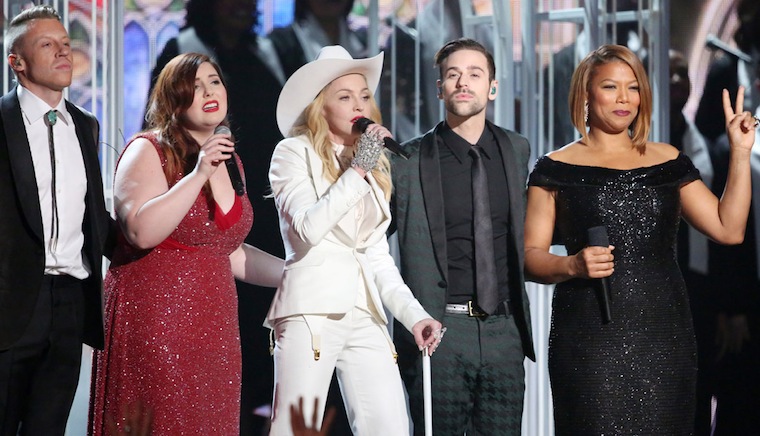 Madonna inspires a whole lot of feelings in me, but she rarely moves me to tears. (The last time I came close was at the Drowned World Tour, when I was seeing her for the very first time.) On this evening, as a backing choral group picked up and carried a few more bars of 'Open Your Heart', and then Madonna joined Mary Lambert for a couple of tender exchanges of 'She keeps me warm' before they ended by not crying on Sunday. All in all, it was incredibly emotional, in the sweetest, most non-jaded way.
As for the outfits, Madonna arrived all in black, with a nicely-tailored tux by Ralph Lauren. I dug the hat, still despise the grillz. For the performance she traded in the black for white, with a couple of trademark dangling garters and a cowboy hat. She looked fine – and she looked closer to her age than she usually does (which is normally fifteen years younger). We should all be fortunate to age nearly as well. I saw a few nasty ageist comments online from people with dogs as their profile pics (or maybe they weren't dogs after all). Anyway, Madonna still knows how to show the room a good time – for this evening it was poignant as well.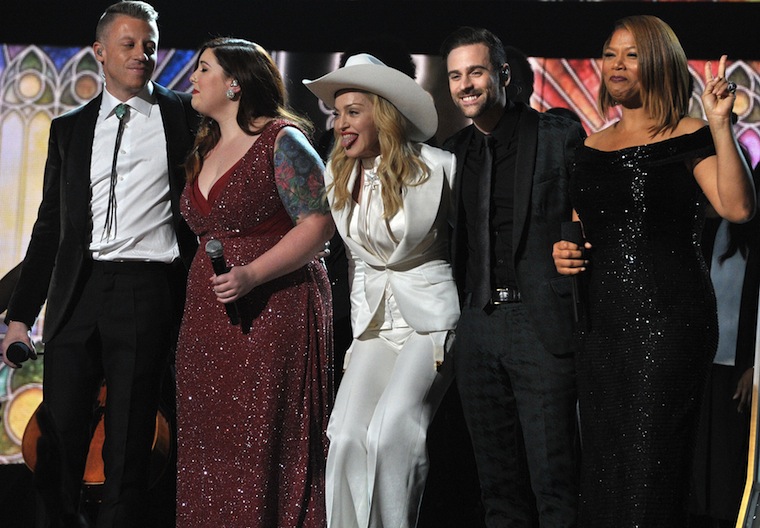 Back to Blog