She arrived like Cleopatra – carried in by an enormous troop of gladiatorially-garbed men. A wall of larger-than-life faux palm fronds parted to the opening salvo of 'Vogue' ~ What are you looking at? ~ a ridiculous question when all eyes were so clearly on Madonna, revealed in an extravagant head-dress and sparkling golden robe. Half Isis, Half American Goddess, Half Woman Warrior – she was here to stake her claim as rightful occupant to her once and future pop throne. And, by most accounts, she slayed it.
It was dazzling, it was stunning, it was like she transported us into a different world. I don't know about anyone else, but it no longer felt like a football game to me – and God knows I couldn't be more thankful for that.
As with most things Madonna, it was the overall effect that powed and wowed. Her vocals were mostly lip-synced. Without a proper sound-check for an avowed (and proven) perfectionist, there's no way she was going to rely on a live sound-system, and there's no way she should have done that for a show like this. She wasn't there to impress with her vocal stylings and nuanced singing – she was there to entertain and put on a show – and I defy anyone to do it better.
It managed to be intimate and grand, theatrical and universal, intricate and epic ~ the most difficult balancing act pulled off by one of the greatest entertainers the world will ever see. When Madonna comes to play there is no better show-stopper.
After the brilliance of 'Vogue', she went into a rollicking version of 'Music', where her only (exceedingly minor) flub was when she couldn't quite get up onto a bench on the first try – so small was it that I missed the misstep entirely on first viewing. Hey, I couldn't do that in high heels.
Surprisingly I enjoyed the LMFAO segment – a mash up of 'Music', 'Party Rock Anthem', and 'I'm Sexy & I Know It' – and Madonna was clearly having a good time by that point. The dance break finishing it was killer. "Every day I'm shuffling," indeed.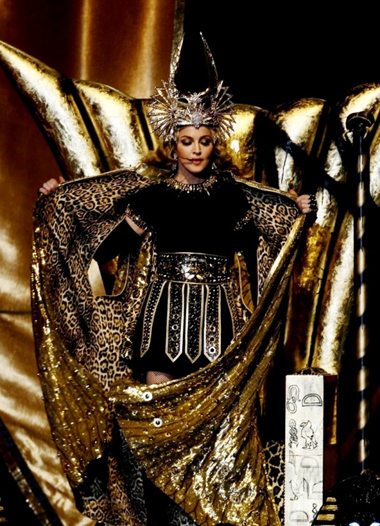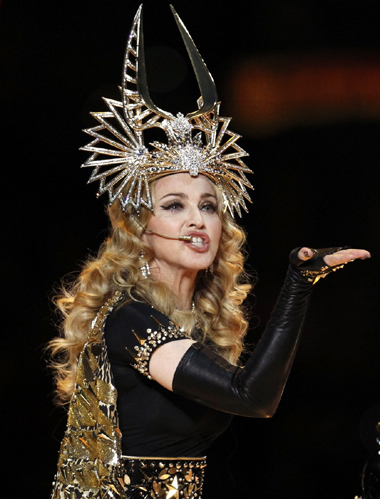 Going back to her cheerleader roots, she performed new single 'Give Me All Your Luvin' with Nicky Minaj and M.I.A., the latter giving the camera the middle-finger (another thing that went so quickly by I didn't even see it – and I have to wonder if all the hoopla over this isn't just a desperate grab at some sort of halftime show controversy where none really existed – most people I talked to didn't see it either). Regardless, it wasn't Madonna, so let someone else take the heat for once.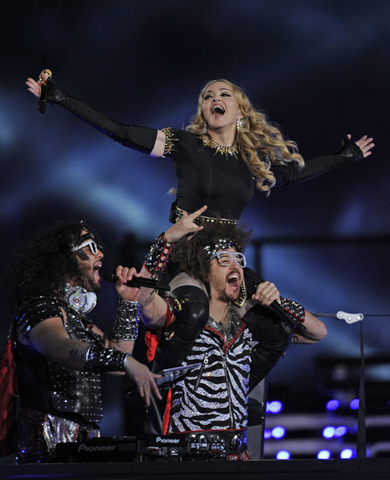 A couple of drum corps snapping their snares announced the arrival of Cee-Lo, whose presence I initially met with raised eyebrow and low expectations, but he delivered too. As she exchanged bits of 'Open Your Heart' and 'Express Yourself' with him as band-leader, it instantly became another highlight for me. That two lines from each could have such a thrilling effect is one of the wonders of Madonna. She can pull from her vast, rich history and instantly evoke a memory, an emotion, a smile – and suddenly the very best of what pop music can do is revealed then instantly shrouded in tantalizing mystique. It is a delicious sprinkling of the Madonna magic, manifesting itself right in the midst of America's biggest sports night.
As well as Cee-Lo did with his brief intro, I had my doubts that he could step up to 'Like A Prayer' – I didn't know if he had the gravitas, having only known him from his novelty 'Fuck You' song. It was another thrill to see him don a sequined choir robe and bring his A-game to the magnificence that is 'Like A Prayer'.
As the football field, markers and all, seemed to magically roll into the stage itself (the wonders of technology), Madonna had indeed managed to preach a world-reaching sermon in the sacred church of Middle America, thereby securing her hallowed place in pop culture for the umpteenth time.
Before you knew it, but after what felt like an entire concert rolled into 12 minutes, she was gone, having disappeared Wicked-Witch-like in a blast of smoke through the floor. Almost thirty years into this game, no one else can put on a more spectacular show. The Queen has returned, and this was her ultimate proclamation that she is nowhere near ready to abdicate the throne.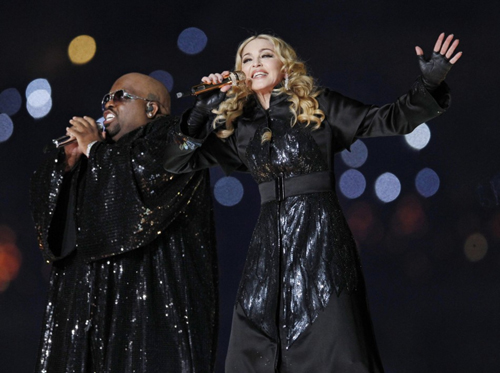 Back to Blog