THIS PICTURE-PERFECT AFTERNOON WE SHARED
DRIVE THE WINDING COUNTRY ROAD
GRAB A SCOOP AT A LA MODE
AND THEN WE'RE THERE
AN OPEN FIELD THAT'S FRAMED WITH TREES
WE PICK A SPOT AND SHOOT THE BREEZE LIKE BUDDIES DO
TELLING JOKES NO ONE UNDERSTANDS
EXCEPT US TWO, AND WE TALK AND TAKE IN THE VIEW
ALL WE SEE IS SKY FOR FOREVER
LET THE WORLD PASS BY FOR FOREVER
TWO FRIENDS ON A PERFECT DAY
It began before we knew it was beginning. That's the way it happens. The anxious anticipation of winter melting into spring, and in the blink of an eye we're sliding into the waterfall of summer. And then, just like that, summer is over.
We put away the pool towels, the swimsuits, and the canopy.
We shut windows, close doors, and abandon the patio furniture.
The sound of splashing water and children's laughter grows distant, fading into cooler nights, disappearing in chilly mornings. An ominous fog creeps into the break of day, one I eye uneasily as I'm going through hazy ablutions. Drying my hands at the kitchen sink, I look out upon the faded garden. Soon it will be struck down by a single hard frost. But I'm getting ahead of myself. We haven't even begun to talk about summer, and that one idyllic summer day…
WE WALK A WHILE AND WE TALK ABOUT
THE THINGS WE'LL DO WHEN WE GET OUT OF SCHOOL
BIKE THE APPALACHIAN TRAIL OR
WRITE A BOOK OR LEARN TO SAIL
WOULDN'T THAT BE COOL
THERE'S NOTHING THAT WE CAN'T DISCUSS
LIKE GIRLS WE WISH WOULD NOTICE US BUT NEVER DO
HE LOOKS AROUND AND SAYS TO ME
"THERE'S NOWHERE ELSE I'D RATHER BE"
I SAY "ME TOO"
AND WE TALK AND TAKE IN THE VIEW
WE JUST TALK AND TAKE IN THE VIEW
Once upon my youth, summer was about friendship. It was about finding that other person with whom to share a sunny day or, perhaps more importantly, a rainy one. It didn't mean dramatic exchanges or life and death conversations, it just meant someone willing to spend a few hours together in the bright start of the day. By dinner we'd return home to our own families, then come back out for hide-and-seek before the day closed again.
Back then, I didn't have many friends who carried over from school into my home life – and certainly not in the summer. I saw enough of those people during the school year – summer was my time. I exulted in the ease of solitude, the quiet way I could meander through the forest or garden without worrying about whispers or being perfect. With the exception of Suzie, who was there for the birthdays and big events like a sister, my summer co-horts consisted of neighborhood kids, my brother's friends, and my brother himself. That's all I needed. That's all I wanted.

ALL WE SEE IS SKY FOR FOREVER
WE LET THE WORLD PASS BY FOR FOREVER
FEELS LIKE WE COULD GO ON FOR FOREVER THIS WAY
THIS WAY
ALL WE SEE IS LIGHT FOR FOREVER
'CAUSE THE SUN SHINES BRIGHT FOR FOREVER
LIFE WILL BE ALRIGHT FOR FOREVER THIS WAY
TWO FRIENDS ON A PERFECT DAY
Did I miss it? I wonder. Did I miss the joy of my own companion at that time? I don't know. For so long I've tried to convince myself that I was happier alone, that it was easier and better to be by myself. A nagging sense of social anxiety made solitude a simple solution, and I can't deny that I enjoyed it as much for its own pleasures as the ease it afforded my social unease. But there were moments I missed someone being there. On those times when my brother was doing other things or simply not in the mood to do what I wanted to do, I'd go it alone.
Those solitary adventures held a different sort of childhood enchantment and allure. There are things that we need to do on our own as kids that shape us into who we will be as adults. It's not what you do when you're part of a group, even if you go against the tide, it's what you do when no one is looking that reveals the person you're going to become. I wanted to see who that person was, as much as it sometimes frightened me. So I tread my own path, carved my own way, and climbed my own trees.
AND THERE HE GOES
RACING TOWARD THE TALLEST TREE
FROM FAR ACROSS THE YELLOW FIELD I HEAR HIM CALLING "FOLLOW ME"
AND THERE WE GO
WONDERING HOW THE WORLD MIGHT LOOK FROM UP SO HIGH
ONE FOOT AFTER THE OTHER
ONE BRANCH THEN TO ANOTHER
I CLIMB HIGHER AND HIGHER
I CLIMB UNTIL THE ENTIRE SUN SHINES ON MY FACE
AND I SUDDENLY FEEL THE BRANCH GIVE WAY
I'M ON THE GROUND
MY ARM GOES NUMB
I LOOK AROUND
AND I SEE HIM COME TO GET ME
HE'S COMING TO GET ME
AND EVERYTHING'S OKAY
Were I to fall from such lofty heights, there would have been no one to rescue me. Were I to trip and open my skin or twist my ankle there would have been no one to pick me up. It's best that we don't think of such things as children. We're more invincible that way. Invincible while in grave peril, for there is no more perilous time than childhood. And certainly no more perilous time than childhood in the summer, when all the sweet sunny days promise endless bounty and never-ending freedom, only to come to a sad and irrevocable ending in September.
When I think back to those summer days in which I vacillated between wanting friendship and wanting to be left alone, I don't recall feeling as torn as I sometimes feel today, but I do remember a feeling of want… Part of me still longed for another. A friend who was more like me, who took joy in discovering wildflowers instead of skateboarding, someone who had a quieter nature and would find contentment just reading in a formal living room as the rest of the world went wildly by.
I never had a friend like that, not as a child, and now I wonder at what I might have missed.
ALL WE SEE IS SKY FOR FOREVER
WE LET THE WORLD PASS BY FOR FOREVER
BUDDY, YOU AND I FOR FOREVER THIS WAY
THIS WAY
ALL WE SEE IS LIGHT
'CAUSE THE SUN BURNS BRIGHT
WE COULD BE ALRIGHT FOR FOREVER THIS WAY
TWO FRIENDS
TRUE FRIENDS
ON A PERFECT DAY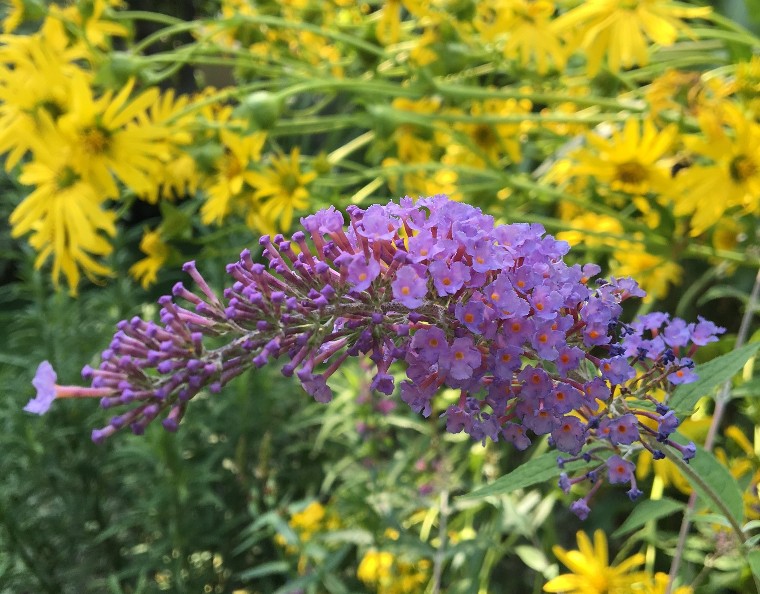 Back to Blog