My newly-kindled love affair with soup is in full-effect with this entry. I've declared my obsession with Lidia Bastianich from the Create Public Television station (don't get me started on one man's unhealthy fixation on JoAnn Weir) and one of her Italian cookbooks features a section on soups that has transfigured the entire notion of that liquid love.
Most of my former issues with soup revolved around the idea of it being rather insubstantial starter fluid, light of heft and lacking in anything fully filling. An ill-fated cabbage soup – made mostly of water and cabbage, and devoid of flavor or broth – did nothing to help my disdain for the dish. Yet there are ways to bulk up any watery concoction – from the simple amendments of noodles or rice, or more decadent additions of coconut milk or cream. When all else fails in thickening up a big pot of the stuff, simply boil it down for an hour or two – even the clearest of liquids will eventually condense into flavorful richness. Oh, and when even that doesn't managed to turn it something good, drop in a few bay leaves – the greatest secret of many a cook.
Lidia suggests the making of a big batch of vegetable broth base, from which you can create virtually any kind of soup. Still holding onto a few strong threads of doubt as to how flavorful a soup could be made from water, potatoes, celery and carrots (not even an onion or clove of garlic!) – I forged ahead and did as instructed.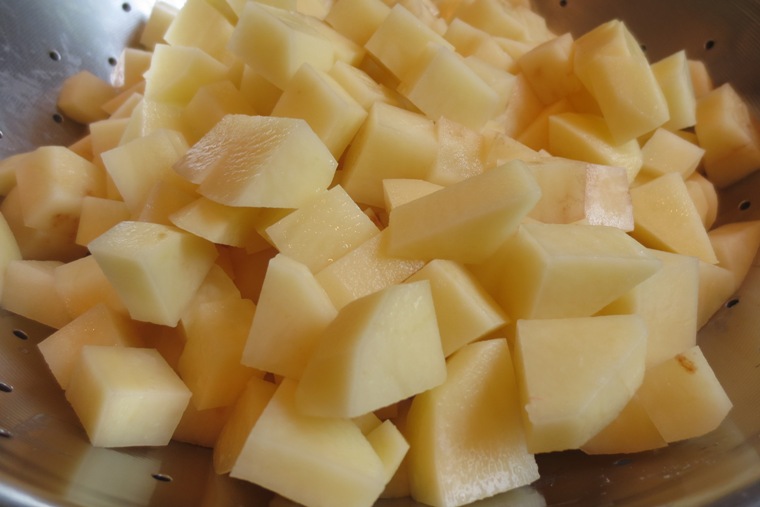 The most difficult part of this is the peeling and cubing of two pounds of potatoes – but this is the work that keeps one occupied on a cold day, the mundane routine of the kitchen that, when coupled with music and a glass of red wine, can turn into something wondrous instead of woeful. It's the cozy preparation that lays the groundwork for a spectacular bowl of goodness that will warm the oncoming night. I'm getting ahead of myself. First, the recipe, from 'Lidia's Family Table':
SAVORY POTATO BROTH
Ingredients:
–        ¼ cup extra virgin olive oil
–        2 ½ pounds russet potatoes, peeled and diced into ½ inch cubes (approx. 6 cups)
–        2 teaspoons salt
–        2 stalks celery, finely chopped (about 1 ½ cups)
–        2 medium carrots, peeled and grated (about 1 ½ cups)
–        3 tablespoons tomato paste
–        4 quarts water, heated to boiling
–        3 bay leaves
–        1 or 2 pieces outer rind of Parmigiano-Reggiano or Grana Padano cheese
Preparation:
In large cooking pot, heat oil to medium-hot, but not to the point of smoking. Add potatoes, sprinkle on 1 teaspoon of salt, and toss in oil. Cook until lightly crusted and caramelized (about 6 minutes). Lower heat to prevent burning, and stir so they don't stick. As potatoes start to leave a crust at bottom of pan, add celery and carrots. Stir well, scrape up any potato crust, and raise heat until vegetables are hot and steaming. Push aside to clear a hot spot in center of pan and drop in tomato paste, cooking it a bit before integrating it into the vegetables.
Pour heated water into pan, drop in bay leaves and cheese rind, grind 1/2 teaspoon black pepper, add salt, and stir well. Cover pot and bring to a soft but steady boil for an hour, stirring occasionally.
Uncover pot and cook for another hour or so, still at low bubbling boil, until it has reduced to 4 quarts.
After an hour, remove the bay leaves and let cool. Divide as you wish, or use as a simple soup on its own. Oddly enough, I didn't happen to have the outer rind of a big-ass block of cheese lying around, so I omitted it – though I can see how that would add another layer of richness to the affair, and may find a smaller piece in the future for just such a purpose.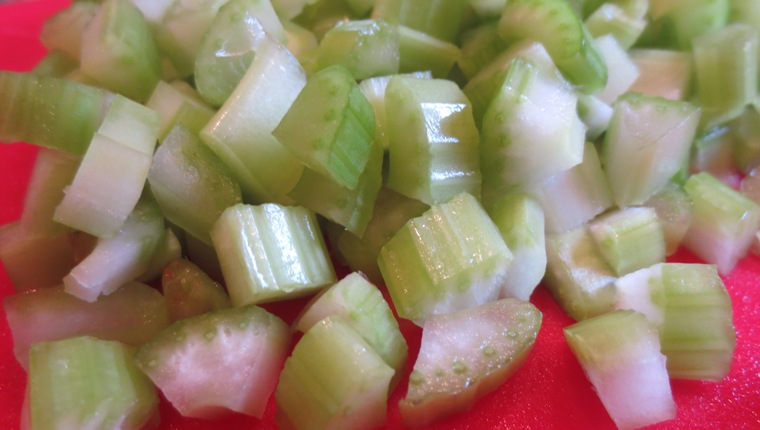 This is the savory vegetable broth base from which I made two variations on a couple of Lidia's recipes: a parsnip and fennel soup, and a bok choy and scallion soup. Basically I chopped up the additional ingredients and boiled them for 45 more minutes or so. The russet potatoes somehow remained solid enough and didn't fall apart – not sure if this was due to the initial cooking in oil part, but whatever the reason, it's a happy one.
Though it's a simple recipe, it does take time – but that's cooking time, not active preparation and work time, so once it begins you can sit around writing silly blog posts while the heat works its magic. You can also speed things along by upping the heat and boiling factor, but the slow nature of the cooking process is, for me, part of its cathartic empowerment. One of the best lessons of all is to be found in the making of soup: patience.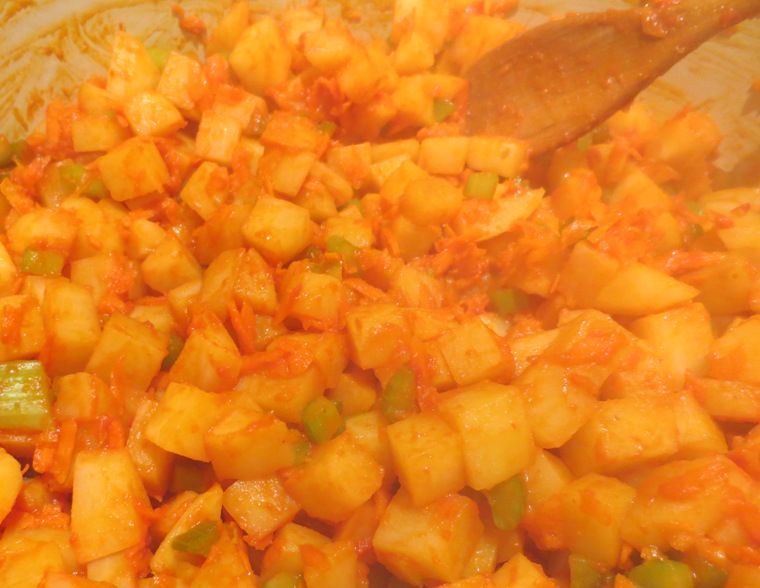 Back to Blog