My new obsession for acquisition: the Japanese Stewartia. I stumbled happily upon these trees at both the Museum of Fine Arts and the Isabella Stewart Gardner Museum, where they offered a bit of cooling shade on a warm July day. At the former, they made up a shaded corner of a Japanese garden, while in the latter they assembled in a small forest on one side of Ms. Stewart's magical haunt.
In both instances they formed handsome clumps of foliage, with gorgeously mottled bark and delicate day-long flowers.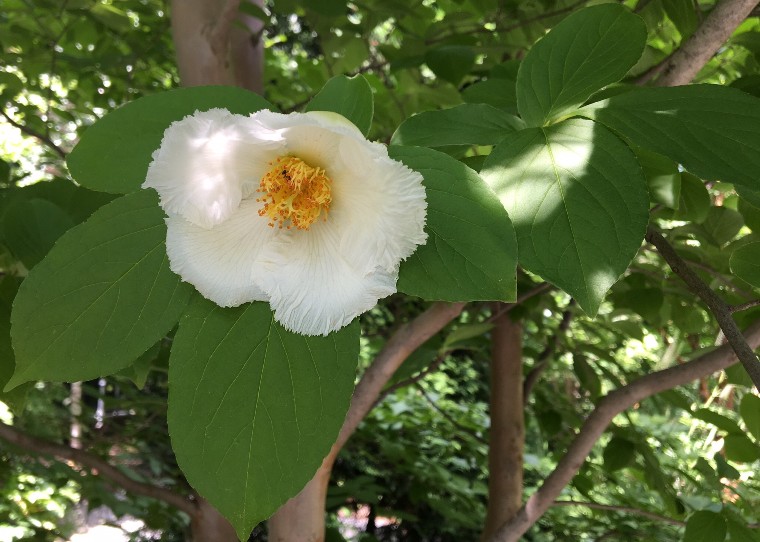 Upon researching the Stewartia, I discovered they may be hardy enough in our Zone 5 locale to try, though at their price point I may wait a couple more years until global warming gets us into a safer Zone 6 designation (hey, it's no joke – we used to be Zone 4, and the only thing that's changed is the weather).
I read a little further until those insipid comments started, and I saw that people were complaining about the flowers. "Insignificant" and "simple" seemed to be the general consensus of complaint, as if either was horribly insidious. I then remembered my cardinal rule not to read comments by the anonymous public. If someone has a problem with the simplicity of a bloom, or the thrilling fact that each only lasts a day in hot weather, then they cannot be counted on to understand the intricacies of true beauty.
Further proof that I need to be out in the world experiencing the flowers rather than reading snarky comments about them.
Back to Blog