To counteract my dismal dahl doings (and combat a few days of the dreadful BRAT diet), this is a successful kitchen creation story with a super happy ending. While laid up with the nasty stomach flu, I tortured myself by watching the Food Network and seeing all the things I couldn't eat. (It's a little thing I do.) On 'The Barefoot Contessa' (is she even a real Contessa? What is a real Contessa anyway?) Ina was having some of her favorite chefs give out the recipes for what they liked to cook after a day of hard work at their respective restaurants – so these were supposed to be good, but relatively quick and easy. Chef Julia Turschen explained her Kimchi fried rice dish that looked so good, and simple, I knew I'd have to try it as soon as my stomach allowed.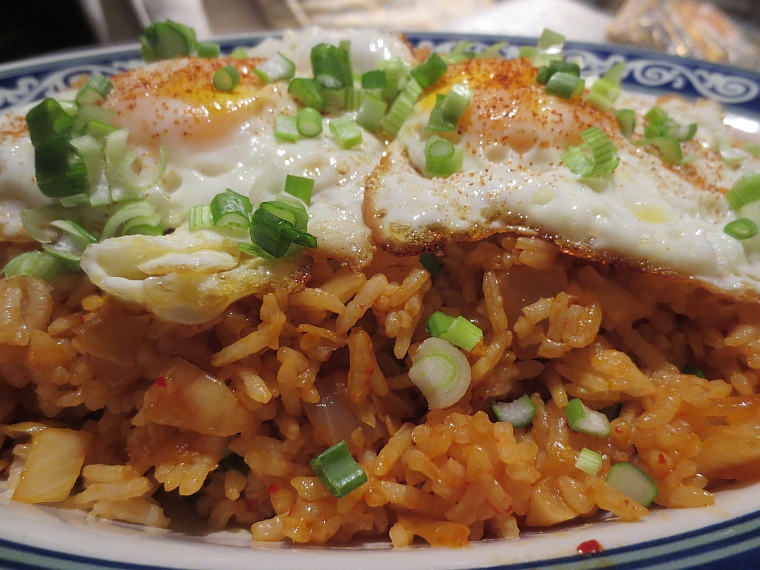 Here is the recipe – it worked so well you just need to follow it word for word:
Kimchi Fried Rice with Fried Egg
5 tablespoons extra-virgin olive oil

1/4 cup finely chopped yellow onion

1 small garlic clove, finely minced

Coarse salt

1/2 cup finely chopped very sour kimchi

1 teaspoon soy sauce

1 cup day-old cooked rice, at room temperature

1 very good egg

1 scallion, white and light green parts only, very thinly sliced

1 generous pinch coarse Korean chili powder
Directions:
Heat 3 tablespoons of olive oil in a large nonstick skillet over medium heat. Add the onion, garlic and a pinch of salt. Cook, stirring now and then, until the onions begin to soften and just begin to brown, about 10 minutes. Turn the heat to high and add the kimchi and cook for 2 or 3 minutes until it begins to crisp on the edges. Add the soy sauce and rice and stir thoroughly to combine. Cook until the rice is warmed through and beginning to brown, about 5 minutes. Transfer the rice to a warm, shallow bowl and set aside.
Wipe the skillet clean with a paper towel and add 2 tablespoons of olive oil to the pan and return it to the stove set over high heat. Crack the egg into the skillet, sprinkle it with a pinch of salt and immediately cover the pan with a lid. Cook until the egg white is cooked through and the yolk is barely set. Slip a spatula underneath the egg and transfer it on top of the rice. Scatter the scallion over the dish and sprinkle with the chili powder. Eat immediately, being sure to break the yolk and let is act like a sauce over the rice.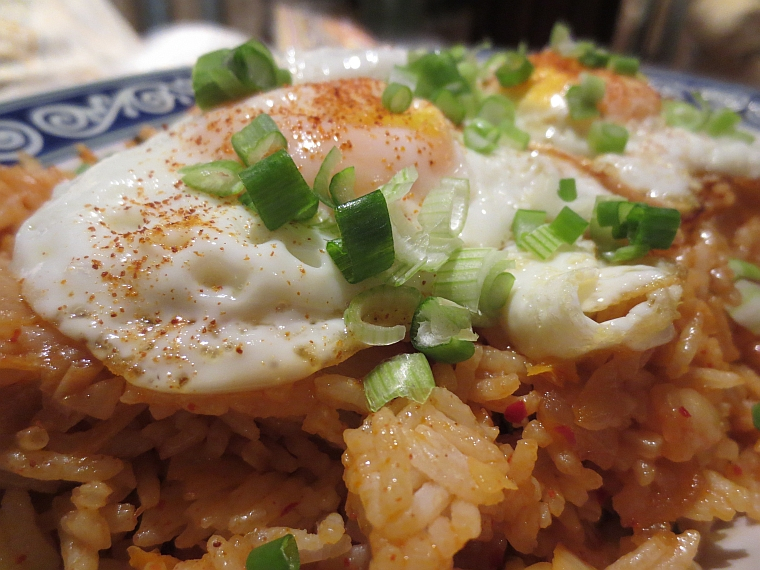 I doubled the recipe (if I'm going to invest the time and effort into cooking something, it better damn well feed more than one person at one sitting), and went a little heavier on the rice (about three cups, cooked) because I wasn't sure how much heat I could take (kimchi is no joke). It was said by the chef that kimchi totally changes once it is cooked – and this proved true. When it first hit the pan, I wasn't sure. That initial aroma is intense, and some might find it off-putting, but after a few minutes it transforms into pure goodness, and by the time the rice is added it all comes together in almost-miraculous alchemy.
The double dose of fried egg was killer – and this dish is all about that fried egg topper. (I sent the recipe to Suzie, who tried it before I could, what with a working intestinal track and all, and she agreed that it was the egg that sent it spinning.) I used cayenne pepper for the Korean chili powder and it seemed to work just as well, if a little less coarse. Don't skip out on the scallions either – they're much more than a simple garnish here. All in all, this is one supreme recipe that even Andy enjoyed. (And he's not easy to please.)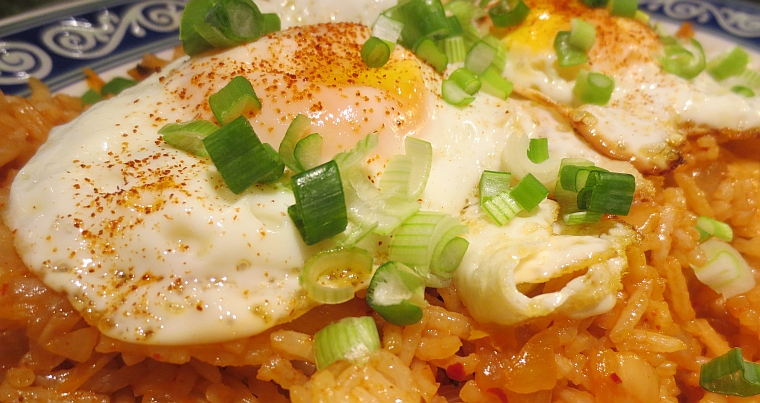 Back to Blog