The biggest social event of Albany's holiday season, at least for Andy and myself, is the Beaujolais Nouveau Wine Celebration to benefit the AIDS Council of Northeastern New York. We've been attending for the last thirteen years or so, and it traditionally marks the beginning of all the holiday excitement, as well as a chance to catch up with friends we don't get to see every day (and make fabulous new ones too.)
Of course, it's also an opportunity to dress up, which for me is no mean feat. A few years ago, a lovely woman came up to me and whispered that she always looked forward to seeing what I'd be wearing at the event, and since then I've put in a little extra effort into making sure that the ensemble for the festivities was worthy of such notice. This year, the inspiration was Tom Ford's Atelier d'Orient line of Private Blends, specifically 'Fleur de Chine' and 'Shanghai Lily.' Once you have an inspiration point, the rest is easy.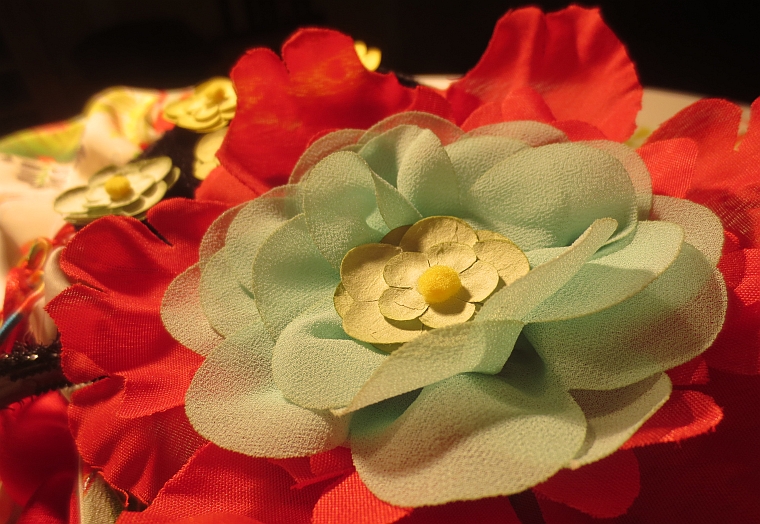 Unintentional planning for this night actually began a number of years ago, when my friend Stephen (Suzie's brother, for those of you who know the players) was visiting us. He was living in Hong Kong at the time, and had brought back one of those ubiquitous headdresses that girls wore (based on a traditional Qing Dynasty headdress.) While it was intended for his niece, I begged him to bring one back for me the next time he visited. A holiday or so later, he had a gift for me. With a few additional embellishments, it was the perfect focal point for the ensemble. Once you have that pièce de résistance, the rest is even easier.
The next part consisted of a silk kimono I'd found in a Japanese shop in Cambridge, MA. I was in Boston for New Year's, and on a cold morning I hopped on the T to Porter Square to find a bowl of hot noodles. After warming myself with some soba, I stopped in a nearby shop and found a richly-colored kimono, lined with red silk and awash in flowers. At the time, I used it as a robe, and filed it away for future possibilities.
Being as this was scheduled to take place on one of the colder days we've had this season, a pair of pants would also be required. (I mean, this isn't a garden party.) I had a colorful pair with a shade of aqua that would go nicely with the make-do obi I fashioned out of a long piece of sea-foam-hued fabric (this mish-mash of Asian-inspired accents lost any and all sense of authenticity when I looked to Tom Ford for inspiration.) The pants were actually what I had worn for our post-wedding-celebration brunch.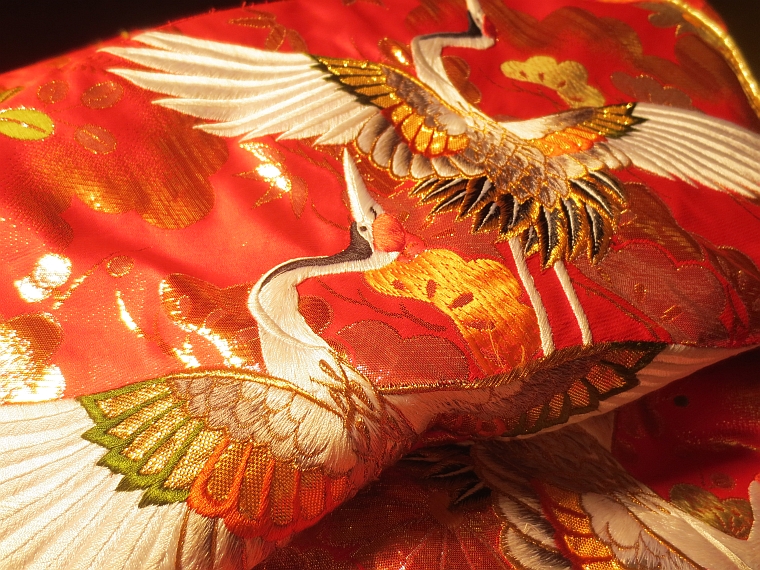 A proper get-up like this requires a very special coat, and though the coat is usually seen the least, for me it's often the most important piece of the outfit, especially when it gets this cold. Besides, the most fun part of the evening is sometimes the ride to the gala, when the excitement and anticipation is high, second only to the ride home, when you get to talk about all that transpired during the evening. And if you're doing it in a fancy coat like this, it makes all the difference.
This was a coat I've been wanting to wear for the longest time, but was never quite able to locate its perfect purpose until this evening. It was a SoWa Market treasure, one that was excavated in the middle of summer, with an eye for a winter unveiling. A thick embroidery of cranes and flowers, with a rich floral brocade of gold thread was backed by the most vibrant red, and spritzed with a little 'Fleur de Chine' and 'Shanghai Lily' – and its sumptuously oversized proportion allowed for all the excess silk of the kimono sleeves to nestle cozily and comfortably inside.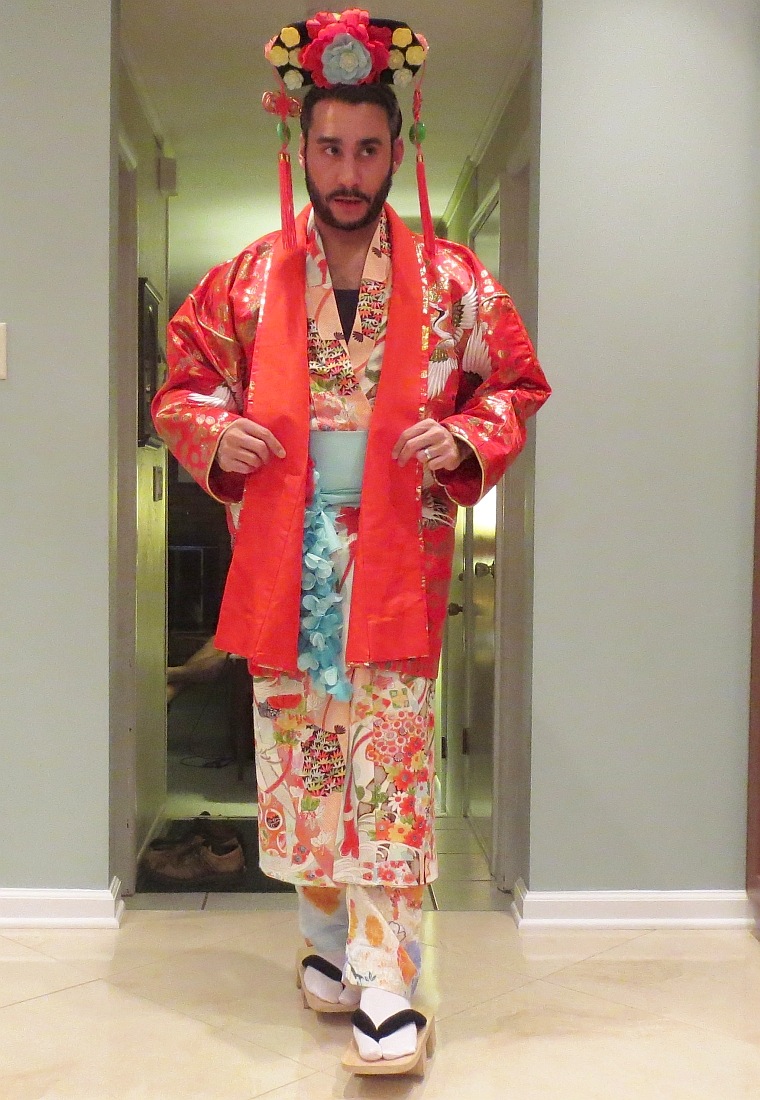 In case you haven't noticed yet, everything that had gone into this outfit was something I had already owned. The shoes and socks, however, were the brand-new additions that brought it all together. Procured from Seattle, they were the riskiest part of the entire operation, as walking in them proved challenging. (And standing on wooden stilts all night is murder on the heels.) They were more than worth it though, as no other shoe I owned would have worked. (Cinderella knows this.)
Thus ends another Beaujolais Nouveau outfit – and thus begins planning for next year's sartorial assault…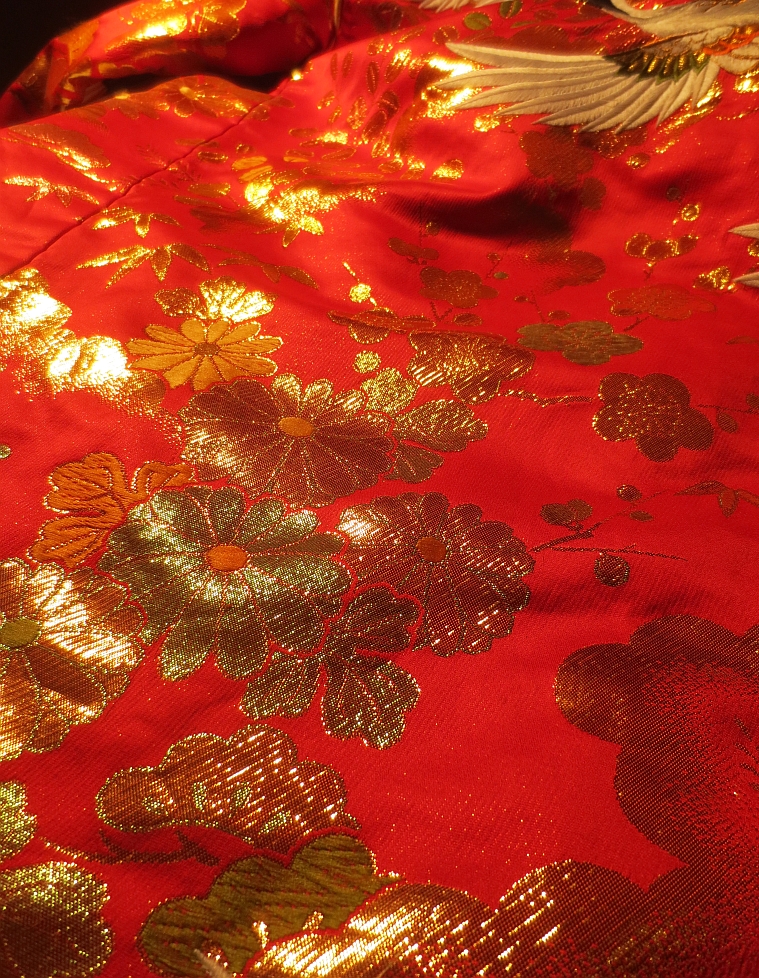 Back to Blog