Kira looked at her train schedule and we decided to head out on a last-minute gift-shopping run to Downtown Crossing. I wanted to go to Cambridge but she was not sure there would be enough time, so we rather clumsily darted into a few lackluster stores before postponing the first train and having a lunch of noodles. It's that time of the year when our stomachs turn to soups and noodle dishes, mostly in Chinatown. Kira remembers one of the first jaunts like this, though it has gone from my memory: we supposedly sat on a second floor restaurant overlooking Chinatown, sipping soup after a day of work at John Hancock. We've spent years searching for the restaurant and haven't yet been able to find it. Personally, I'm not sure it even happened because I never forget things like that, but I'll let Kira hold onto her memory.
On this day, the steaming bowls of ramen perfectly complement the flood of sun spilling out over the cobblestones and fallen leaves. Fall in Boston is magical, and though my mind is already on the ride home, I stop myself from thinking too far ahead and focus on the moment at hand. It's not wise to take such sunshine for granted when it's about to go away for a while.
We pick up a few cookies and hop back on the T. Kira needs to pick up her bags before meeting her Mom. I'm already packed, but it would be unwise to leave at this early afternoon hour. That's just a traffic jam already in process. With a hug and a promise to keep in better contact, Kira leaves me alone in the sun-filled condo. That frightening but reassuring silence in the aftermath of a friend's departure is always a little sad, but I'll never regret a weekend in Boston with a good friend.
Walking into the bedroom, I survey the way the light lifts the space. It is too pretty to leave, so I settle onto the bed and let my legs stretch out. In the quiet, there is contentment. The peace will depart as soon as I enter the maelstrom of bumper to bumper traffic on the Mass Turnpike, but I will take his moment with me.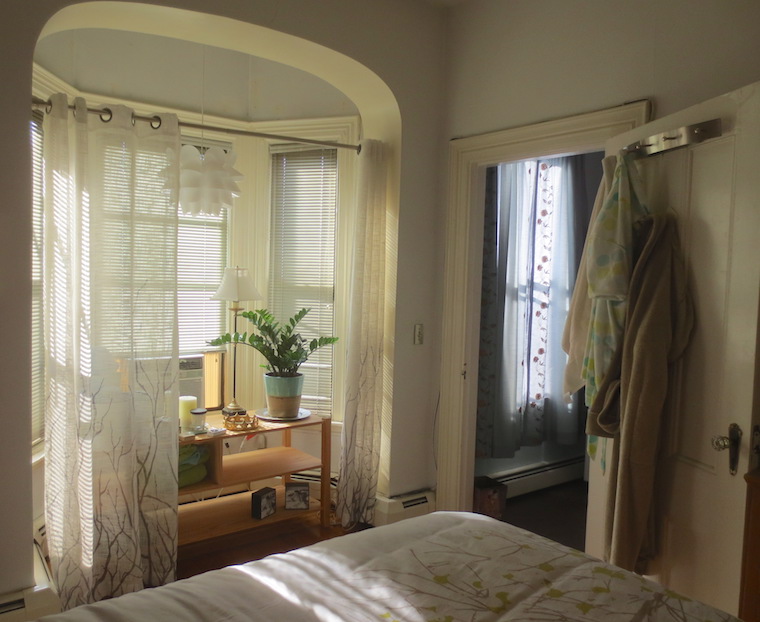 Back to Blog