I haven't seen my friend Kira since late 2012 – which seems an eternity for someone whom I so adore. Her mother has been visiting family in Panama, so Kira has been bound to her house in Attleboro, watching the kids and holding things down on the home-front. As admirable as all that is, I missed our Boston visits. Then again, she was in Florida for ten years, so I can't complain that selfishly. We're gearing up for a reunion of sorts, to start off the Spring season in Boston in a couple of weeks, and I'm in the planning stages of what to do.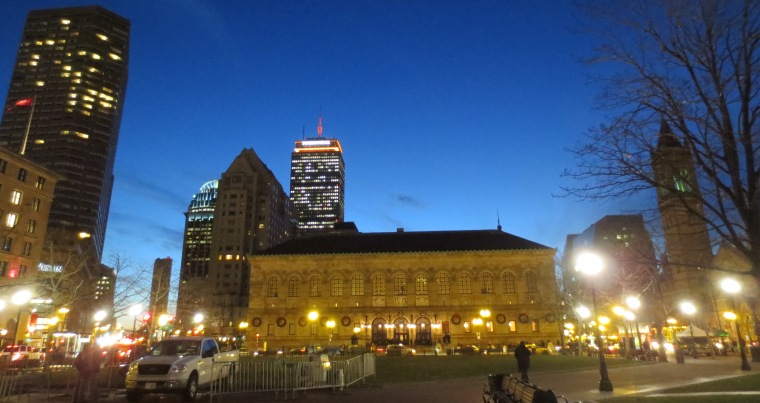 A few highlights of our times together that always make me smile:
– A late-night dinner of Peking duck in Chinatown, followed by a walk through the Boston Public Garden (and a pose beneath an enormous Chionanthus tree in full fragrant bloom)
– A pre-holiday walk through Downtown Crossing, looking at the Christmas decorations and picking up Tibetan mittens
– A virgin taste of raw oysters on the half-shell at the Parker House, which soon became one of our favorite things to share
– A condo-stocking whirlwind shopping spree at Wal-Mart and Target to prep the place for JoAnn's 40th Birthday party (and making all the trips up the condo stairs to bring the stuff in)
– A pre-party walk through the South End, on a sunny day in April, capped by another oyster stop
– A night-time talk backed by Ella Fitzgerald singing Cole Porter
– And the traditional cup of tea in the morning before we say good-bye, before hitting Boston for a few final hours together, stretching the time as long as we can.
I can't wait to make some new memories, and perhaps revisit a few old ones. It's okay to do that with another person. There is nothing more comforting than the company of an old friend. Especially in Boston.
Back to Blog