I have a confession to make: I love my stalkers. The mere fact that there are a few people who stalk me on FaceBook or Twitter or Instagram (oh baby, follow me on Instagram…) tickles me to no end. It's probably because there are so few of them, but also because it's nice to be heard. More often than not I'm surrounded by people who couldn't care less about me one way or another. That's usually okay, it keeps me on my toes and allows for the insanity you find here. [Dramatic bow.] But it's refreshing to hear that there are people who actually appreciate the work I put into this. So for any stalkers out there, it's a mutual admiration thing.
Such was the case when I met this lovely lady – Traci – my new bestie. The sister of my friend Laurie (one of the Cape Crew), she had been corresponding with me on FaceBook and was a self-professed stalker. To surprise her, I sent a bunch of pictures and promotional material to her home in Florida, and her sister was there to see her enthustiastic reception. When she's been in New England, I always tried to get down to the Cape to meet up with her, but it never worked out. This time around, with the help of Laurie and JoAnn, we planned ahead, and I made it down for a surprise weekend at the Cape.
I've actually met a few "stalkers" from FaceBook and Twitter, and my first worry is not that they're going to kill or kidnap me, but that I'll prove a disastrous disappointment. Despite the way I carry myself, I'm not all that great, and the fact that some people want to meet me is always an unexpected surprise. When they turn out to be as fun and cool as Traci though, it sets everything at ease. We spent a lovely afternoon and evening on the Cape ~ lunching at the Chart House, cocktailing at Hemisphere and the Lobster Trap, and finishing up at the Courtyard. In all, it was a fantastic time, and I feel like I just met an old friend.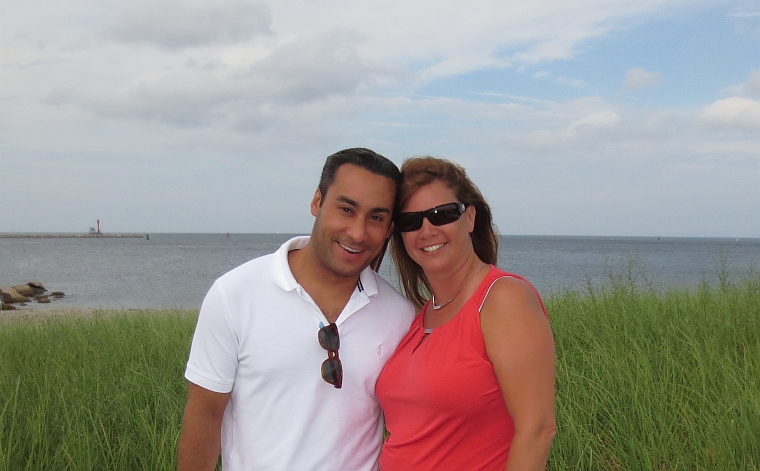 Back to Blog