MAY I SAY A FEW WORDS, MR. DEMILLE?
I CAN'T TELL YOU HOW WONDERFUL IT IS TO BE BACK IN THE STUDIO MAKING A PICTURE!
I PROMISE YOU, I'LL NEVER DESERT YOU AGAIN.
THIS IS MY LIFE, IT ALWAYS WILL BE… THERE'S NOTHING ELSE!
AND THE CAMERAS…
Today we are making our last visit to the mansion on Sunset Boulevard to witness Norma's final descent down that legendary staircase. It was a last-minute splurge, but it also seems like this is the only way to honor the end of something that once, and still does, mean so much to me. It also marks Andy's first time seeing this show done properly on a Broadway stage, which makes it all the more exciting (in addition to it being the final show of this run).
I'm not sure what I'll feel at this last performance. To be honest, I never thought I'd see it back on Broadway, much less with its original luminous star, and it was a bonus bit that dovetailed perfectly with The Delusional Grandeur Tour. After all, Ms. Desmond was the original mistress of delusional grandeur; the rest of us merely followed in her staircase-bounding heel-prints. Anyone can die for what they want; it takes a different kind of soul to kill for it.
The great thing about Norma is that she has a tendency to haunt and linger long after one departs the boulevard. She has an indefatigable spirit in that regard, a powerful presence that lasts long after her shadow has left a room. The greatest stars have that effect on the world. A few charismatic people do too. They're the ones everyone watches when they enter a space, and the ones who remain on the lips of the watchers after they've gone. They elicit a discernible shift in atmosphere with their absence, so larger-than-life do their characters loom.
In spite of this, or more likely because of it, they have a harder time connecting to any one person. The only love they know how to manage is the larger collective love of the masses – they know nothing of how to be loved by a single person, and by the time they realize that it's always too late. When you've been loved and adored by millions, it's difficult to appreciate the love of one. To her tragic credit, Norma does the best she can, attempting and partly succeeding in a seduction of Joe Gillis to fit into her starry-eyed hopes of a romance and return to former glory.
AND NOW, MR. DEMILLE, I'M READY FOR MY CLOSE-UP.
Today, at the Palace Theatre, Norma Desmond will get her final close-up. She's been with me through twenty-two years of heartache, heartbreak, and heart-bursting love. She's seen me through break-ups and break-downs, and the brutality of several unrequited love affairs. In all that time she's retained a hopeful nobility, a perpetual belief in the promise of a 'Perfect Year', forever twirling in a waltz no matter how many times she may have fallen down. I relied on her belief in herself when I couldn't believe in mine. We soared on our glamour, we rode on our illusions, and we survived on a dream.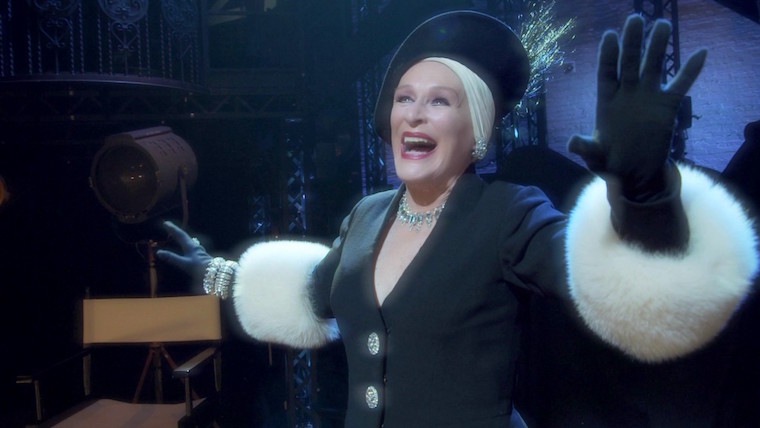 THIS TIME I'M STAYING,
I'M STAYING FOR GOOD.
I'LL BE BACK WHERE I WAS BORN TO BE.
Back to Blog