Last year we had the Summer Olympics and that parade of Speedos to keep us entertained in the month of August. This year all we have is Tom Daley, and a few brief appearances by Ryan Lochte. So rather than bemoaning the lack of Olympic-caliber skin, let's revisit some of those classic Speedo moments.
Before Tom Daley was even a glimpse in someone's eye, there was Michael Phelps. His long lean torso dazzled at the past three Olympic games, and he even showered in his Speedo.
Alongside Mr. Phelps was the slightly more handsome, if less rewarded, Ryan Lochte. One of the favorite posts ever was this one, featuring Mr. Lochte pulling his already-low-slung swimsuit down even further. Even when he went to Las Vegas, he stripped to a skimpy white Speedo, forgoing the dull board shorts that other straight guys favor.
The gay Olympians were represented by Matthew Mitcham, who donned his Speedo while diving for the gold. He looked just as good in his funky trunks, and got to hug Tom Daley in this amazing shot of double-Speedo hotness.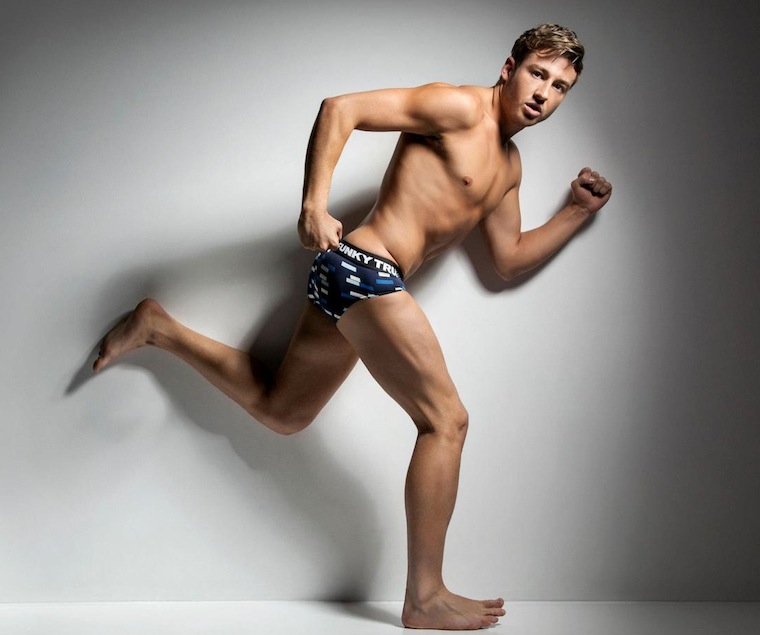 As mentioned, the reigning Speedo-clad stud is Tom Daley. He was first featured here in July of last year, but has since come up in the ranks to be a featured performer, with a category all his own. Whether it's his butt or his bulge that captivates you, Daley delivers on all fronts, even selling books in his Speedo. He was crowned the Hunk of the Day not once, but twice. As one of the younger guys featured on this site, all I can say is this: baby got back.
Back to Blog