Certain drag queens are institutions. Indelibly intertwined with an image and a name, in person they can feel like some Hollywood superstar come to life. Some are known by a single name – and some by a single verdant color. Hedda Lettuce unfurls her leafy brand of sass this weekend at Maine Street in Ogunquit, and there's nothing more entertaining than seeing a queen at the top of her game.
She first came to most of our attention with a scene-stealing turn on 'Sex and the City,' and an epic Madonna-intro at the MTV Music Awards. More exciting to me was the time she once graciously posed for a photo while hawking tickets for her show on a rare sultry day in Provincetown. She was witty and fun and completely professional, and one got the sense that this was serious business for her. Such dedication to a role and a craft was admirable.
All of that was but a flirty prelude for my encounter with the green goddess last night, in which she dedicated a song to me, 'Fuck Me Baby' (based on my crossed-arms stance) and topped it off with a dirty grind in the form of a lap-dance. As thrilling as that was, it was the content and seamless flow of the evening that most impressed.
A self-described "old-school" drag queen, her Bette Davis references were caught by some of us, while those who have been woefully untouched by Ms. Davis could appreciate the modern-day no-holds-barred raunchiness of other topical moments. The recent happy events in Ireland made a timely backdrop to a marriage-equality anthem, and though she professed to be in ragged voice due to the allergies of New England, she sounded in fine form. The drag queen who can actually sing seems to be a rare and dying breed, and those who do it are all the more astounding for it.
She pokes fun at herself good-naturedly throughout the evening, claiming she's made it this far on her cheekbones and lighting alone, but no one who has lasted this long and can still command an entire room for an hour lacks of talent in any way. Finishing with a rousing 'Jesus Take the Wheel' she closes out her first night of a triumphant return to Ogunquit in rollicking fashion.
{Hedda Luttuce performs again on Sunday night, 8 PM, May 24 at Maine Street. Be brave and sit up front, and if you're lucky you may get your own lap dance.}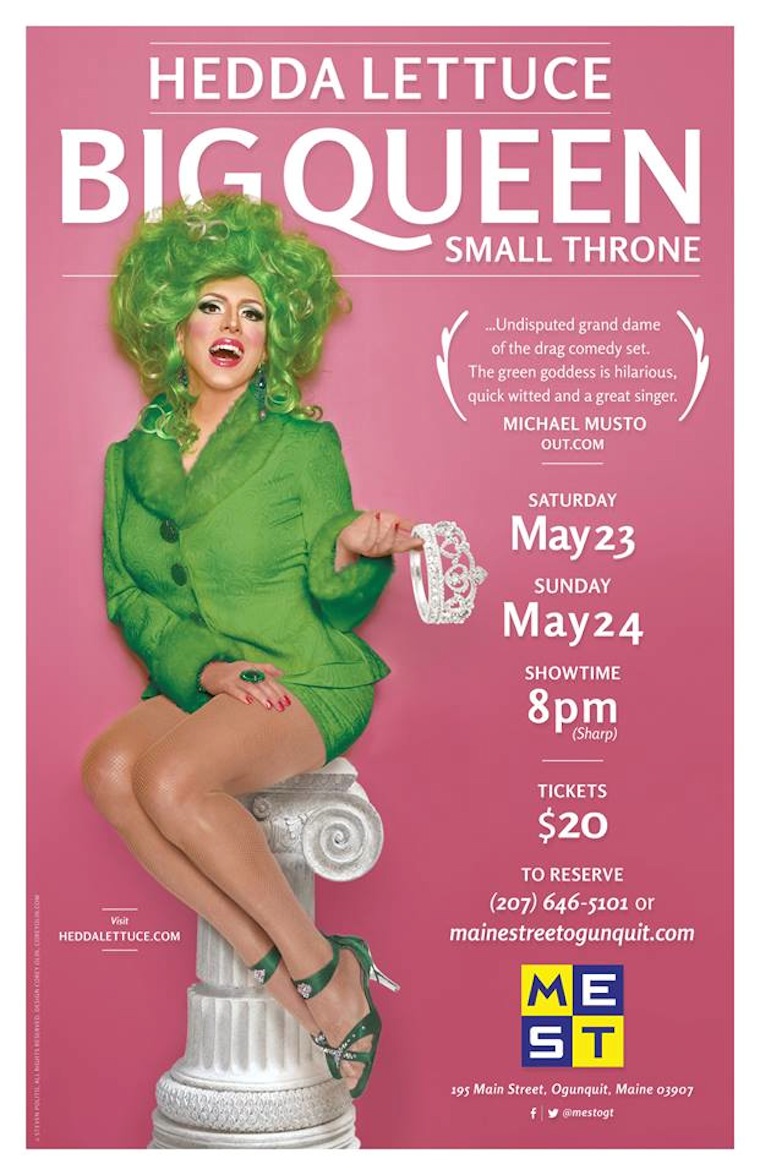 Back to Blog