{Note: The Madonna Timeline is an ongoing feature, where I put the iPod on shuffle, and write a little anecdote on whatever was going on in my life when that Madonna song was released and/or came to prominence in my mind.}
A LONG, LONG TIME AGO
I CAN STILL REMEMBER HOW THAT MUSIC USED TO MAKE ME SMILE
AND I KNEW THAT IF I HAD MY CHANCE, I COULD MAKE THOSE PEOPLE DANCE
AND MAYBE THEY'D BE HAPPY FOR A WHILE…
Chicago: April 2000
A new millennium had broken, and now my heart was following suit.
At the tail-end of my most serious relationship to date, I found myself about to depart Chicago, where I'd moved to make a life with my boyfriend. We'd been there almost a year – arriving at the end of summer, kicking leaves through that bright burning fall, and breaking up like patches of ice at the end of a difficult winter – but as I packed to leave one final time, I felt a tug at my heart at leaving the sprawling city where I hadn't quite put down roots. Mostly, though, I felt the pinch of having to leave a man I still loved, even if I knew it would never work.
DID YOU WRITE THE BOOK OF LOVE
AND DO YOU HAVE FAITH IN GOD ABOVE?
IF THE BIBLE TELLS YOU SO…
NOW DO YOU BELIEVE IN ROCK 'N' ROLL,
AND CAN MUSIC SAVE YOUR MORTAL SOUL
AND CAN YOU TEACH ME HOW TO DANCE REAL SLOW?
He had started sleeping in his own bed. There's nothing lonelier than having someone sleep in another bed in the same house. Even being alone is less lonely than that.
I knew he'd made the right decision. In my heart of hearts I knew. But that didn't make the hurt any less. That didn't offer much consolation. Being right isn't the best way to feel better about yourself.
I would hear him weeping quietly some nights after the decision was made. It made me feel better, that I wasn't the only one in pain. 'Good', I thought to my eternal shame. 'Good.'
Would it have been better if there had been someone else?
I wondered.
Once, a couple of weeks after we'd already broken up, I caught him looking back at a guy on the street and smiling. Filled with a rage I'd never known, and simultaneously shot through with the knowledge that this was really over, I almost fell to the ground, paralyzed by the sudden sting of it. Instead, I calmly said I'd see him later, then ducked into a store to collect myself. I never let on. He never noticed. We might have gone through life that way if he hadn't been brave.
WELL, I KNOW THAT YOU'RE IN LOVE WITH HIM CAUSE I SAW YOU DANCIN' IN THE GYM
YOU BOTH KICKED OFF YOUR SHOES, MAN, I DIG THOSE RHYTHM AND BLUES
I WAS A LONELY TEENAGE BRONCIN' BUCK WITH A PINK CARNATION AND A PICK-UP TRUCK
BUT I KNEW THAT I WAS OUT OF LUCK THE DAY THE MUSIC DIED
I STARTED SINGING…
BYE, BYE, MISS AMERICAN PIE
DROVE MY CHEVY TO THE LEVEE BUT THE LEVEE WAS DRY
AND GOOD OLD BOYS WERE DRINKIN' WHISKEY AND RYE
SINGING THIS'LL BE THE DAY THAT I DIE… THIS'LL BE THE DAY THAT I DIE
This was a death for me. This would be the last time I'd ever give my heart so completely, the last time I'd ever enter into anything without a fortress strong, and a barricade. That time of innocence, that beautifully tender time of optimism and hopeful belief – I let it die. Maybe all my tears and sorrow were for that, and not just for him. Sadly, pain is pain, no matter what the reason or source, no matter how much one tries to talk or rationalize a way out of it.
Even today, I retain sole rights to the innermost chambers of my heart. Just in case.
I MET A GIRL WHO SANG THE BLUES
AND I ASKED HER FOR SOME HAPPY NEWS
BUT SHE JUST SMILED AND TURNED AWAY
I WENT DOWN TO THE SACRED STORE
WHERE I'D HEARD THE MUSIC YEARS BEFORE
BUT THE MAN THERE SAID THE MUSIC WOULDN'T PLAY
Suzie picked me up to drive all my stuff back to Boston. I showed her around Chicago briefly, but my heart wasn't in it. There was nothing happy about this visit. As I brought her to various landmarks, I remembered how I had visited them myself, mostly alone, but sometimes with him. We had once watched the beluga whales at the aquarium, right after the break-up, and I remember wanting to cry in the blue-aqua light, peering in at such sadly-captive creatures, ghost-like in beauty and longing. Their perpetual smiles were the cruel masks of nature, and I remember reading something that said the corresponding alchemy of laughing and crying were quite similar in make-up. Again, understanding something does not always make it easier. If anything, you're at a greater loss.
WELL NOW, IN THE STREETS THE CHILDREN SCREAMED
THE LOVERS CRIED, AND THE POETS DREAMED
BUT NOT A WORD WAS SPOKEN
THO CHURCH BELLS ALL WERE BROKEN
AND THE THREE MEN I ADMIRE THE MOST
THE FATHER, SON AND THE HOLY GHOST
THEY CAUGHT THE LAST TRAIN FOR THE COAST
THE DAY THE MUSIC DIED
We rented a truck and somehow found our way back to the apartment in the days prior to GPS and cel phones. I ran up and down the three flights of stairs a number of times with Suzie and him, and when the last item was loaded Suzie got into the truck and waited. I went back one final time. There was nothing much to say. It had been my longest and most serious relationship. It had been the one I thought would last. It had been… the one. I had no contingency plan, no other way to go.
We hugged. He said we did good. In the kitchen by the back door, we stood beside one another. I had made him dinner there. On chilly nights when the heat wasn't enough I'd stood in front of the oven trying to get warm. Nothing very momentous had happened in that spot. Until now.
Somehow, by the grace of MapQuest or Suzie, we found our way out. Chicago was entering my rear-view mirror, a vestige of the past, and I didn't look back until we were well beyond me being able to see anything.
WE STARTED SINGIN'
BYE, BYE, MISS AMERICAN PIE
DROVE MY CHEVY TO THE LEVEE BUT THE LEVEE WAS DRY
AND GOOD OLD BOYS WERE DRINKIN' WHISKEY AND RYE
SINGING THIS'LL BE THE DAY THAT I DIE
THIS'LL BE THE DAY THAT I DIE
As for this cover of the classic Don McLean song (reportedly written in nearby Saratoga Springs, NY) Madonna did reasonably well at least according to some critics (and McLean himself, who gave her version glowing remarks). It didn't catch on with the public, but the beautiful video, William Orbit's luscious production work, and Madonna's own creamy vocals (backed by Rupert Everett no less, when they were still on speaking terms) worked to create a reprise of musical Americana. The second of her movie-music bridge songs between 'Ray of Light' and 'Music' (the first being 'Beautiful Stranger'), 'American Pie' was a rare non-event in Madonna's lexicon. Intended to cross-promote her appearance in 'The Next Best Thing' (whose brilliant soundtrack had her prints – and two songs – all over it) 'Pie' found her biding her time until Mirwais arrived on the scene.
I was waiting for something else.
Sadness to pass…
Forgiveness to come…
Healing to happen.
BYE, BYE, MISS AMERICAN PIE
DROVE MY CHEVY TO THE LEVEE
BUT THE LEVEE WAS DRY
AND GOOD OLD BOYS WERE DRINKIN' WHISKEY AND RYE
SINGING THIS'LL BE THE DAY THAT I DIE
THIS'LL BE THE DAY THAT I DIE
WE STARTED SINGIN'
WE STARTED SINGIN'
WE STARTED SINGIN'
WE STARTED SINGIN'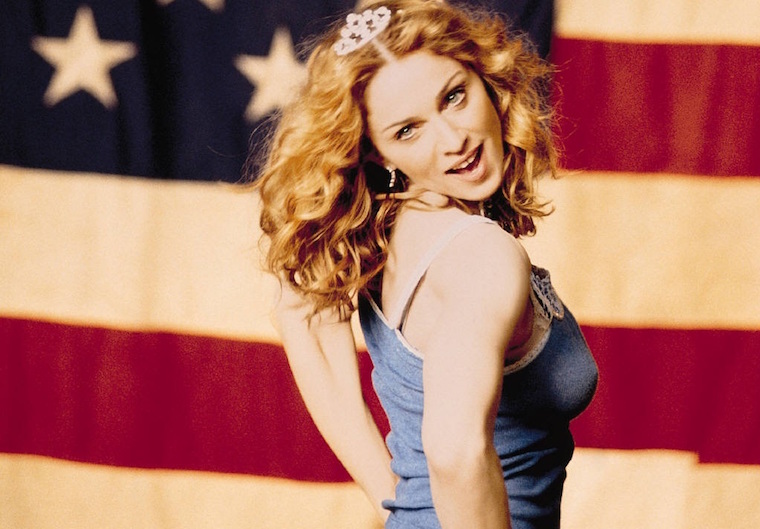 SONG #139 – 'American Pie' – Spring 2000
Back to Blog