Such was the succinct Tweet/death threat I received on Twitter the other day. Apparently one of my Donald Trump Tweets hit the wrong nerve with a number of his deplorable followers, as the Trump Trolls have been out in full force condemning my words and demanding my death. This is precisely why a subset of his supporters gets called out for being deplorable. When you're deplorable, you're deplorable: own it.
It's not the first time I've been called a faggot and it likely won't be the last, but this one didn't bother me in the least. Considering the source, it's actually a badge of pride, as is any insult that comes from a homophobic or sexist or racist person. Other choice quotes from @AltRightRises (whose account was soon suspended) include his follow-up of "Do you sell your AIDS meds to buy followers?" as well as the following random tweets, gathered from a cesspool of equally-deplorable quotes:
"Your "top class" banter is just you talking like a faggot"
"Smarmy faggot about to get stumped"
"Cry more, faggot"
Well, you get the idea.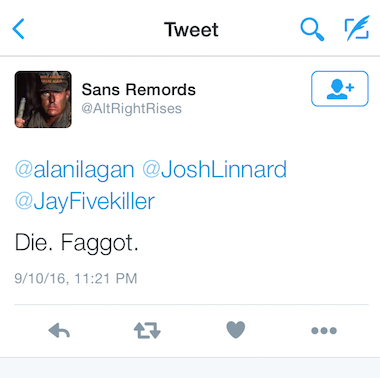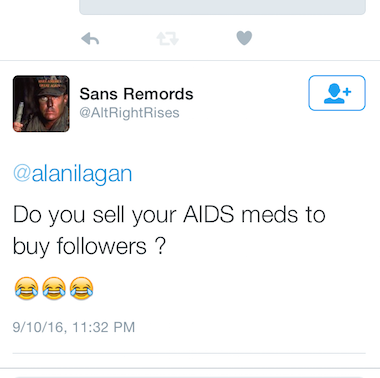 He wasn't the only one. Similarly hateful trolls followed suit.
@JewsR2Blame had a litany of Anti-Semitic, homophobic, racist Tweets (as evidenced by that Twitter handle alone) and blamed everything from 9/11 to his/her own sad space in life on the Jewish religion. This basket of buffoons had no end, and across the board they were hateful people who supported Donald Trump.
Some preached the extermination of a certain race or religion, some praised the killing of homosexuals and Jews, some wished for the return of lynchings and hangings; the one thing they had in common was unwavering support for Donald Trump. When someone like David Duke Tweets out the featured pic here, I think that saying that 50% of your supporters are deplorable is an understatement. The fact that they all seem so keen and willing to own such hatred is, indeed, deplorable. Those brave (and stupid) enough to put a face to their real name are a rarity, however. It's telling in a klan-like way that hardly any of the people used their real name or image on their accounts, because when you believe in such shameful rhetoric and hatred, you don't want to be known.
Of course I'll be the first one to be blamed for such secrecy: one woman who did use her own photo as the profile pic challenged me to put my shirt on, as if that's the best insult she could hurl my way. To my discredit, shame, and quickly-deleted regret I replied, "If I looked like you I would."
Soon thereafter I realized it was too easy to win when dealing with such idiocy. Ignorance and hate seem to go hand in hand, and while there is some small shred of satisfaction in handily defeating such stupidity, it's really a losing battle. You can't fight that kind of stubborn ignorance – all it does is eat up time. (But I'll say this: if you want to really get under the skin of a Trump supporter, correct their grammar and spelling. Most can't stand it – and they'll come back with something along the lines of, "Your a dumb fuck.") Alas, hollow victories.
I also realize that not all Trump supporters are deplorable. But in my (admittedly limited) experience, it's been about 99%, and I've got the Tweets to back it up. For now, and for my own peace of mind, I'm simply going to block the haters and continue Tweeting the truth about Trump. That's really what they're upset about anyway – the fact that their own hatred is real. One simply doesn't get that angry over something unless it's true. (And deplorable.)
Back to Blog