We knew we wanted something with heavy graining and variation for our granite countertop, not the usual uniform, igneous patterns that might as well have been man-made. At the granite showroom, we found a few pieces we liked of the Yellow River, but they looked toned down. Far more enchanting was a piece with lots of amber and black – called 'Betulare' – that was much deeper and more interesting than what we had been looking at, but maybe it was too bold. I thought for sure that Andy wouldn't like it, that it would prove too brash and daring for our space. But he wandered over and was just as enamored as I was. Sometimes, even after thirteen years, husbands have a wonderful way of surprising each other. We were advised that their stone suppliers had websites, where we could view the actual slabs online, and then pick out which one we liked. We could then visit the supply site itself to see it in person. For such an investment, I reasoned that it would be worth the drive to New Jersey (little else is).
A few weeks later, I got up long before the sun was out and started the journey to select our granite. I knew Andy didn't want to make the round-trip with his back, so I loaded some 80's music into the stereo and made a relatively easy trip down. The pieces we had chosen from the online selection needed to be moved, so while we were waiting the woman who let me in – New Jersey from her thick accent to her fluffy fur vest straight off a Real Housewife – invited me to look around with her at the other pieces. Next to our marked lot of stone stood a more intriguing slab – it was the 'Betulare' – and this wondrous piece of granite was from Brazil. A dramatic black vein ran through the middle of it, while blossoms of black specks bloomed along the winding rivers of the granite's grain. That flow was what most appealed to us, and the variation – striking in its non-repetitive non-pattern – would keep it infinitely interesting. It wasn't what we had ordered, but it was right next to what we ordered, so I took it as a sign. Our original stone was still being moved as we made our way around the rest of the supply room. Slab after slab of enormous rock stood on their sides, revealing all sorts of granite and other stone. There was a stunning piece that was almost entirely a glossy black, cut through with just a few small lines. I didn't like it, but thought about sending Andy a photo of it telling him I'd make a slight change in plans. (I wasn't that mean.)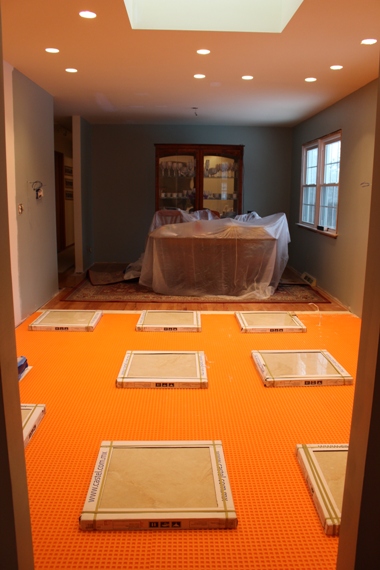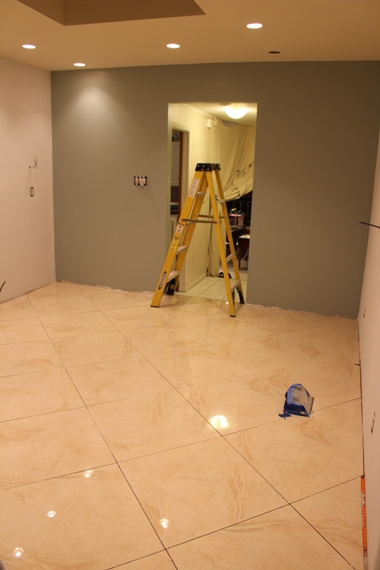 As we came back to our starting point, the stone had been moved, and I could examine the selection we'd made online. In person, it read much flatter than in photos. The 'Betulare' to its side was definitely the better choice. It was what I was first drawn to, and those initial gut instincts are what has saved me many times. I took a few photos of it for Andy and told the woman these were the slabs for the countertop. She marked them, I filled out some paperwork, and was back on the New Jersey Turnpike in less than an hour after I got off. (Well, following some Full-serve gas treatment, the pumper of which was none too pleased when I got out and headed toward the pump myself out of habit.)
With all of our materials ordered and set to be delivered, we scheduled the start with the contractors for December. The holidays would be different this year, and though we knew it would be tough, we forged ahead. A sacrificed Christmas this year would make for a better one next year – and, far more importantly, a stellar spring and summer.
{To be continued…}

Back to Blog