After narrowing down the style of cabinet, and figuring out the basic set-up of the room, we finished up with that initial consultation and made our way to the first tile store, where we were promptly overwhelmed. We should have gone in with an exact idea of what we wanted, instead of going in blindly to find whatever spoke to us. There was simply too much, and it was overpowering. We struggled to find the backsplash and the floor tile, but realized it was not happening. At times like that, it was best to step back and take a break from looking – to clear the head, focus on something else, and return when you've had some time away.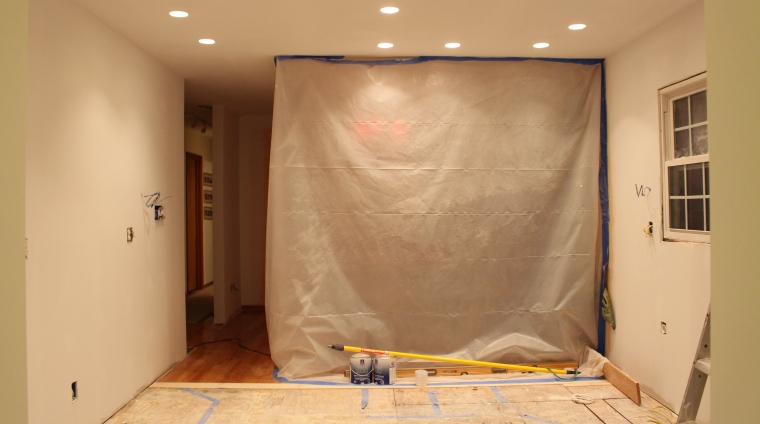 Meanwhile, in our old kitchen, I held up the cabinet samples. The white looked all right. I'd previously painted the current cabinets a similar white, so it wasn't a shock to see. But I noticed as I placed the sample next to what was there, how dirty and dingy the older ones looked. Andy had mentioned the clean-up and up-keep involved in white, but I hadn't listened. Here was the proof.
I lifted the cherry sample up against the old cabinets. Beneath the skylight, it glowed warmly in hues of amber, lending a richness that filled the space but didn't overwhelm. It was comforting. For so long, I'd resisted what was comfortable ~ comfortable didn't always translate to beautiful, comfort was too often a cop-out, a safe way to go, an acquiescence to the tried and true. I thought of Andy, and his joy at the cherry, and suddenly wondered what was so wrong with comfort and safety. Most people strive to find that in their lives. Here it was, in my own hand, and I laughed a little at my resistance. When I told Andy and Michelle I was okay with the cherry wood, I acted like I "compromised my ass off", but really, I was just giving in to the husband who knew best.
With that decided, we could tentatively use the Yellow River granite we were so taken with, and move on to the selection of floor and backsplash tile. We tried a different tile place, and found exactly what we wanted – a glossy floor tile in a very light tan, with a marble-like pattern to it.
Without the exact piece of granite, choosing a backsplash proved trickier, but there was a sample of the Yellow River on hand, so we chose a selection of glass subway tiles that would work with it. In a softer palette of greens and blues, accented by a soft amber and almond, the glossy glass backsplash would reflect and fill with light. Based on this collection, we chose the paint color for the dining room walls (which now merged seamlessly with the kitchen) and the incidental kitchen wall space. For someone often unfairly, and inaccurately, characterized as loud and boisterous, I liked a green reminiscent of Spanish moss, with the fitting name of 'Quietude'. That left just the granite, and an adventure in our sister state of New Jersey.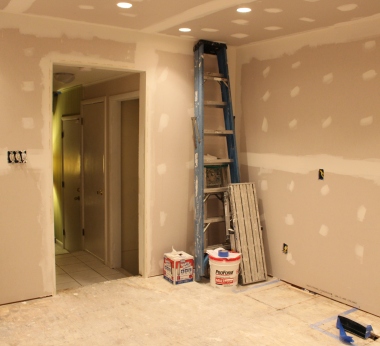 {To be continued…}
Back to Blog