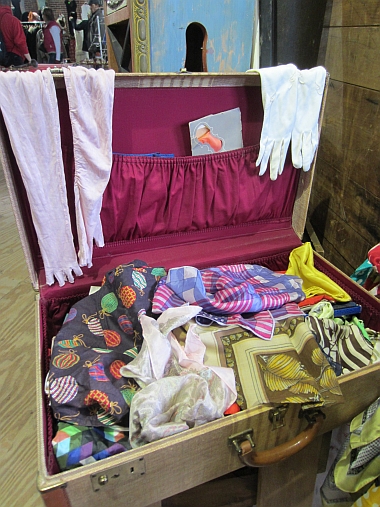 Happiness is a suitcase filled with scarves of silk, in every imaginable color and design. When I was a little gay boy, one of the most magical places in my home was the dresser in my parents' bedroom. In the center of it was a door fronted by an intricate grate of diamond-patterned metal mesh, backed by a tiny ruffled curtain.
The door opened to revealed three drawers – one of which housed my Mom's collection of scarves. Never a flashy dresser, my Mom saved her daring color selections for her scarves, and in this drawer were the colorful accents that caught my young eye. It was where I first experimented with color combinations, laying the silk squares and rectangles out in varying patterns, seeing what pleased my vision, and what didn't quite work.
Scented by lavender-hued circular tablets of some sort of pressed powder, it was a gauzy world of feminine mystique, a behind-the-scenes preparatory place of seduction and beauty. This is what women did to makes themselves pretty for men. I didn't necessarily see that in what my Mom did for my Dad, but on some level I detected the power of beauty, the spell that we would try to cast upon others. Maybe – just maybe – that was the way to love.
Back to Blog