The term "foodporn" is tossed around far too often, hashtagged to death (yes, I'm guilty) and more ubiquitous than the cock shots on my Twitter feed. (Go easy on the Retweeting, peeps.) But in certain circumstances, and for certain meals, the whole foodgasm/foodporn moniker works. Case in point was this sinfully-good sea bass wrapped in prosciutto. I tend to avoid baking fish in any way, because it too easily dries out, but when wrapped in something like prosciutto, you're safe to bake away. In this recipe from Ina Garten, the sea bass is brushed with olive oil, salt, and pepper (you can go easy on the salt though, given the encasement) then wrapped in ribbons of prosciutto. Baked at 400 degrees for about ten to fifteen minutes, the prosciutto is nicely firm, while the fish remains moist and perfectly done.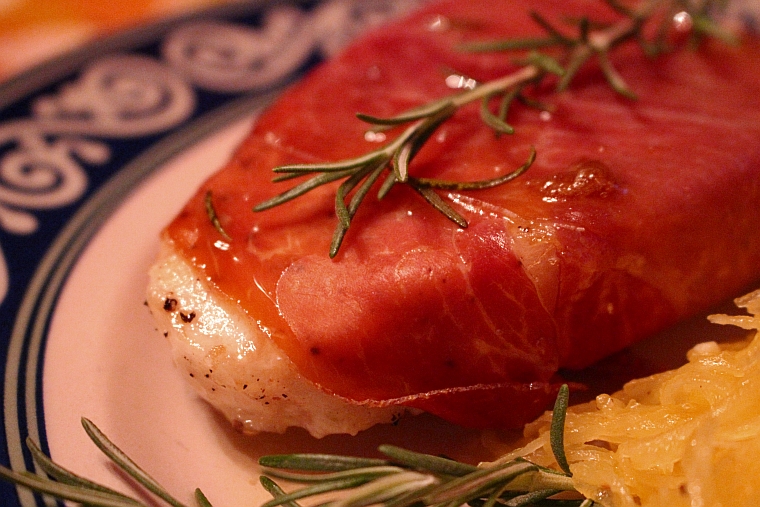 The real kicker though, is what goes on top. Boil a stick of butter on medium heat with six sprigs of fresh rosemary for about ten minutes (perfect timing for the baking). Remove the rosemary sprigs, turn off the heat, then add about 3 tablespoons of fresh lemon juice and stir well. Spoon this over the fish and prosciutto just before serving, then top with a sprig of rosemary for garnish. It sounds like a step that can be omitted, but you'd be missing out on the best part of the whole affair. That's what turns it from simple culinary procreation into a gastro-orgasmic delight.
The Contessa serves this with a collection of roasted autumn vegetables, but since it hasn't been that cold of late I made a simple batch of spaghetti squash with garlic, salt, and pepper.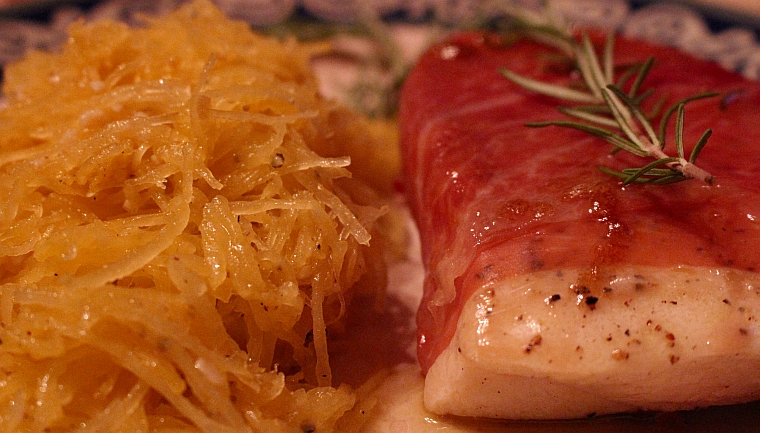 Back to Blog