And I am nothing if not a Spice Girl. Here is a wonderful 'Curried Lentil & Vegetable Soup With Spiced Yogurt' dish that I made a few weeks ago and it's been haunting my mind ever since. This recipe was from 'The Complete Asian Cookbook' and at first I wasn't sure if such an all-encompassing tome could actually deliver something worthwhile. I was pleasantly surprised at the depths of flavors garnered with just three basic spices, as well as the substantial heartiness of the soup itself – which is really more like a vegetable stew. The absolutely integral addition is the hefty dollop of spiced yogurt, which brings it all together in one miraculous swoop of creamy but healthy goodness.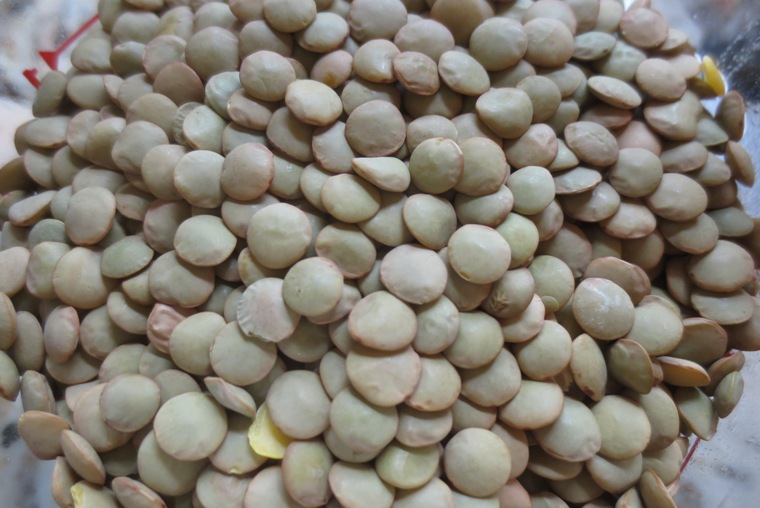 Here are the ingredients for the soup:
– 2 Tbsp. olive oil
– 1 small leek, chopped
– 2 cloves garlic, crushed
– 2 tsp. curry powder
– 1 tsp. ground cumin
– 1 tsp. garam masala
– 4 1/2 cups vegetable stock
– 1 fresh bay leaf
– 1 cup brown lentils
– 14 oz. butternut squash, peeled and diced
– 1 14 oz. can chopped tomatoes
– 2 small zucchini, cut in half lengthwise then sliced
– 7 oz. broccoli cut into small florets
– 1 small carrot, diced
– 1/2 cup frozen peas
– 1 Tbsp. chopped fresh mint
– Salt and pepper
– 16 oz. water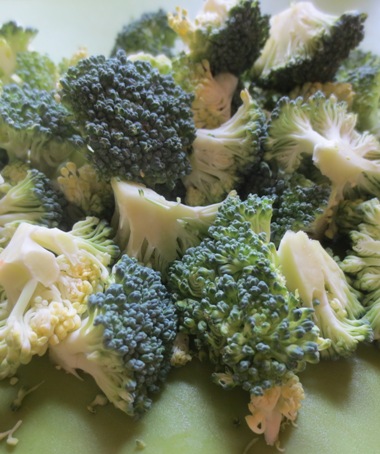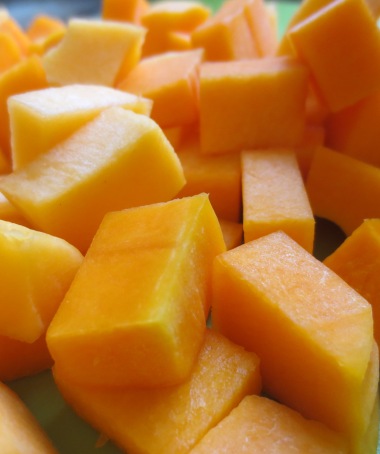 And the ingredients for the all-important Spiced Yogurt:
– 1 cup thick plain yogurt
– 1 Tbsp. chopped fresh cilantro (coriander) leaves
– 1 clove garlic, crushed
– 3 dashes Tabasco or Sriracha sauce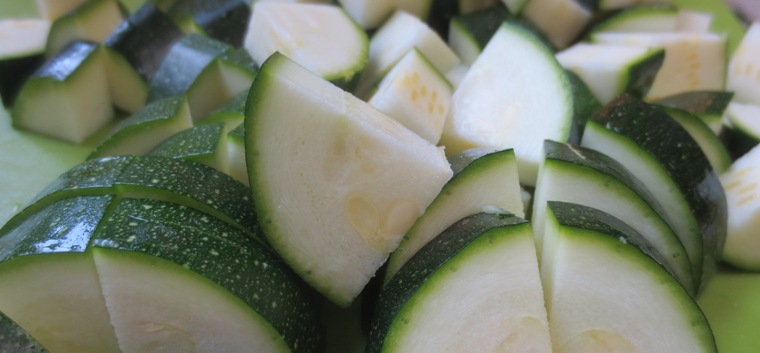 1. Heat oil in saucepan over medium heat. Add leek and garlic and cook for 4-5 minutes or until tender. Add curry powder, cumin, garam masala and cook for one minute or until fragrant.
2. Add stock, bay leaf, lentils and squash. Bring to boil, then reduce heat to low and simmer for fifteen minutes, until lentils are tender. Season well with salt and pepper.
3. Add tomatoes, zucchini, broccoli, carrot and 16 ounces of water; simmer for ten minutes or until vegetables are tender. Add peas and simmer for 2-3 minutes more.
4. To make yogurt, place yogurt, cilantro, garlic and hot sauce in small bowl and stir to combine. Dollop a generous spoonful of yogurt on each serving and garnish with chopped mint.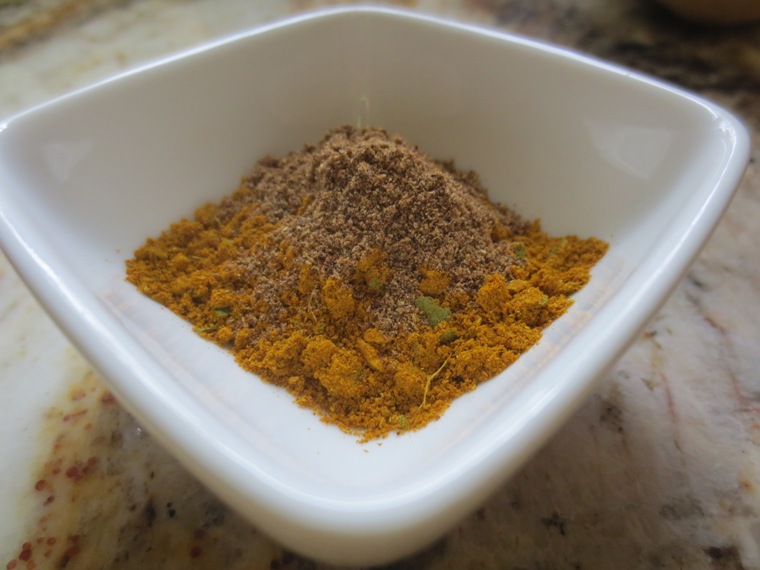 The only modification required was some additional water (as I mentioned, it's really more like a thick stew, and I wanted to keep a soupy consistency). Also, I'd advise mixing the spiced yogurt a day in advance so the flavors have time to really spread throughout the mixture. You can stir it once or twice during the day to incorporate it all. (This also makes an easy dip for pita chips or veggies while waiting for the soup to come together.)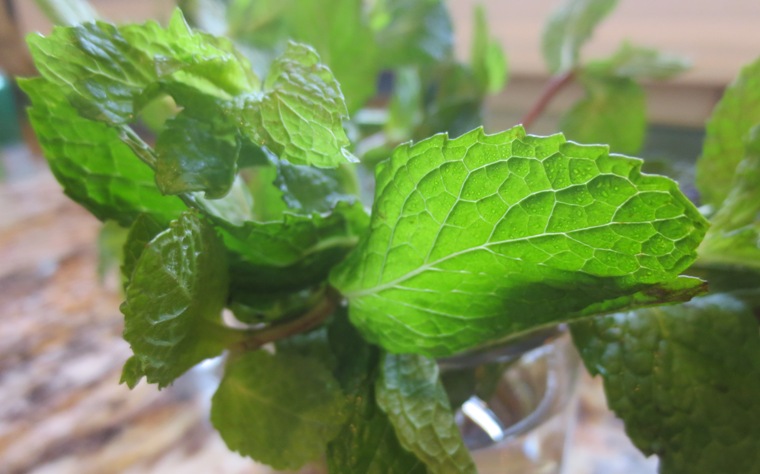 The most difficult part of this whole thing is the preparation and chopping of all the ingredients, but if you take it as a Zen moment of ritual and methodical motion, that can be enjoyable too. I'll take whatever peace is available these days, and if a decent soup happens to come from it, so much the better. Spring may be here, but the cold will linger. This dish will take that edge off.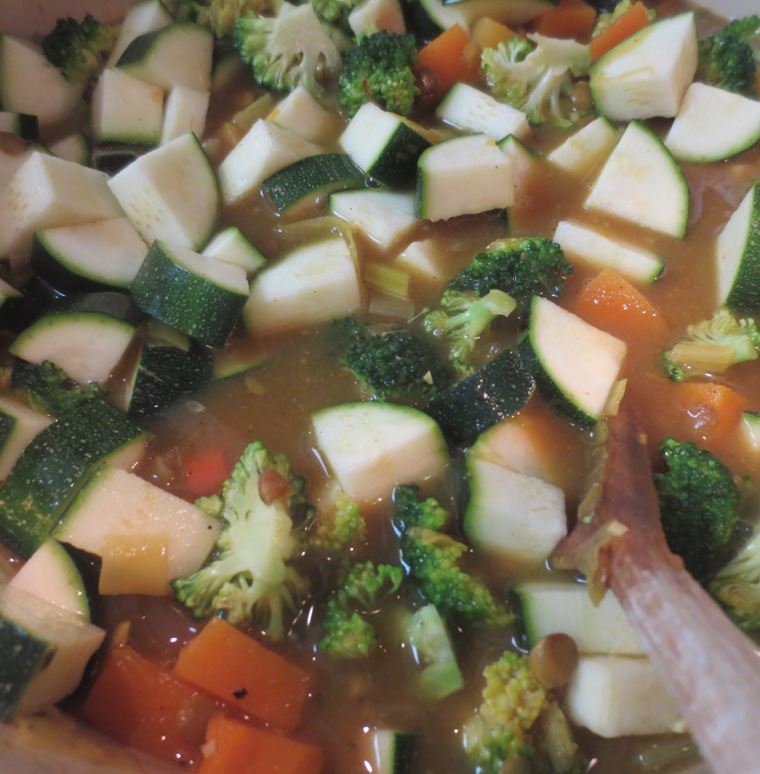 (Seriously, it's all about that spiced yogurt.)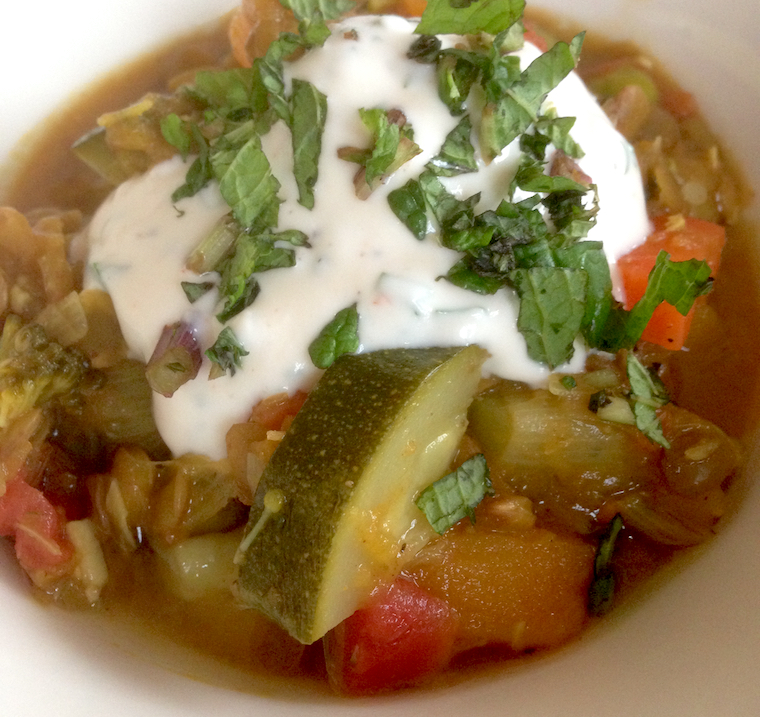 Back to Blog