One of the first dishes I learned to make for my husband (first and few) was this easy Penne a la Vodka. It sounds more grown-up than it actually is (and everyone knows most of the liquor burns off before anyone can get the remotest bit of a buzz going). I forget where I saw the recipe – something on the Food Network probably. It calls for chopped onion, but the chef who prepared it said her kids didn't like onions in their food, so she would simply cut one in half, let it cook with the sauce for a bit to give it flavor, then take it out and they never noticed the difference. The same trick could be used to fool my grandma, who swore she couldn't eat onions. (She loved Andy's sauce so much she never noticed how much garlic and onion was actually in it.) If you didn't tell her something had onions in it, she would eat it happily and not notice a thing except how nicely flavored it might be. But if she saw an onion, all bets were off.
Penne a la Vodka
Ingredients
1 Tbsp. olive oil
1 small white onion or two shallots, chopped
1 clove garlic, minced
1 16 oz can crushed tomatoes
2/3 cup heavy cream
2/3 cup finely grated parmesan or romano cheese
1/2 cup vodka
4 to 6 sprigs fresh basil, roughly chopped or torn
Salt & pepper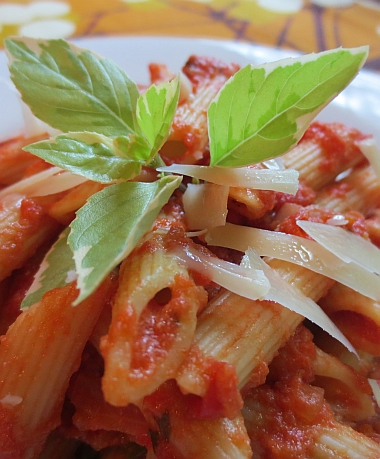 On medium heat, in a medium sized pan, saute the onions and garlic in olive oil until translucent. Add the tomatoes and cook down for about ten minutes. Add the vodka, let simmer for a few more minutes. Add the cream and cheese, let simmer again, then add the basil and salt and pepper to taste. Total cooking time should be about half an hour. Serve with penne pasta, garnish with fresh basil. I added some shaved parmesan cheese on top as well, because one can never get enough cheese.
(Please note that the measurements listed are approximations, as the original recipe has been lost, so if you think they should be adjusted, don't hesitate to do so. This is a pretty fool-proof recipe and can take some fluctuations.)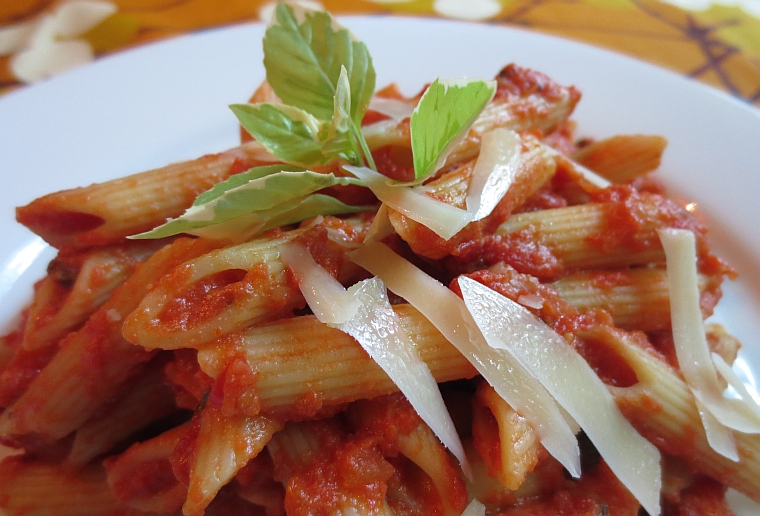 Back to Blog