Donning our pajamas (and a terry cloth robe I found in my childhood closet), we hung out on the couch for a Friday night in the same spot where we used to watch 'The Dukes of Hazzard', 'Mr. Belvedere', and 'Dallas'. Tonight it was a DVD – 'Adventures in Babysitting' – fitting for any number of reasons.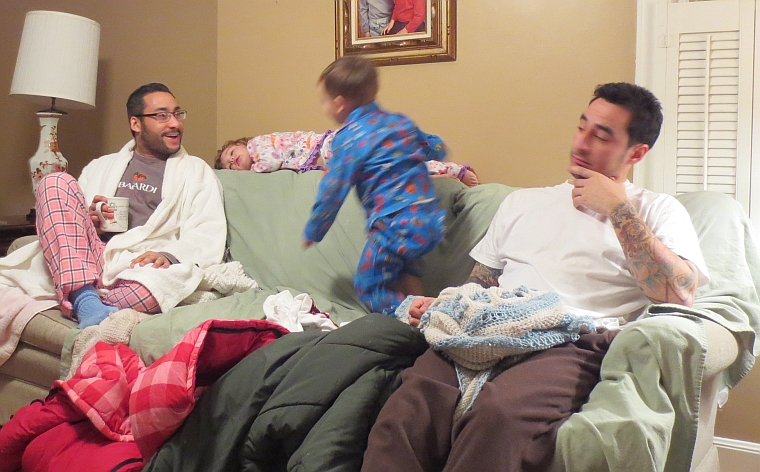 We had but one incident of trouble, when Noah looked at me out of the blue and said, "I will hit you." Huh? What did you just say to me? "I will throw you in the garbage!" At that my brother started laughing, but while Fun Uncle may be fun, he doesn't tolerate that type of talk. I told my brother to stop laughing, and I looked at my nephew and said sternly (in the unmistakably-non-joking tone that means serious scary business to children and adults alike), "Don't ever talk to your Uncle like that. That's disrespectful. Your Uncle loves you and would never say anything like that to you. You will never talk to me like that again." And I took him into the other room for a time-out until he said he was sorry (all of about a minute.) We rejoined my brother and Emi for the movie, at which point he promptly told my brother, "I will throw you in the garbage." Where did he learn that??? Needless to say, the second time-out was worse than the first, and I wasn't the one giving it.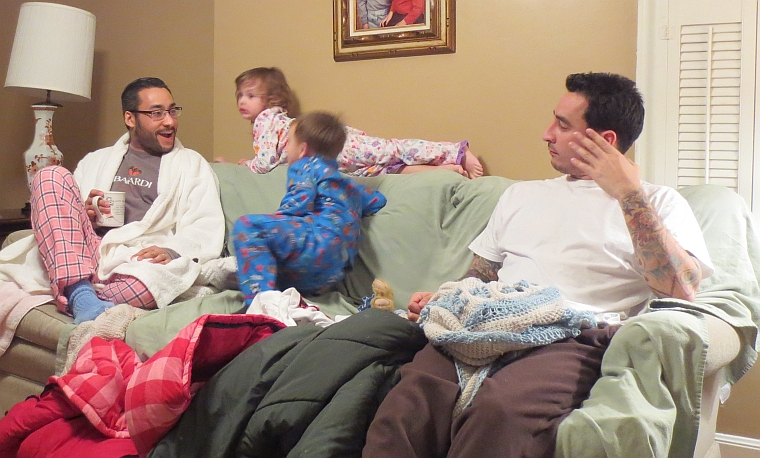 I'm told this was the result of not having a nap. (But I did have one!) Luckily, the rest of the evening passed without incident, and we watched the remainder of the movie in relative peace. It was one of the nicest ways to spend a snowstorm – memories of my childhood intermingled with the memories my niece and nephew may one day have of their Uncle.
(As for my wardrobe, Emi & Noah didn't seem to mind, unlike the rest of you bitches that will no doubt come for me on FaceBook…)
Back to Blog