The idea sprouted in the pages of a Spiegel catalog. I was but a kid, and already had the rather adult concerns of interior design on my mind, when I opened the bedding section to a Southwestern-themed scene of colorful bedspreads and desert-inspired accents. As hokey as a themed-bedroom might be, it's sometimes the easiest way to deal with the dilemma of how to create a coherent look. I didn't realize that then – for me, the idea of the desert called to me from a deeper place. It was as if I knew then that only in such a barren and beautiful and mystical place might I find a sense of peace. I set about to conjuring that.
The bedspread I'd found was predominantly a bright shade of turquoise. Dotted with brushes of black that framed it like an abstract painting, it held vaguely geometric shapes in shades of paprika, terra-cotta, rose, and mustard – all conspiring to pleasantly convey the earthy but vibrant palette of the Southwest. Around this, I played with various accents, including a potted cactus in the window and a wall-hanging in the bathroom of a saguaro and barrel cactus. A wooden mass-produced sculpture of another saguaro, the moon, and a howling wolf stood sentry by the door. It was the closest way I could find of approximating desert peace. Looking back, it likely didn't work in the upstate New York bedroom of a Georgian-style home, but in my mind it was perfect, and that's all that mattered. I couldn't have been more than eleven or twelve years old, and already I was seeking solace somewhere else.
In the ensuing years, the desert would call to me like the sea, but it was much farther away than the Atlantic, and never quite practical to visit. Still, I felt its pull, and voices whispered to me time and time again that I would find myself there. When it came time to plot out my very last tour, and its very last leg, I knew the desert had to play a part in it. I booked a trip to Tucson, where the Sonoran Desert blew kisses from across the country. There was a puzzle I'd been trying to solve for three decades, and maybe this was where I'd find the final missing piece.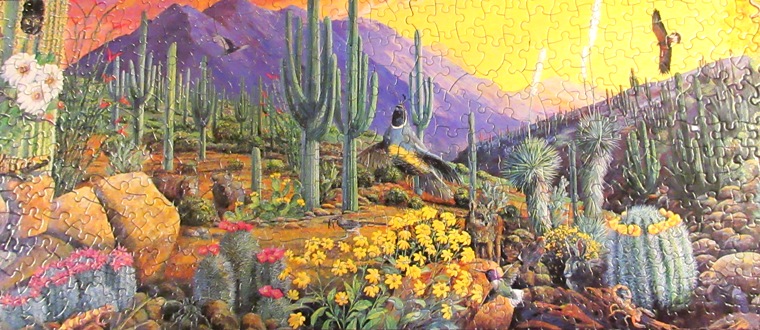 Back to Blog