The Pride Center of the Capital Region celebrated its annual Awards Dinner this past Friday at the Hilton Garden Inn in Troy, and I was honored and humbled to be chosen as their 'Volunteer of the Year' for my work at the Romaine Brooks Gallery. The only glitch was that I was expected to make a little acceptance speech – and I do not do public speaking. However, right before we left for the night, a rainbow appeared over our front yard, so I took it as a good omen and started getting ready.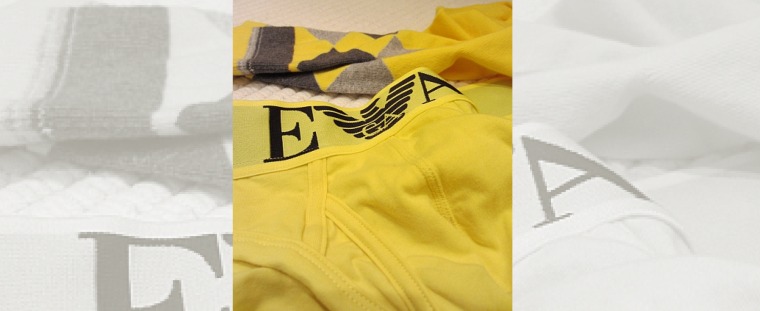 The trick to pulling off any decent outfit – and to feeling confident and secure in said outfit – is to start with a pair of underwear and socks that make you feel good, and as if you have a secret that no one will know about. In this case, a bright canary pair of Emporio Armani briefs and some matching argyle socks from Hugo Boss provide the necessary shot of fun to counteract any insecurities. And they're my secret boost of confidence needed to pull off The Suit.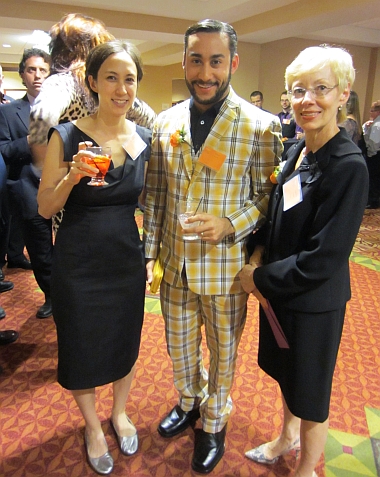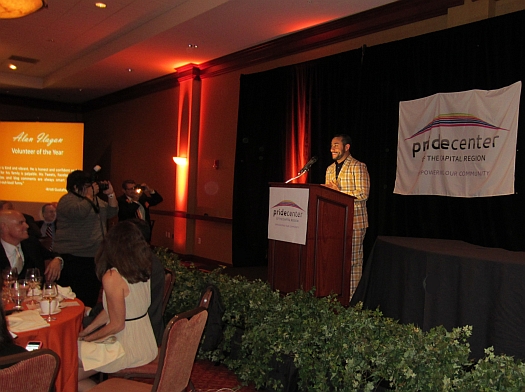 Yes, it's a little bit plaid. Yes, it's a little bit garish. And yes, it's a little bit questionable – but for all those reasons and more I loved it. But what I loved more was the fact that some of my favorite people got to be there with me that night, including my Mom and best friend Suzie – who surprised me with a trip up from Brooklyn. I normally don't like surprises – at all – but this was a good one, and Suzie always sets my mind at ease. It was exactly what I needed as the minutes leading up to the Awards ticked on, and my heart started to beat faster and faster.
According to the schedule, I was going to follow the Paul Postiglione Youth Services Award, given to Joshua Dunning Powell. Unfortunately for me, Mr. Powell gave the most moving and powerful speech of the night, recalling his days as a bullied child, and how no one had helped him. The whole room was choked up, and I was on the verge of balling. It was incredible – and easily the moment I would take away and remember from that night. I looked helplessly over to Suzie as if to ask 'How the hell can I follow that?' and chugged a glass of wine.
Luckily, there was a Silent Auction interlude, and some fundraising to be done, that both distracted and lightened the mood before I had to accept my award, and thank God. The always-entertaining Penny Larceny introduced me, and before I knew it I was at the podium.
"The only thing I hate more than public speaking is a pair of crocs," said the man in the plaid suit, and then I quickly ticked off a brief list of people who helped me in managing the gallery, and then I was off. It was the briefest of speeches that night, but I survived it and could enjoy the rest of the evening worry-free.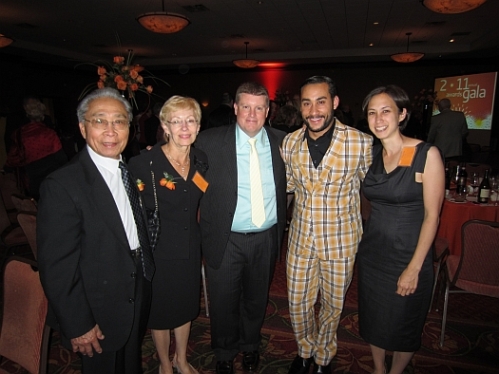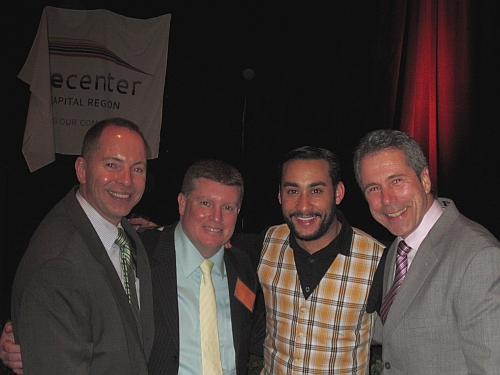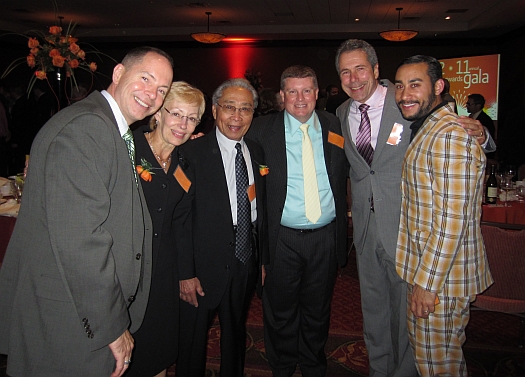 And it was indeed a grand evening. Being that this was our first time attending the Pride Center's Awards Dinner, I didn't know what to expect. Surely not so many wonderful, supportive people from all communities – and certainly not so many moving moments that made me proud to be a gay man in the company of such fine citizens.
The best part of the night was seeing my family and friends gathered together to support me. That meant more to me than anyone would ever guess. Thank you Mom and Dad, Suzie, and Andy
Back to Blog