If the Times Union can re-print an article on 'Wicked' by Gregory Maguire, then surely I can get away with re-posting my review of the show from when it premiered on Broadway almost a decade ago. I'm taking Andy to see it tonight at Proctor's, so it seems a fitting moment. (Besides, I'm too busy finalizing my outfit for the Beaujolais Nouveau Wine Festival to really focus on anything else.) So, without further ado, here it is (and it's interesting to note how very wrong I was about the show not doing so well once its original cast departed).
——————————————————————————————————————————
"Popular – it's all about popular. It's not about aptitude, it's the way you're viewed, so it's very shrewd to be very, very popular, like me!" So sings Galinda, the 'good witch' of'Wicked', in the new musical that opened this past year. The show too is proving popular, from good word-of-mouth to sold-out audiences. (The past few weeks have found it filled to capacity.) All this despite mixed reviews is further proof that what is popular may be more important than what is actually worthy of artistic merit. In this case, it's not as bad as mean-spirited critics would have you believe, nor as wonderful as Wicked fans would like you to think.
For lovers of the movie and those unfamiliar with Gregory Maguire's original spellbinding book, the musical is likely to enchant and delight ~ for those who enjoyed the darker edge of the book, it may prove disappointing. The musical's team ~ mainly Stephen Schwartz, who wrote the music and lyrics, and Winnie Holzman, who wrote the book of the musical ~ turned the dark genius of Maguire's literary masterpiece into something, well, popular, in the best and worst sense. One gets the feeling that the show is trying to be everything to everyone ~ keeping the movie-lovers happy while placating those captivated by Maguire's book, and such artistic compromise is exceedingly difficult to pull off successfully. In this instance, the creators only partially succeed.
The main draw of the show is rightfully found in its two leads, Idina Menzel as Elphaba – the green one, and Kristin Chenowith as Galinda – the 'good one'. (The first 'A' in Galinda becomes silent, as is amusingly explained in the musical.) For her opening entrance, Galinda descends from above, in a mechanical bubble of course, and greets the audience with her now-classic line, "It's good to see me, isn't it?" It certainly is, and remains so throughout the evening. Ms. Chenowith gives the defining performance of the show, running the gamut from perky and giddy to heartbroken and stoically resigned. It would have been enough to convey the goodness and light of Galinda's seemingly superficial nature, but Chenowith digs deeper to craft a multi-layered portrayal, from heights of happiness to plummeting pathos. Her Galinda is not all good, but you love her for her human shortcomings.
Idina Menzel is the green one, or Elphaba as she is known here. Ms. Menzel contrasts beautifully with Chenowith, and gives an equally compelling, if less showy, performance. She is a powerful belter ~ remembered rightly for her showcase performance as Maureen in the original cast of Rent. Here she must erase the horror recalled from Margaret Hamilton's chilling turn in the movie and forge the character into a creature of empathy. Her Elphaba is a grower, not a shower, and the blossoming of her journey is something to behold. It may forever alter your perception of the Wicked Witch of the West. Both lead ladies elevate the show, and during the all-too-rare moments when the material matches the talent, 'Wicked' truly soars. The budding, complex friendship between adversaries Galinda and Elphaba is what keeps it all together, and it is this emotional bond that carries the weightier moments of the production.
Visually it is compelling ~ a mechanical theme echoes from the gears and cogs that frame the stage and battle with encroaching vines, to the Dragon Clock and time motif that run throughout. A giant witch's hat materializes early on, portending events to come, and the aforementioned entrance of Galinda is an indelible sight. However, such visuals and ideas resound with more impact than does most of the music, and this is usually a death knell for a musical. Save for the lilting 'Popular' and the majestic 'Defying Gravity' (which takes off literally and figuratively thanks to Menzel's powerhouse vocals), there are few songs that remain memorable. 'What Is This Feeling?' offers moments of exhilaration while 'Dancing Through Life' and 'One Short Day' are merely serviceable. Closing duet 'For Good' mostly succeeds through the emotional delivery of Menzel and Chenowith. And it is this crux that is the bane and saving grace of the show: without these two charismatic performers, the show itself may not fly.
Broadway's past ~ where shows relied on well-known musical stars (Ethel Merman for example) ~ seems to be the Broadway's present and future too, as movie stars grace the Great White Way with amped-up head mikes and passable singing voices. There is danger in it though, for what happens when the star departs, as all stars eventually do? Strong shows that depend largely on ensemble casts like 'Rent' and 'Chicago' will endure, but others may not prove so stalwart. When the music is decent the show can survive; when it's not things get tricky. 'Wicked' is at its best when Menzel and Chenowith command the stage. In their absence the production falls a little flat.
Still, 'Wicked' does offer something for those searching for deeper meaning. "Are people born wicked, or is wickedness thrust upon us?" Galinda asks early in the show. But while the sinister nature of evil is questioned, it is never dwelt on or deeply explored. Instead, the musical raises the question of whether those who are popular can do more good through their power, than those who openly oppose the system, but lack the clout because of their convictions or beliefs. Is Galinda perhaps more insidious and intelligent because she recognizes the power of popularity and the platform that results? Or has she been cowed and molded into a public figure without true morals and standards? Is Elphaba somehow better for her unyielding stance, or foolish because it ends up with her banishment? Who, indeed, is the most wicked?
The musical is at its best when is posits these queries through the luscious vocals and impeccable performances of Chenowith and Menzel. Without them, 'Wicked' may prove to be a bumpy ride that never quite takes flight. For the moment, they're here ~ each giving a luminous portrayal of two strikingly different women making their way in the world ~ go now to see them soar.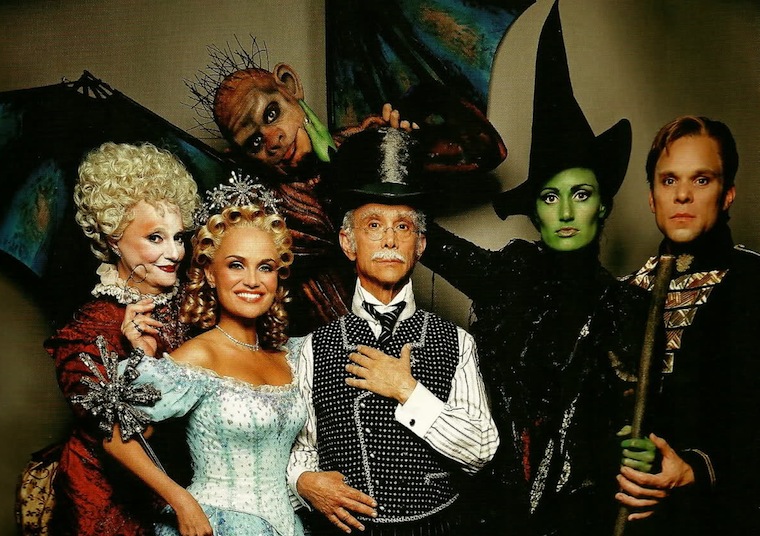 Back to Blog