"One shouldn't ask oneself how a person flies or why, but simply start flying."
― Tomás Eloy Martínez, 'Santa Evita'
It was a frigid evening in Rochester, New York in the earliest days of 1997, made more brutal by the fact that I had just come from a spell of 80 degree days in St. Croix. The sky was dark, even with all the snow on the ground. No more snow would come tonight – it was too cold. Strange, the way that works, and the way we understood it. I pulled the ridiculous faux leopard fur coat tighter around me, its satin lining sliding against my fuchsia satin shirt. Along with my dark tan from the few days of sun that now felt so far away, I made quite an absurd visage. A heavy black cross topped with a silver Christ figure dangled from my neck on a black silk cord. Taken together, this was my get-up for the Rochester stop of The Royal Rainbow Tour 1997, and I was heading to the movie theater with friends to see 'Evita.'
The lead-up to the new Madonna movie – the pre-comeback to '
Ray of Light
' – had been incredible, and I was visiting all my friends and making sure they watched the movie. (Super-fandom in full effect.) This time around the stop was Rochester,
city of several watershed moments over the years
, and that night we were making another one. Madonna was wowing audiences and critics alike with her star-powered turn as Eva Peron in the cinematic version of Andrew Lloyd Webber's classic musical. She'd fought hard for the role, and her performance proved that she deserved it.
With each red-carpet event, she appeared in Eva-inspired fanciful dresses. Demure yet glamorous, elegant yet over-the-top, classic and timeless. Madonna had just had her first child – a daughter named Lourdes – and her focus was also on that joyous event. I had nowhere near as important events going on in my life: a fake tour, a shambles of a romantic history, and a rudderless idea of any career. Looking back, however, I don't think I'd been happier. I couldn't see that then, even as I tried.
The bright, bouncing beats of '
Buenos Aires
' and its wondrously escapist theme lent the world endless possibilities. I criss-crossed the country, from New England to California to Florida and back – and then the world – jetting from Puerto Rico to Canada, London to the Philippines, Ireland to Hong Kong, and ended up right where I began. Whether I admitted it to myself or not, I was on the hunt for love. For the one person who would make it all ok, who would put me back together and reclaim the person I'd once set out to destroy.
Yet every one-night-stand or doomed affair took its toll, in ways apparent and hidden. '
Another Suitcase in Another Hall
' seemed to be the way a life lived on the road might be. I sent postcards to friends, quoting the song in a vaguely-veiled cry for help: "Call in three months' time and I'll be fine, I know. Well maybe not that fine, but I'll survive anyhow…" Surely there was more.
I practiced my powers of seduction, such as they were. Obsessed with being someone that somebody could love, I honed heartless nonchalance, casual apathy, and a killer wardrobe. I wanted to walk into any room and be the one that all eyes traveled to, whether or not they wanted me. The art of being fascinating. It was something that proved elusive to me whenever it mattered, whenever I most wanted to impress someone. More than anything, I wanted that person to know '
I'd Be Surprisingly Good For You
.'
In between my travels, I stayed up late into the night, reading 'Santa Evita' by Tomás Eloy Martínez, which followed the tracks of Eva Peron's preserved body as it made its storied journey amid mystery and intrigue. Macabre stuff, and it haunted me into the early morning darkness. I was as lost as her embalmed body, traveling under the cloak of anonymity, grasping for something, but what… I did not know. I still don't.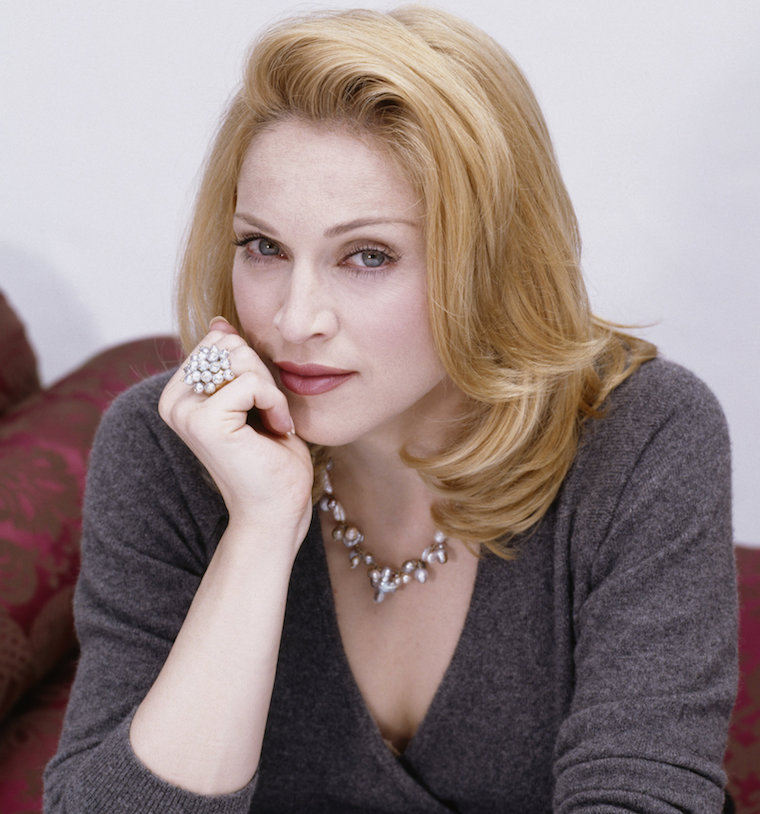 Madonna seemed closer to finding her way to it, whatever it was. When she sang '
Don't Cry For Me, Argentina
' the world bowed down to the balcony of the Casa Rosada, and we were all, for that one electrifying moment, Argentina. If we couldn't help but cry, it was because she so moved us. Through it all, we only wanted to be '
High Flying, Adored
.'
I made my way in the only fashion I knew: shake it, fake it, and try not to break it. Soaring above the world and removing myself from the confines of reality and the constrictions of common sense, I crafted a persona that would carry me over the rain-soaked dreariness of a love-barren land, catapulting me into the light-filled realm that rose '
Rainbow High
' and outshone any blood-letting past.
In the end, it was fantasy, like so much of my life. When I danced the '
Waltz for Eva and Che
' I did so by myself. I moved alone, and no one saw my fancy footwork. Such a wonderful waltz brought me around the world, but in the end I wound up exactly where I was at the beginning. My heart had been broken, or so I thought, and everything I did at that moment was done to impress the ones who got away. There was always more than one, always more men unmoved by anything I could muster. I didn't know how to make my favorite song come true: '
You Must Love Me
.'
On that wintry night in Rochester, as I sat in the movie theater flanked by friends on each side, I watched the life of Eva Peron – and the life of Madonna – play out on the screen, so much bigger and grander and better than I could ever hope to be. At that instant, it was enough to simply brush such greatness. It made one feel less alone.
My biggest fear in life is to be forgotten.

~

Evita Peron
Back to Blog