{Note: The Madonna Timeline is an ongoing feature, where I put the iPod on shuffle, and write a little anecdote on whatever was going on in my life when that Madonna song was released and/or came to prominence in my mind.}
I'm gonna wake up, yes and no
I'm gonna kiss some part of
I'm gonna keep this secret
I'm gonna close my body now
In the late summer of 2002, Madonna released her first James Bond theme, 'Die Another Day'. The jittery, stilted techno-buzz of her collaboration with Mirwais (begun two years earlier on 'Music') continued here, but seemed to be keeping time and maintaining rather going in new exciting directions. Still, the strings were a dramatic touch, and the song itself was a neat credo to Madonna's death-defying career.
Sigmund Freud – Analyze this, analyze this, analyze this!
As one of those between-break soundtrack songs that she releases to bridge her musical output (think 'Crazy For You', 'I'll Remember', 'This Used to be My Playground', 'Beautiful Stranger' or 'American Pie') I focused and obsessed about it as I tend to do when starved for new material, but in the ensuing years its interest and structure has weakened. (It would also prove to be the lead-off, and highest-charting single for her 'American Life' album, though it felt a bit tagged-on at that point.)
I'm gonna break the cycle
I'm gonna shake up the system
I'm gonna destroy my ego
I'm gonna close my body now
Minor Madonna chagrins put aside, I mostly thrilled at the first few listens. It was late summer, and I was about to embark on a new project (The Talented Trickster Tour Book: Reflections of a Floating World). The sun was beating down, drying and browning all that was once fresh and green. It burned the little remaining moisture out of the leaves, desiccating their veins, leaving them brittle and cracked, ripe for the fall. The scent of a dying summer has never been entirely sad – such things cannot go on forever, and it's good to know when to take a rest. It's also a good time to recharge creatively. My focus tends to disappear in the hazy summer months of chlorine-fueled filters, so when fall was on the horizon and a new Madonna song was on the stereo, it was the perfect collusion for a creative explosion.
I think I'll find another way
There's so much more to know
I guess I'll die another day
It's not my time to go.

For every sin, I'll have to pay
A time to work, a time to play
I think I'll find another way
It's not my time to go.
It always rings hollow and trite to talk about the "creative process." Not only that, it reeks of self-importance. As much as I like to give off that vibe, it's not really me. But I do think there's something worth noting in the way that certain artists give so much of themselves up for their art. If we really care, a little of us dies with everything we create, at least if it's worth something, if it matters. You can't rend an emotion, a reaction, a feeling, without being affected in some small way – and often in some large way.
We thrash ourselves, mutilating our emotions, putting our process through the ringer, for an end result that is never guaranteed. Not only is it not guaranteed, it runs the risk of ruin. We are vessels, conduits for some greater force, and we're not always in control. In fact, I'd wager that most of us are supremely out of control when it comes to that. Why do we do it? What makes some of us go to such extremes? That won't be answered in a Madonna Timeline – at least not this one.
I'm gonna avoid the cliché
I'm gonna suspend my senses
I'm gonna delay my pleasure
I'm gonna close my body now.
The video Madonna filmed for this is actually much better than the song – showing three versions of herself: the tortured prisoner (in bloodied, beaten, torn-tank-top form), the white tufted heroine, and the black-clad villain who gets it in the end. In it, the battle between good and evil, light and dark, artist and human, finds visual release as two Madonnas battle to the death. It's fitting that she references Sigmund Freud, considering all the psychoanalytical undercurrents running through the piece, and a deeper reading than this one will be might have more to say about her three characters and their relation to the id, the ego, and the super ego. On the surface, it's a nice ode to Bond, a chilly, taut martini of a song that manages to be both elegant and raw, positing deeper questions within the guise of the stuttering techno-beats and deconstructed strings.
I think I'll find another way
There's so much more to know
I guess I'll die another day
It's not my time to go.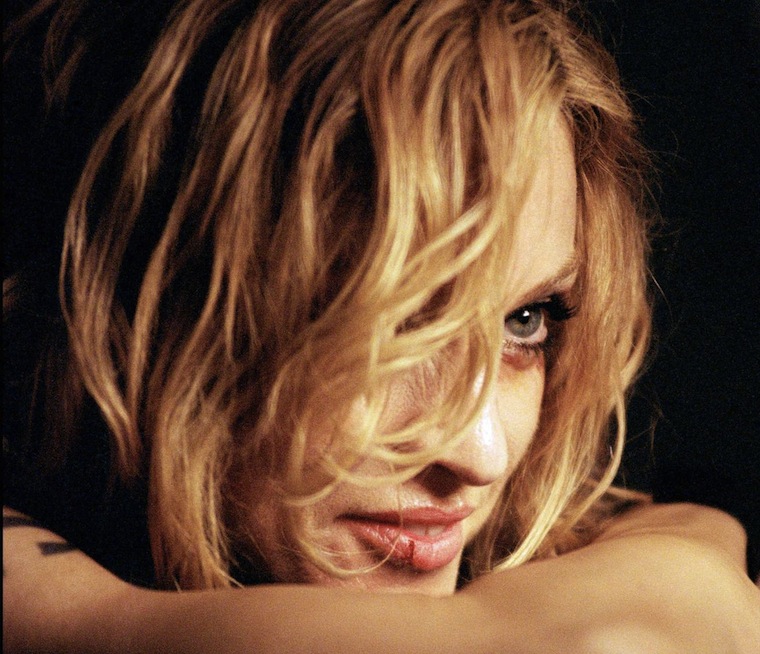 Song #95 – 'Die Another Day' – August 2002
Back to Blog